UCC Wellness Ministries Toolkit Section 1
Wellness Ministries Toolkit
– Section 1 –
Envisioning Wellness Ministries
UCC Wellness Ministries Toolkit
Envisioning Wellness Ministries
This Toolkit is an informative guide to help you form a wellness ministries program at your church. It is meant to assist the process as your congregation develops its programs based on the resources and needs of its congregation and the community it serves. We hope you find it useful as you develop creative, new ways to best meet the health and wholeness needs of your church!
What are Wellness Ministries?
What are Wellness Ministries?
Wellness Ministries foster an awareness of the interrelationship of all aspects of our lives and encourage choices that support wholistic health and well-being. Spiritual, mental and physical well-being is possible when we have a deep, innate trust in God's love and a sense of being healthy and whole, even when curing a condition or disease is not possible (These terms are further defined in the glossary).
Each congregation develops its Wellness Ministries in response to the ever-changing needs, interests, and resources of the congregation and community. Programs within Wellness Ministries include:
Spiritual care of those seeking health and healing.
Education enhancing health promotion and disease prevention.
Health advocacy for individuals or groups seeking proper care.
Collaboration with other organizations for the wellbeing of the community.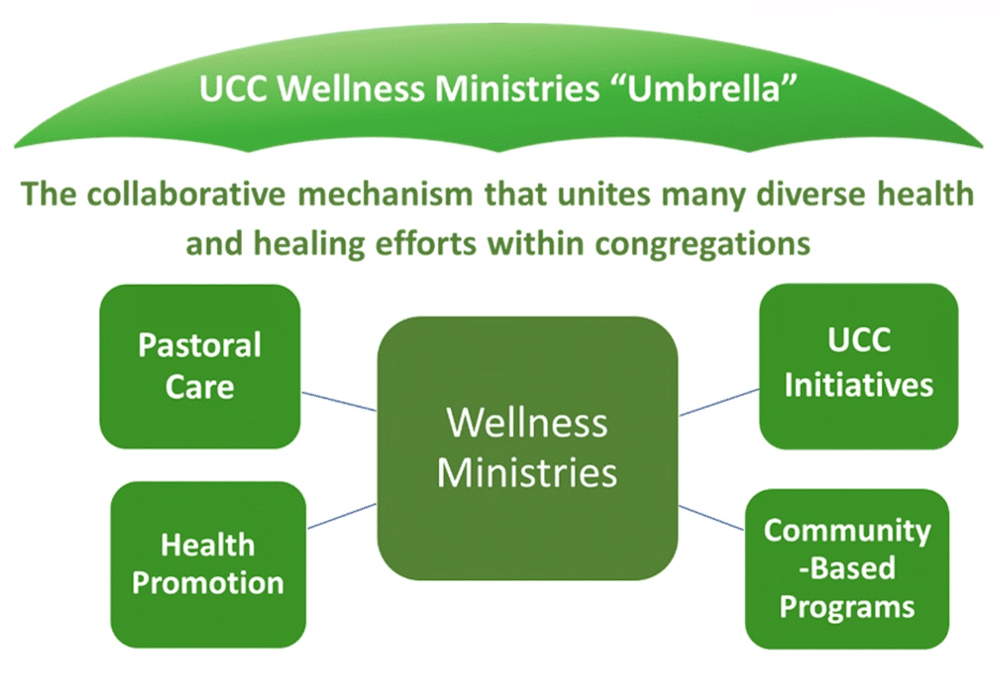 Under the Umbrella of Wellness Ministries wholistic healing is possible when Wellness Ministries provide coordination between:
Visitation
Prayer shawls
Cards, notes, phone calls, e-mails
Transportation
Meal deliveries supportive of dietary requirements
Bereavement support
Prayer circles
Meditation experiences & retreats
Healing Services – ex. Longest Night
Disabilities Ministry
Mental Health Ministry
ONA – Open and Affirming Coalition LGBT Ministries
ODEM – overdose & drug use ministries
"UCAN" HIV and AIDS Network
Healthy and safe eating
Walking programs
Connecting the body, mind and spirit with yoga, Tai Chi, breathwork, meditation, etc.
Support of those with chronic illnesses, including substance abuse disorders
Advance care planning
CPR, AED, & Narcan use
Mental Health First Aid & support groups provided by NAMI
Disaster response
Refugee & immigrant support
Ministry to the homeless
Meal kitchens; Food pantries
Clothing closets
Support groups like AA, NA, Al-Anon
What Do Wellness Ministries Do?
Wellness Ministries focus on healing, not curing
Healing and curing are different processes that may be supported simultaneously.
Curing Healing
Alters what is
Completely physical in focus
It can happen without the contribution of the person
Creates the absence of symptoms and the remedy of disease
Creates what is possible
Incorporates the human spirit, the strength of being
It can only occur when something arises from within the one who is being healed. We cannot become healed against our will.
It is an integrative process that transcends the physical and includes mental, emotional and spiritual wellness.
Healing is the process of integrating mind, body and spirit to create wholeness, health and a sense of wellness, even when illness is not cured.
Healing has occurred when a person is in harmony with themselves and others, their environment and God.
The emphasis on healing is the principal focus of UCC Wellness Ministries.
Broader understanding may be gained by reading Maria Mooney, MSW, LSW account What My Chronic Illness Taught Me About Healing Versus Curing.
Why Do Congregations Have Wellness Ministries?
UCC Wellness Ministries promotes health and wellness in congregations and communities, as well as the visible presence and voice of faith community nurses in the UCC. Wellness Ministries is a ministry program of the National Setting of the UCC under Justice and Local Church Ministries.
Justice and Local Church Ministries supports congregations and other settings of the church in doing justice, seeking peace, and building vibrant faith communities that are welcoming to all. The ministries and services of Justice and Local Church Ministries are central to the identity of the United Church of Christ.
Because the church's mission in health can never be assigned simply to the few who have the professional expertise, that mission belongs to all who God has called in Christ.
Good health is a part of God's intention for all people.
Health involves the whole person: body, mind and spirit.
Health is a concern of the entire community.
Healing and health are valid ways of proclaiming the Gospel and ministering in the name of Jesus Christ.
Menu Options
They organize a caring community that supports hope and healing for all.
They provide opportunities for intergenerational sharing and caring.
Within their geographical community and beyond, the congregation can advocate for changes to create a healthier environment and provide the community-at-large with access to supportive services and information.
In 1985 at UCC General Synod Eighteen, the delegates adopted the Mission Statement on Health and Welfare that states in part that:

It is clear that the whole church is involved in this mission in health and welfare.
… good health is a part of God's intention for all people, health involves the whole person body, mind, and spirit, and healing and health care are good ways of proclaiming the Gospel and ministering in the name of Jesus Christ…

In 1997 at the 21st UCC General Synod, the delegates adopted the Reclaiming the Church's Ministry of Health and Healing that states in part:

Health is harmony with oneself and others, the environment, and God—a continuum of physical, social, psychological, and spiritual wellbeing.
Health ministry promotes healing and health as wholeness as a mission of a faith community to its members and the community it serves.
Health partners are many, both paid and volunteer, laity and clergy. All are committed to sharing the compassionate love and grace of Jesus Christ.
Essential elements of a health ministry/parish nursing program include (but are not limited to):

a philosophy of health and wholeness as a part of the faith community's mission;
a designated person or team to be concerned about health ministry;
a commitment to continued learning regarding health and wellness issues;
health education and programming according to assessed health needs of the congregation;
awareness of health and wellness celebrations designated in the UCC calendar; ….

Since 1997 the number of congregations with Health Ministries, now known as Wellness Ministries, has continued to grow.

Wellness Ministries provide a living witness of the healing activity of God through the local congregation by encouraging whole-person health by integrating care of the body, mind, and spirit, increasing self-knowledge, and supporting interdependence among God's people.
Most congregations already have informal or formal activities that appear under the Umbrella of Wellness Ministries on page one. When these ministries collaborate, it creates a multi-dimensional program of Wellness Ministries that provides a collective response to human needs.
Wellness Ministries also promote health and healing by joining with community agencies and social justice groups to advocate for the health and wellbeing of everyone.

Churches are (Re)Claiming The Church's Role in Promoting Health: A Practical Framework as written about by Mary Chase-Ziolek, PhD, RN and published in the Journal of Christian Nursing 32:2, p. 101-107.
Who Provides the Wellness Ministries?
The task belongs to all who God has called in Christ. Participants in Wellness Ministries provide a circle of caring within a congregation that enables each person to simultaneously or sequentially give and receive care.
Wellness Ministries are composed of individuals from the congregation that work together and support each other through the organization and implementation of activities that could come under the umbrella of Wellness Ministries.
Wellness Ministries' volunteers can make a difference by:
The Wellness Minister, a lay-person familiar with the concept of Wellness Ministries or, when available, a faith community nurse (FCN)
Provides the organizational leadership and prepares volunteers to serve in the program(s) that match their gifts and desires.
Facilitates the use of available resources to provide the programs that meet the congregation's needs and community.
A faith community nurse (FCN) focuses on the intentional care of the spirit while teaching and assisting in activities that improve health and disease prevention. A currently licensed registered nurse knowledgeable in two primary areas (spiritual care and professional nursing), the FCN serves on the staff of the church functioning as a spiritual caregiver, health counselor, resource person, health educator, small group facilitator, coordinator of health ministry volunteers and as a connector to care providers and other resources beyond the congregation.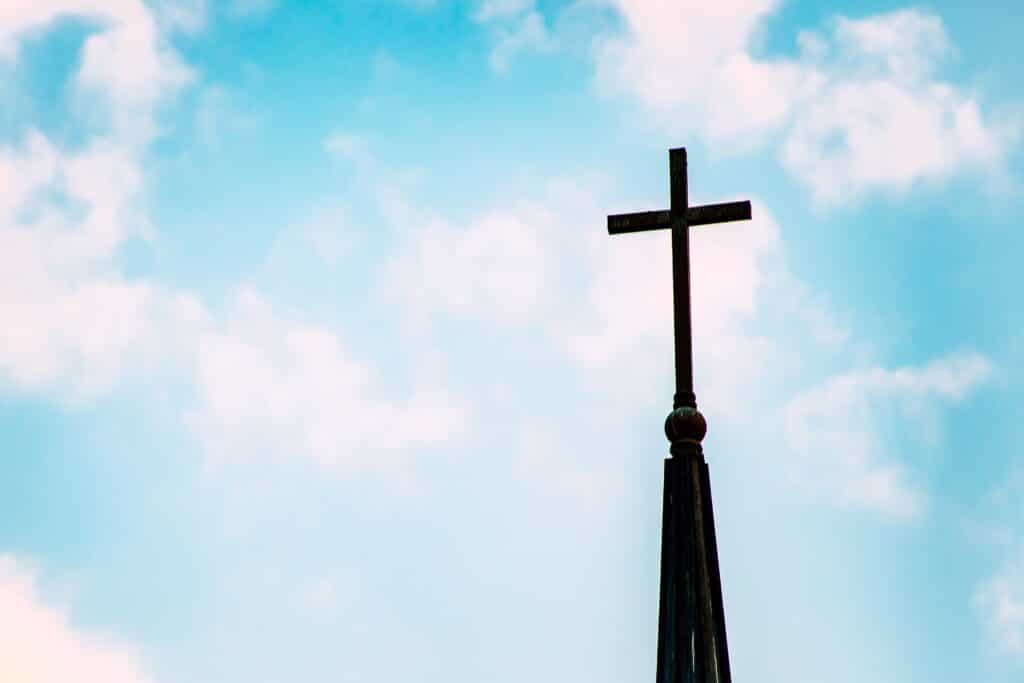 Where are Wellness Ministries located?
Wellness Ministries are located in UCC congregations of all sizes, in urban, suburban and rural communities, in areas of financial wealth and poverty, in white-steepled churches and storefront churches and free-standing clinics and health facilities.
Some congregations collaborate with other faith communities to care for their geographical community. Collaboration is possible because Christianity, Islam and Judaism all expect that followers care for themselves, as well as their neighbors.
What Does the UCC Wellness Ministries of the National Setting under Justice and Local Church Ministries Offer?
The UCC Wellness Ministries Network (formerly the Faith Community Nurse Network) promotes congregational and community health and well-being ministries.
The UCC Wellness Ministries Network serves as a resource to other health-focused groups of the UCC national office, conferences, associations and local churches to support their individualized and distinct responses to reclaim the church's ministry of health and healing.
Menu Options Two
To inspire, enable and empower everyone to experience wellness as they live their lives.
Serve as a spiritual care resource to the leaders within the UCC by promoting and supporting activities of health, healing, and wholeness within our congregations and the communities served.
Make available to all UCC churches information and opportunities for programming so that the UCC communities we serve may better access the health care services they need.
Inform and engage UCC congregations, associations, and conferences in facilitating individualized and distinct responses to the 1997 resolution Reclaiming the Church's Ministry of Health and Healing.
Collaborate with the other health-focused groups of the UCC to create a synergic effort of information sharing to benefit all.
Our Covenant to be Open and Affirming
In our work, we Covenant to be Open and Affirming as we inform and encourage the graceful engagement of ministries that enhance all God's children's physical, mental and spiritual health.
Menu Options Three
UCC Wellness Ministries teams, volunteers, and faith community nurses (FCNs) take scripture as our guide to understand that all individuals are created in God's image and are blessed and loved equally by God.
Our mission is to inform and encourage the graceful engagement of ministries that enhance all God's children's physical, mental, and spiritual health. We recognize that every individual is blessed with gifts to share and desires that may be met within a mutually caring community.
Our activities within our ministries vary from setting to setting. Yet, all provide for individuals of every race, ethnicity, creed, class, age, educational background, economic circumstance, sexual orientation, gender, gender identity, gender expression, marital status; physical and mental ability to journey together in a mutually supportive manner towards wholistic spiritual, physical, and mental health.
Participants in the UCC Wellness Ministries network span the country, from New England to the Southeast, the Midwest, the Southwest, Alaska and Hawaii. We invite faith community nurses (FCNs), other health care professionals, clergy, faith formation educators, youth leaders and church members interested in congregational wellness ministries to:
Go to ucc.org and search "Wellness Ministries Network Leadership Team" for resources
Send an email to wellnessministries@ucc.org
On the ucc.org website, subscribe to our newsletter "Mind, Body, Spirit"
Resources
Search our collection of resources based on your health and wholeness needs and begin your journey toward supporting the well-being of your church.
UCC Wellness Ministries Leadership Team
Members of the Wellness Ministries Network team are professionals who have years of experience in creating and growing Wellness Ministries. They volunteer to work on this team to assist and serve others.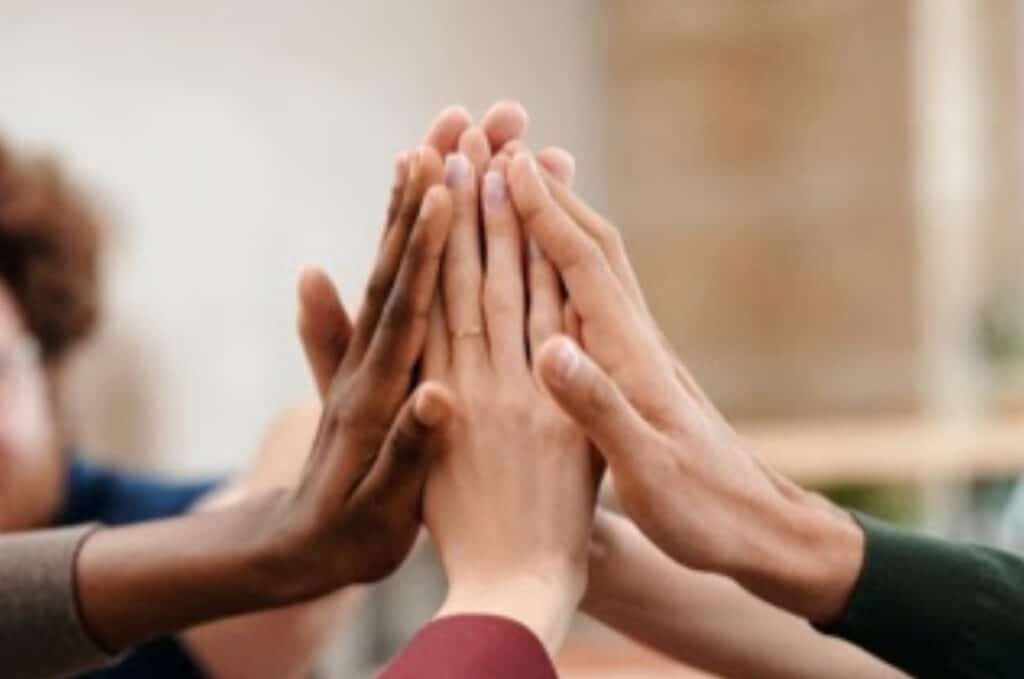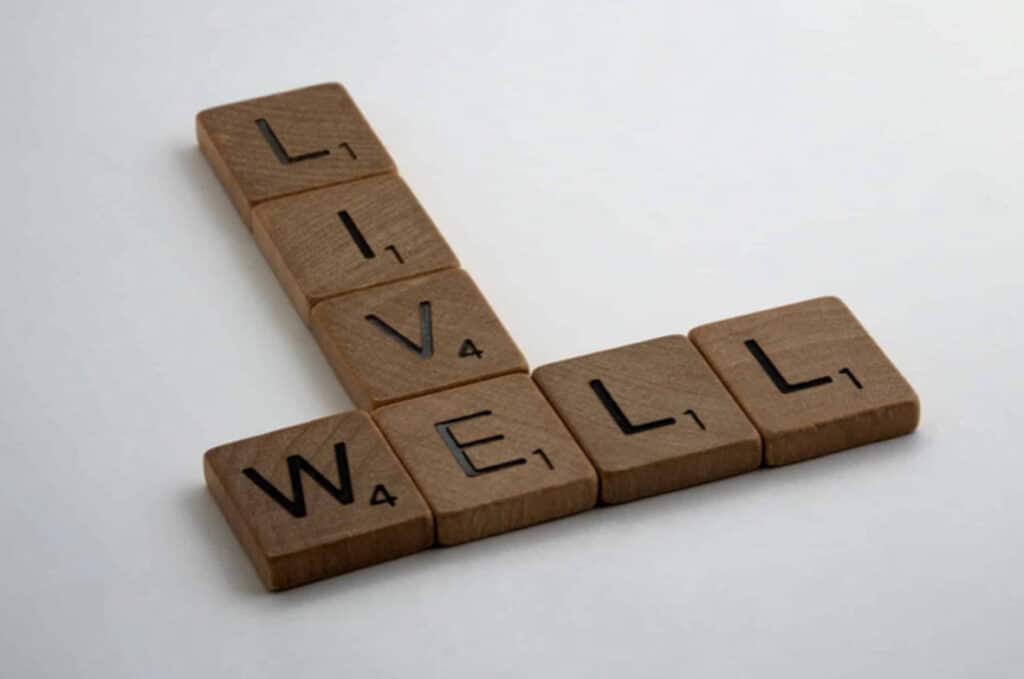 Health and Wholeness Advocacy Ministries
The UCC Health and Wholeness Advocacy Ministries all offer a wide variety of resources and access to experts.
Health Ministries Association
The Health Ministries Association is the professional organization for those of us offering wellness ministries.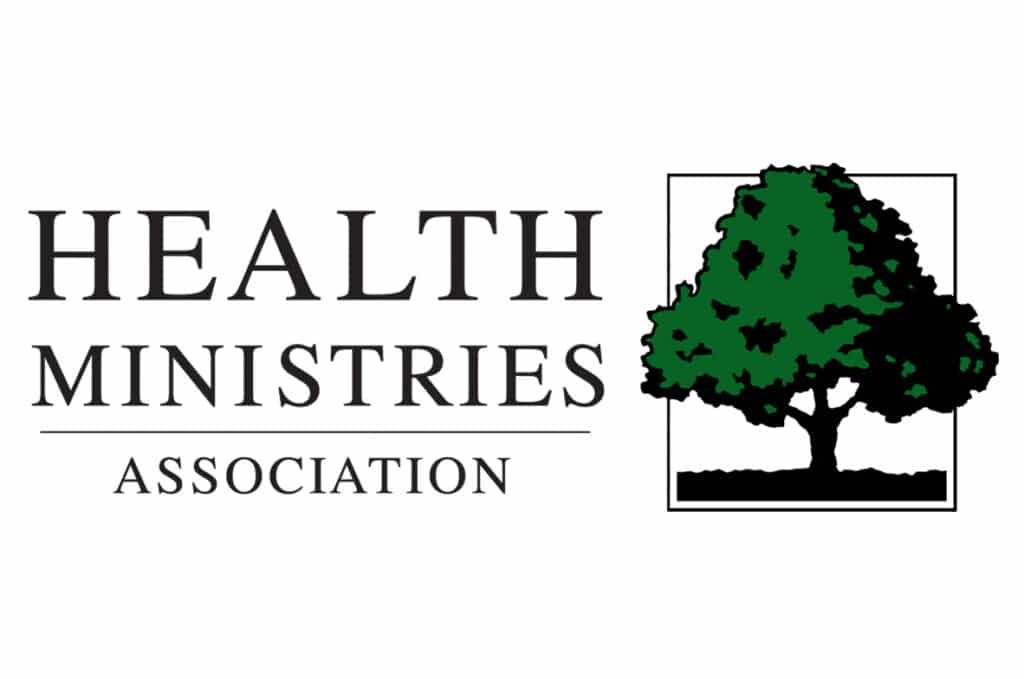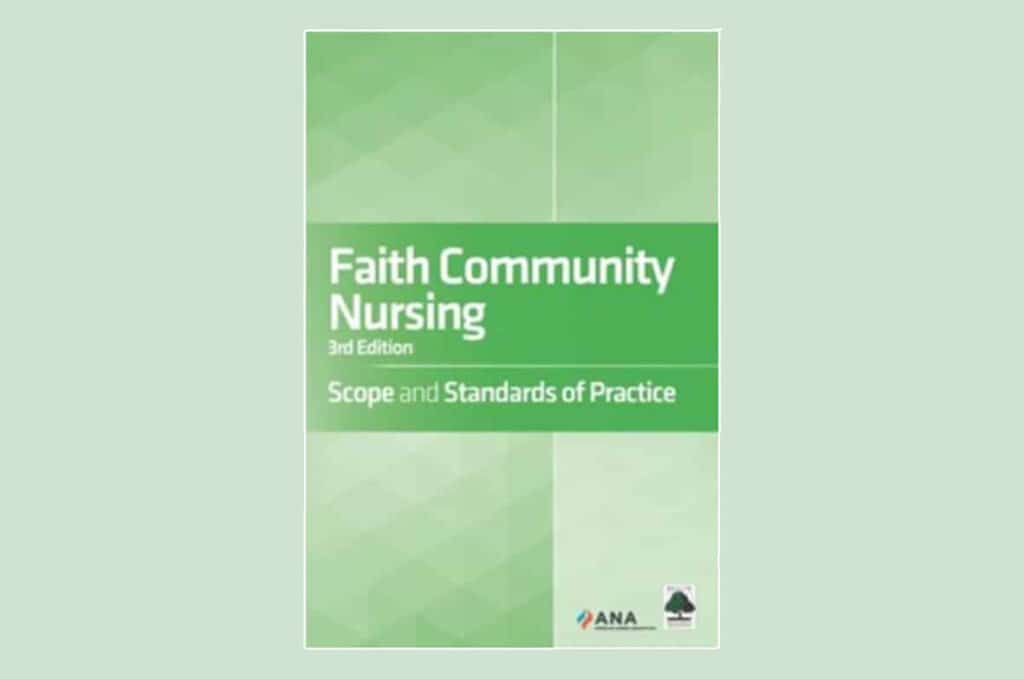 American Nurses Association (ANA)
The American Nurses Assoc. (ANA) is the professional membership association for the nursing specialty of faith community nursing for promoting education, research utilization and evidence-based practice.
HMA and ANA are co-authors with the American Nurses Association of the ANA-HMA publication, Faith and Community Nursing Scope and Standards of Practice, 3rd Edition. 2017.
Members of the UCC Wellness Ministries Leadership Team have worked in close collaboration with HMA and ANA in the development of this work. Two UCC Wellness Ministries Leadership Team members chaired the Workgroups that developed these documents, and many UCC faith community nurses have contributed to them.
For a list of UCC Wellness Ministries definitions
Questions? Contact UCC
If you have questions related to any steps in the process of developing or enhancing a program of Wellness Ministries, the handouts, sample documents, or exemplars, please contact us at wellnessministries@ucc.org.
You will receive a response within five days. We look forward to communicating with you regarding our shared work in ministry.