UCC offers congregations resources to assist if Title 42 ends
As an immigrant welcoming church, the United Church of Christ is looking to the end of Title 42, a public health order that blocks migrants at the border from seeking asylum.
That policy, enacted in 2020 by the Trump administration during COVID-19, may be days away from being lifted. If Congress doesn't pass a bill to stop it, or if a federal judge doesn't block it, Title 42 ends on May 23.
"The United Church of Christ welcomes the Biden administration's decision to end the inhumane Title 42 policy, which has been used to deny the rights of asylum seekers," said the Rev. Karen Georgia Thompson, associate general minister of Wider Church Ministries and Operations. "This decision needs to be the first step toward ending other discriminatory U.S. policies that intentionally marginalize immigrants."
More than 1.7 million asylum seekers were stopped from entering the U.S. by Customs and Border Patrol agents under the policy.
'A political tool'
Immigration advocates say the policy had nothing to do with public health.
The Interfaith Immigration Coalition said it was more about blocking people from a number of Latin American countries from crossing the border and has disproportionately impacted Black migrants.
The Rev. Bill Lyons, Conference minister of the UCC's Southwest Conference, said there are big misunderstandings about Title 42:
It was never a public health policy.
It is selectively applied, not consistently enforced along the border.
"These two realities indicate that Title 42 is a political tool, playing on a public health fear to prevent legal migration," Lyons said. "It is applied to people of certain countries apprehended in the desert. It's not being enforced at ports of entry.
"Humanitarian and disaster-services agencies are already meeting in Arizona to begin planning for the arrival of migrating neighbors," he said. "Even with Title 42 in place we've been receiving asylum seekers crossing the southern border. Since the announcement to end the policy, more than 100 residents of our ecumenical shelter in Nogales have crossed legally on humanitarian visas. The International Rescue Committee Welcome Center in Phoenix has received 25,000 people from 71 different countries this year, about 200 per day. It's a misunderstanding to think the border has been closed."
Preparing for increase
Department of Homeland Security Secretary Alejandro Mayorkas said his agency has been preparing for the eventual end of Title 42 since September and the Biden administration will be adding resources to prepare for a potential increase in the number of migrants presenting at the border.
"We are applying our laws in a way that respects individuals rights to claim asylum, fear of persecution," he said on NBC's Meet the Press on May 1. He noted that asylum seekers will be "allowed to make those claims before an immigration judge." If those claims are not vindicated in court, they will be "promptly removed."
Mayorkas has released a 20-page DHS plan for Southwest Border security. It outlines "six pillars":
Surge resources.
Increase efficiency to reduce strain on the border.
Employ an aggressive consequence regime.
Partner with state and local partners.
Go after cartels and smugglers.
Work with regional partners.
It also notes that there is "broad agreement that our immigration system is fundamentally broken."
Toolkit for congregations
UCC Refugee and Migration Ministries is creating resources for congregations that want to make room for migrating neighbors. The Rev. Irene Willis Hassan is working with ecumenical partners to put together a response for the Title 42 repeal.
Specifically, she said, "we're working together to see how we can facilitate direct support to the border shelters" in areas of finances, donations, asylum accompaniment and network building.
Churches can download a free online toolkit, "Accompanying Individuals Seeking Asylum," here. For churches interested in asylum work, it offers a theological grounding, best practices, an explanation of the legal process, a glossary, infographics and more. It was jointly produced by the UCC and Church World Service with contributions from other partners.
Online series; tailored presentations
Hassan will also host a four-part series, "How to Discern Response to Multitude of Refugee Crises," Wednesdays in July. It will discuss what can be "an overwhelming explosion of human suffering, with new patterns of forced migration."
The online programs, each at 3 p.m. ET, will be as follows (subject to change):
July 6: Overview of the International Migration System: Why Afghanistan, Ukraine, the Southern Border, and Syria All Look So Different
July 13: The Syrian Crisis, the Ukrainian Crisis, and Refugee Resettlement: Where do We Go When Our Country is Burning?
July 20: The Afghanistan Crisis and Humanitarian Parole: Who is Responsible for our Suffering?
July 27: The Border Crisis and Asylum Accompaniment: Who Decides if I'm Worthy to Survive?
"This series will cover these important topics to help your church become an anchor for productive refugee ministry," said Hassan, minister of refugee and migration services.
She encouraged people who don't want to wait for that series to email her at hassani@ucc.org for a tailored presentation on asylum accompaniment.
'Hospitality and protection'
Hassan is working with the Rev. Noel Andersen, lead organizer of the UCC Collaborative on Immigration and grassroots coordinator for CWS, about ways the church can respond to the end of Title 42 and what that means for the asylum system. "The end to this program could signal a major shift in the U.S. refugee system, and we plan to share ways to advocate, donate or engage in direct service," Hassan said.
"The United Church of Christ is committed to welcoming the stranger with dignity and empowering both migrants and the communities they seek to integrate into," Thompson said. "A just transformation of the refugee and asylum system is needed to elevate the wholeness of all persons, extending hospitality and protection to those who are among the most vulnerable."
A UCC Action Alert, encouraging people to contact lawmakers about Title 42, can be found here.
---
Content on ucc.org is copyrighted by the National Setting of the United Church of Christ and may be only shared according to the guidelines outlined here
---
Related News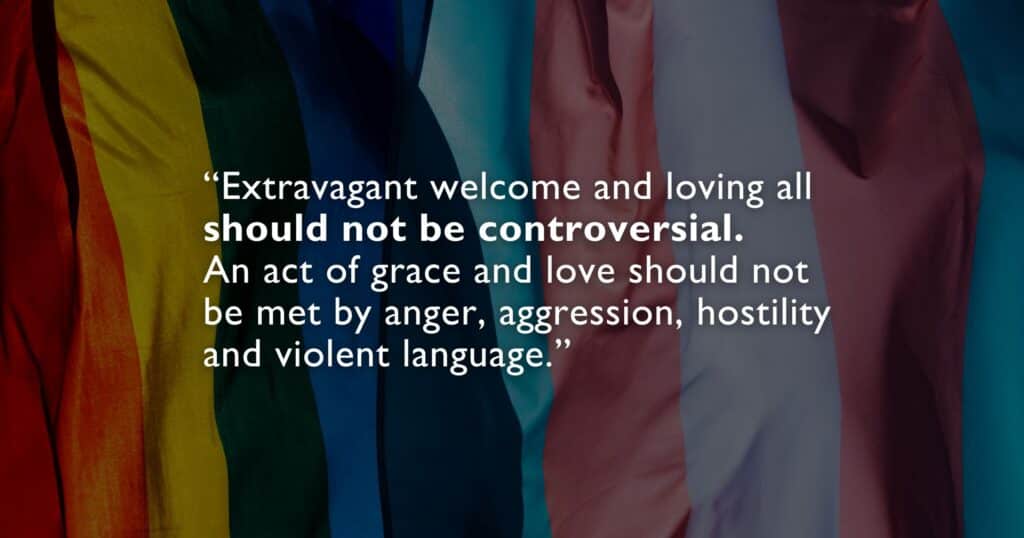 The United Church of Christ National Officers and the Conference Minister of the South Central...
Read More