UCC advocates celebrate as Confederate monuments come down in Charlottesville
It was a process more than five years in the making, one that racial justice advocates are celebrating in Virginia and around the country.
On Saturday, July 10, the statues of Confederate generals Robert E. Lee and Thomas "Stonewall" Jackson came down in city of Charlottesville.
The Rev. Seth Wispelwey, a United Church of Christ minister serving a church in Tucson, Ariz., came home to Charlottesville to witness the removal of the monuments.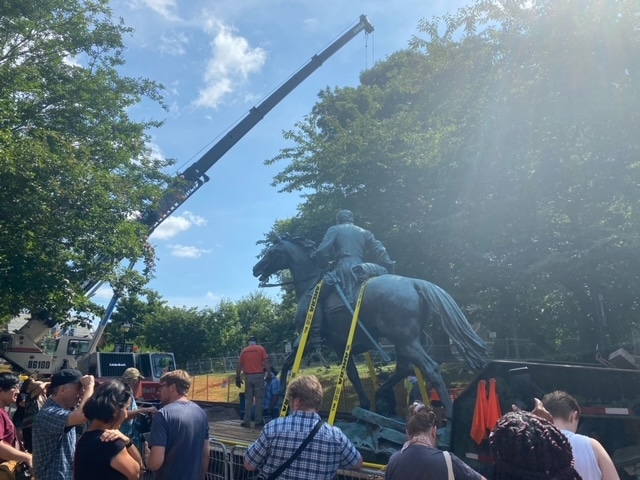 "Today, seeing the white supremacist, Jim Crow-era idols of Robert E. Lee and Stonewall Jackson come down means a lot," he said.
"It's surreal and satisfying after over five years of organizing and activism that I had a privilege of being a part of, coming alongside young Black, queer, and women leadership here in Charlottesville, who wanted right and truthful storytelling in our public spaces and equitable justice for all people in all facets of Charlottesville life.
"To be able to enjoy a morning seeing these symbols of terror come down, that also were an excuse for so much white supremacist violence in our city over the past four years, is a big deal and I'll be processing it for a while."
Remembering 2017
Wispelwey is one of the key organizers of Congregate Charlottesville, a faith-based coalition that came together four years ago to stand against racist groups that brought the "Unite the Right" rally to the college town Aug. 11-12, 2017. He, the Rev. Tracy Howe, UCC minister of congregational and community engagement, and Brittany Caine-Conley, then a UCC member in discernment, preached love over fear.
The three, all members of Sojourners UCC in Charlottesville, brought together Congregate C'ville with their allies and issued an invitation to interfaith clergy to come together in nonviolent action and prayer, to stand in solidarity against hate.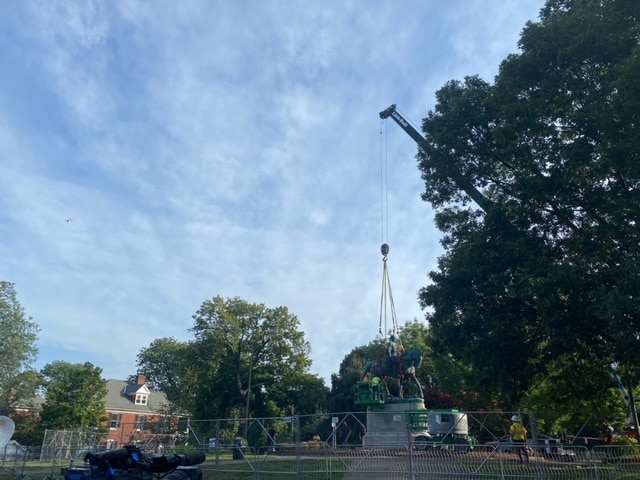 The decision to remove the symbols of the Confederacy attracted hundreds of white nationalists, neo-Nazis and Ku Klux Klan members in 2017. They clashed with counter-demonstrators in the streets, killing one woman and injuring 19 others.
The UCC presence was strong that weekend. In addition to the primary organizers of Congregate C'ville, national and conference leaders joined scores of visiting ministers and mission personnel to put their bodies on the line in prayer, in protest and in offering pastoral care in local hospitals and in the public square.
'Find yourself in these stories'
Almost four years later, Wispelwey and Howe, now living in Arizona, returned to Charlottesville to watch the symbols that sparked so much hate come down.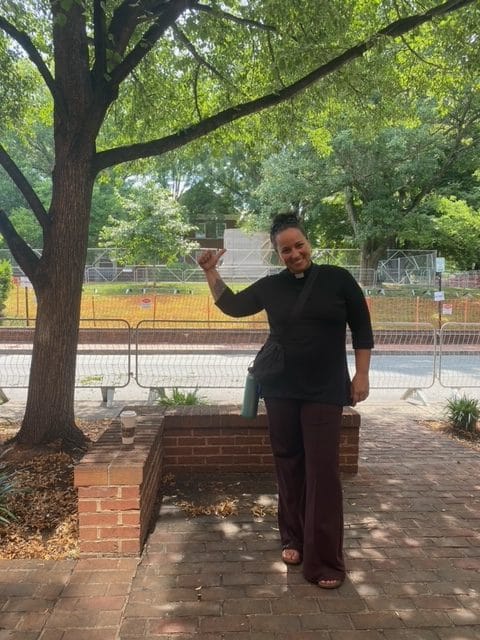 "My prayer, hope and challenge for people of faith moving forward is to catch up to movements of liberation, finding yourself in these stories that are being told today," Wispelwey said.
"People are crying out for justice. And we do a disservice to them and we betray our own calling if we wonder too much and for too long why we are not on the front lines in body and in solidarity in liberation."
Long time coming
Congregate C'ville and Take 'Em Down Cville, a coalition of community activists made up of city council members, business people and local citizens, have been working for years to have the monuments of the Confederate generals removed from the parks downtown.
"People in this community have been calling for their removal for 100 years," a Take 'Em Down C'ville statement reads. "As long as they remain standing in our downtown public spaces, they signal that our community tolerated white supremacy and the Lost Cause these generals fought for. This is an important milestone in Charlottesville's difficult, ongoing work of tearing down the remaining structures of institutional racism that are rife in our community's systems and practices. Today we re-commit ourselves to creating a community that renounces that cause, rejects white supremacy, and values Black lives."
Charlottesville's City Council voted in February 2017 to take down both statues. But a lawsuit by members of the Monument Fund and Sons of the Confederacy stalled the process. The suit argued that the move was prohibited by a state law protecting "war memorials." A local judge agreed, ruling in 2019 that the statues were protected by the law and issuing an injunction to keep them in place.
As the city appealed the ruling, activists from around Virginia lobbied the state General Assembly to allow localities to remove Confederate monuments. In February 2020, the assembly passed that law, which took effect in July 2020.
But Charlottesville had to wait until the Virginia Supreme Court overturned the local judge's ruling and vacated his injunction. Finally, Saturday morning, the city took down the statues of the two Confederate leaders. Then, following an emergency meeting of the city council, members voted unanimously to remove the monument to Meriwether Lewis and William Clark, with Shoshone interpreter Sacagawea, that afternoon.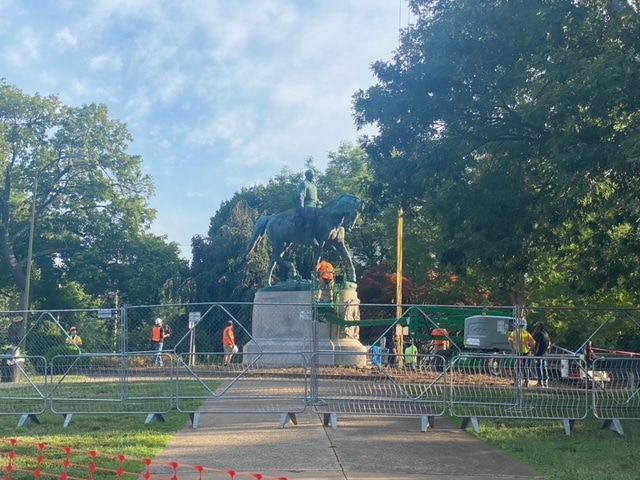 Work 'will not end here'
The current movement started in 2016, when Zyahna Bryant, a Charlottesville High School student, wrote a petition calling for the monuments' removal. She's now a third-year sociology major at the University of Virginia.
"We must not continue to offer platforms and dedicate space to honor white supremacy and the legacies of those who fought to uphold it," she said. "This is a crucial first step in the right direction to tell a more historically accurate and complete story of this place and the people who call this place home.
"The work did not start here and it will not end here. I am proud of our community for taking a stand, and I hope that this empowers young people everywhere to make their voices heard on the topics and issues that matter the most."
"Jesus calls us into relationships," Wispelwey said. "Let us find ourselves in relationships for those who need independence and life in 2021 and beyond."
---
Related News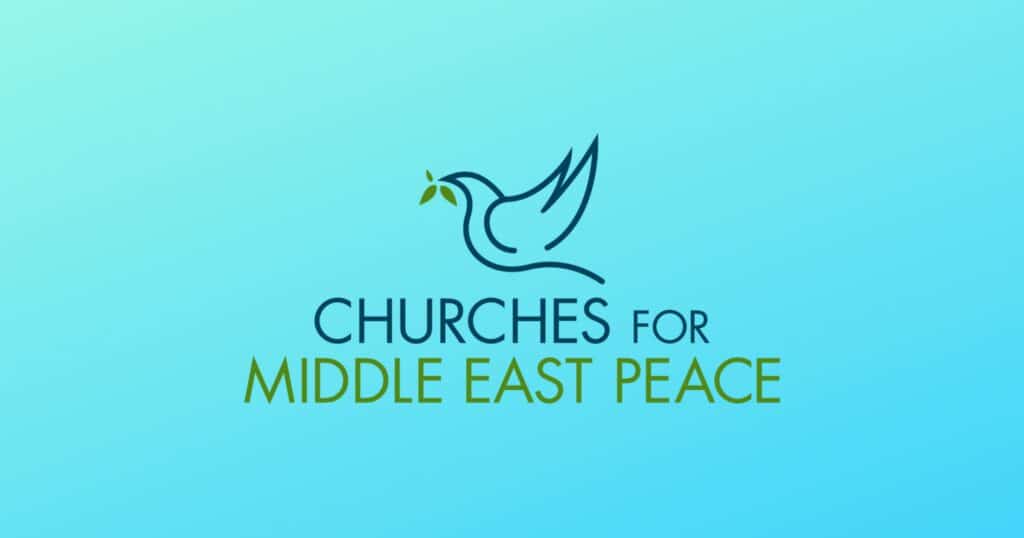 The following statement was issued Dec. 2 by Churches for Middle East Peace (CMEP), of which...
Read More