Trio of conferences, approaching One Staff model, select conference minister candidate
Photo via
Vimeo
The Rev. Brigit Stevens could have pursued a career in finance. Instead, she followed her call to ministry.
That call has led her to the potential forging of a new path, serving as the first executive conference minister for three United Church of Christ conferences in the north central United States. Stevens was chosen, on Saturday, Sept. 9, as the candidate to lead the Iowa, Nebraska, and South Dakota Conferences, which have explored — for the better part of two years — a creative way of moving together to enhance their direct ministry, thereby strengthening their covenant while maintaining their autonomy.
And the Tri-Conference picked Stevens to lead them into this covenantal, "One Staff" model for conference ministry.
"I believe there are great opportunities embedded in the challenges that lie before us," Stevens said. "I enjoy the hard questions of living in covenant with people I do not always agree with or even like very much. And I'm convinced the United Church of Christ is a beautiful collection of brilliant souls that, in spite of our difficulties, still shines the light of Christ in a transformative way to the world."
Stevens, whose faith formation is rooted at Wayzata Community Church UCC in Minnesota, graduated with an accounting degree from University of Wisconsin-River Falls before pursuing a M.Div. from Fuller Theological Seminary (Pasadena, Calif.). She currently serves on the Iowa Conference staff as an associate minister.
"I am passionate about developing stewardship practices that reflect our faith and thanksgiving for God's blessings, not our fear of closing doors and limited resources," Stevens said. "I am particularly looking forward to employing my skills and experiences from my accounting and small-business owner days in the role as executive conference minister."
Though the Tri-Conference plan would allow the individual conference offices to eventually consolidate, it will not combine their geographic entities into a single conference.
Instead, the three conferences would maintain their own finances, boards of directors, structure of associations, and ministry priorities. The Tri-Conference plans allow them to share a conference minister to oversee staff, and use associate ministers to focus on local ministry and clergy — instead of the current model of three conference ministers fulfilling both roles. There are about 330 churches among the three states, with half of those churches in Iowa.
"Together, the leaders and people of the three conferences have discerned that this structure holds promise to better resource our churches, provide a more healthy and sustainable context in which those who staff conference ministry might do the work to which they've been called and hopefully realize a bit of cost saving in the process," said the Rev. Rich Pleva, Iowa Conference minister. "It's one part of a bigger project of re-envisioning the shape of ministry in the middle settings of the church."
Pleva and the Rev. Roddy Dunkerson, who have served as the Iowa and Nebraska conference ministers for 12-plus years, are nearing retirement and approached the idea as a moment of opportunity. The South Dakota Conference joined the conversation, and the group's joint task force drafted a proposal to create one integrated staff to serve all three conferences.
"I think this is about understanding that we have to embrace doing church in a new way, and for me it's not about the judicatory level doing it in a new way, but also modeling for local churches to take risks and look at doing church in a new way," said South Dakota Conference minister the Rev. Gordon Rankin. "Our world is craving our message to embrace God's work in new ways. We're not in sync with God's call to us if we aren't embracing that call."
The Rev. Steven Bailey, a minister in South Dakota and part of the Tri-Conference executive committee, detailed some of the thinking with the leadership model.
"We could consolidate our leadership among the three conferences, which will still remain distinct, autonomous conferences, and be efficient organizations in using our staff more effectively, especially associate conference ministers to spend more time in the field with churches," Bailey said.
Stevens' candidacy will be voted on by each of the three conferences on Oct. 7 (Iowa and Nebraska) and Oct. 14 (South Dakota). After that, there will be some searching for a yet-to-be-determined number of associate conference ministers, among other questions under consideration.
"We know this goes into effect Jan. 1, and we have a budget for 2018 to fund the 'One Staff', but there is a whole lot of it to figure out," Rankin said. "Will there be a Tri-Conference office, and where? We have to figure those out as we go."
"The challenge of where we are at the moment is staffing," Rankin said. "I feel like I've spent the last three months saying, 'I don't know, but we'll figure it out.'"
---
Related News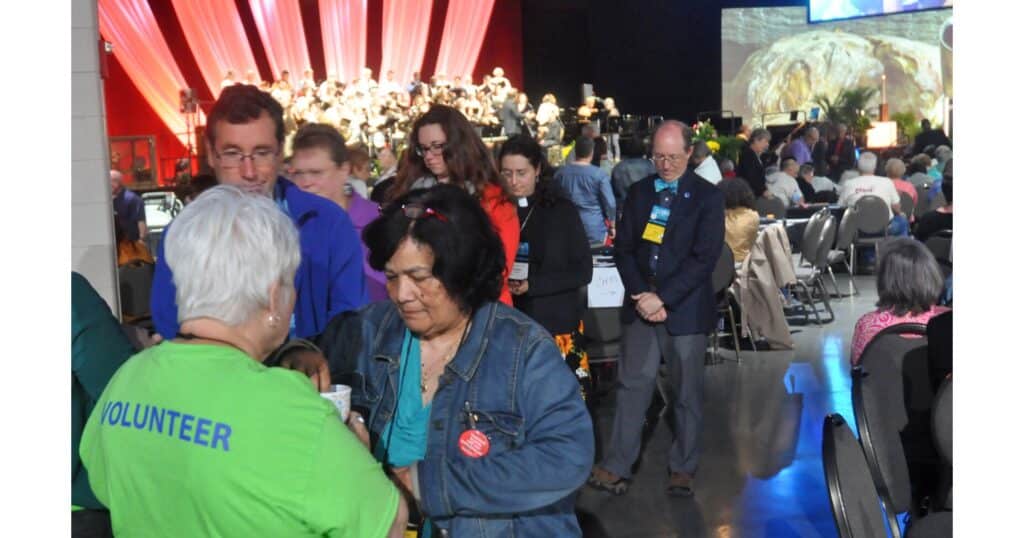 There's a brand-new way to engage with the General Synod of the United Church of Christ...
Read More