Toledo-area UCC steps up to welcome Syrian strangers
Refugees and members interact at Sylvania UCC's Polar Bear Bash in February. Photos via
Facebook
.
What started as a literacy program has blossomed into a call to welcome the stranger among them. Sylvania United Church of Christ, located in the suburbs of Toledo, Ohio, has taken on a larger role in its community to assist refugees who are trying to make a new life in their community.
Through a growing partnership with US Together, a local resettlement group, the congregation and that organization are looking to partner on an initiative that would bring together students, parents, schools, faith communities and businesses for a mentoring program. US Together is a non-profit refugee resettlement organization operating in the Cleveland, Columbus and Toledo areas.
"This is aimed at helping immigrant and naturalized U.S. citizen children build a sense of community here in the U.S." said the Rev. Mary Meadows, interim pastor at Sylvania UCC. If a grant is awarded, the church will work with US Together during the next year to provide mentors to local immigrant children in Toledo, and will likely host events in conjunction with the mentoring program.
"The social support and emotional support from them (Sylvania UCC), it helps us. Now we are doing a program that involves mentoring for children, and they are our partner in this project," said Corine Dehabey, director of US Together in Toledo. "We're going to work with the school system to mentor students who don't speak English… and we'll take students to employers, to shadow people at work for a day."
During the UCC's church-wide focus on literacy in 2015, Sylvania UCC was awarded a grant which the congregation used to host a no-cost literacy program, run by a local organization, that taught reading and speaking skills to pre-kindergarten children and their parents. About 10 refugee families participated in the program in October and November. As Kristen Leverton, Sylvania UCC's director of outreach, put it, "the two emphases of literacy and refugees came together."
Earlier this year, Sylvania UCC hosted refugee families for its annual "Polar Bear Bash" — a winter family celebration event for 30 new community members, served by US Together, and 100 congregation members and children. Meadows said that the church had a fundraiser to go along with the bash, raising $2,000 to for US Together, doubling its goal to raise $1,000.
"We've done projects with them before and they have been great," Dehabey said. "We appreciate their involvement, and their understanding."
Meadows said that there are other projects in which the groups are collaborating. "We will also be building on our partnership with US Together in our vacation bible school — including putting together school supplies and backpacks for children of families served by US Together," she said. "The curriculum will focus on 'Standing Up!' on issues of peace and justice, including standing up for the sojourner — the refugee in our midst."
Syrian refugees have continually been a focus of international news for the better part of six years, with the outbreak of the Syrian Civil War (starting in 2011) and recently just two weeks ago, after a U.S. military operation launched 59 missiles on a Syrian airfield in response to a chemical attack on civilians. Meadows said she and Dehabey spoke after the incident, expressing worry for families still in the country.
In terms of the impact the missile strikes have had on Syrian refugees in the Northeast Ohio region, Meadows said she "cannot begin to speak for these families… I do know it has increased immigrant families' anxieties over the safety of their own residency here in the United States." 
Dehabey explained that the conflict creates a continuous need to help refugees who have been resettled to the U.S. — and that churches are uniquely positioned to offer assistance. "We're a non-denominational, non-partisan group, but I tell people and churches," Dehabey said, "that if you want to see the face of Jesus, you can volunteer and help those in need."
---
Related News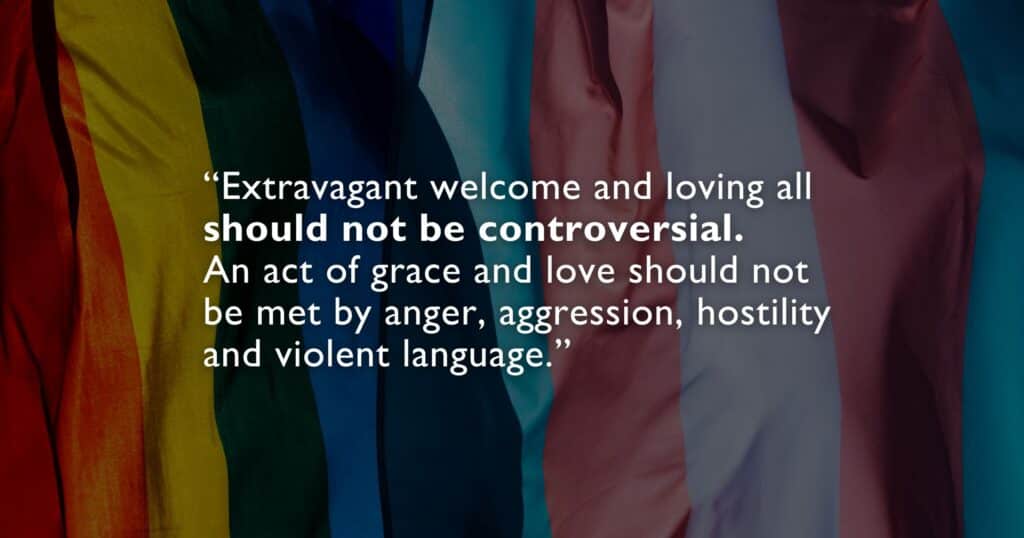 The United Church of Christ National Officers and the Conference Minister of the South Central...
Read More