Three trailblazers honored with 2019 Antoinette Brown awards
The United Church of Christ Monday presented the 2019 Antoinette Brown Awards to three women who have been trailblazers in the Church, and one organization that has nurtured hundreds, particularly women, on their path to becoming prophetic witnesses.
The awards are presented at each General Synod to UCC clergywomen whose lives and ministries exemplify Brown's spirit of trailblazing leadership in church and society. In 1853, Brown became the first woman ordained into Christian ministry since biblical times.
This year's awards were presented to:
The Rev. Liddy Barlow, who in 2014 was the first woman to be installed as executive minister of Christian Associates of Southwest Pennsylvania, an ecumenical agency bringing together 28 Protestant, Catholic and Orthodox church bodies. In recognizing Barlow, the selection committee lifted up the work she did in the wake of the mass killings at the Tree of Life Synagogue in Pittsburgh last year.
"Rev. Barlow offered a clear voice of compassion and hope, representing the Christian community in civic and interfaith memorial events. With interfaith partners, she convened spiritual leaders from nine world religions and 24 Christian denominations in the 'We Have To Talk' initiative, which encourages collegiality and work for healing," said Elizabeth Dilley, UCC minister for ministerial support and accountability, in conferring the award.
A lifelong member of the UCC, Barlow has served on a variety of local, conference and national boards and committees.
The Rev. Eileen Norrington, who was recognized for her work in the U.S. Navy Chaplain Corps.
"In the Navy, Rev. Norrington taught suicide awareness and prevention, stress management, and rape prevention; worked with grief groups, victims of family violence, alcohol recovery groups, and CREDO spiritual growth retreats–all in addition to traditional pastoral duties at several duty stations in the U.S. and overseas," Dilley said.
In 1996, Norrington was the first woman in the Navy Chaplain Corps history promoted to the rank of captain. Since she retired from the Navy, she has filled roles in the national setting.
The Rev. Marti Baumer, one of the first women to serve as a Conference Minister when she served in Illinois South, was lifted up for her "serious attention to people and place, the articulation of firmly held values, and strength of character that encourages others and strengthens the church," said Rev. Sheila Guillaume, pastor of Union Congregational UCC in West Palm Beach, Fla., in introducing Baumer.
Baumer has served as a pastor in established congregations and as the founding pastor of the United Church of Santa Fe, NM. A professor of Practical Theology at Eden Theological Seminary, she served as chair of the UCC's Executive Council, was an architect of the Background Document of the Ministry Issues Pronouncement, and supported the Habakkuk Group's revisioning of the Manual on Ministry.
The institutional Catalyst Award was presented to WomanPreach, Inc!, which, Guillaume said, "provides intimate, practical training and nurturing community spaces" to empower preachers.
"Their programming began as a way to train women, and has since grown to include programming for people of all genders, and to include speakers who serve as community organizers and in other vocational spaces where faith-based, justice-centered proclamation is necessary, Guilliaume said. "WomanPreach! Inc. acknowledges the socio-political, cultural and religious context out of which preachers and witnessers of the Gospel come."
Over the past eight years, WomanPreach! has mentored hundreds through its programming, and stands in support of equity and freedom for all people.
The award was accepted by the group's founder and current president, the Rev. Valerie Bridgeman, dean and vice president for academic affairs at the Methodist Theological School in Ohio.
Tiffany Vail, Synod Newsroom volunteer, is the Associate Conference Minister for Communications of the Connecticut, Massachusetts and Rhode Island Conferences, United Church of Christ.
---
Related News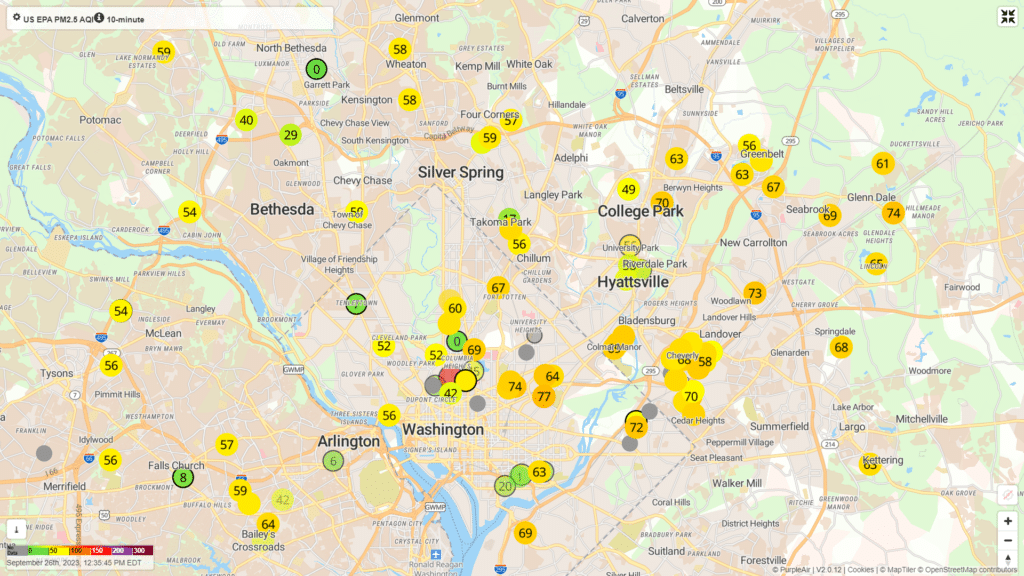 This summer, the United States experienced some of the worst days for wildfire pollution in...
Read More