Three Juneteenth celebrations to 'mark freedom for all Americans'
*Editor's note: On Thursday, June 17, President Joe Biden signed the Juneteenth National Independence Day Act into law, making the day a federal holiday. On Wednesday, June 16, the U.S. House of Representatives passed legislation declaring June 19 a national holiday, following Tuesday's action in the Senate.
On the Fourth of July, the United States celebrates freedom from British rule. On June 19, Juneteenth celebrates freedom for all Americans. This year, the United Church of Christ is marking Juneteenth with three consecutive celebrations.
On June 19, 1865, two months after Confederate General Robert E. Lee's surrender ended the Civil War, Union General Gordon Granger read a federal proclamation in Galveston, Tex. He notified enslaved people of African descent that they were free. Granger's announcement put into effect the Emancipation Proclamation, which had been issued more than two and a half years earlier — on Jan. 1, 1863 — by President Abraham Lincoln.
June 17: UBC celebration
"Juneteenth is the oldest nationally celebrated commemoration of the ending of slavery in the United States," said Zillah Wesley, president of United Black Christians, representing some 50,000 African American members of the UCC. "The Emancipation Proclamation had little impact on the Texans due to the minimal number of Union troops to enforce the new executive order. However, with the surrender of General Lee in April of 1865 and the arrival of General Granger's regiment, the forces were finally strong enough to influence and overcome the resistance."
UBC is presenting the first of three events marking Juneteenth 2021. On Thursday, June 17, at 3:30 p.m. ET, UBC will "celebrate the historic significance of Juneteenth to our UCC congregations, especially our African Descendent churches."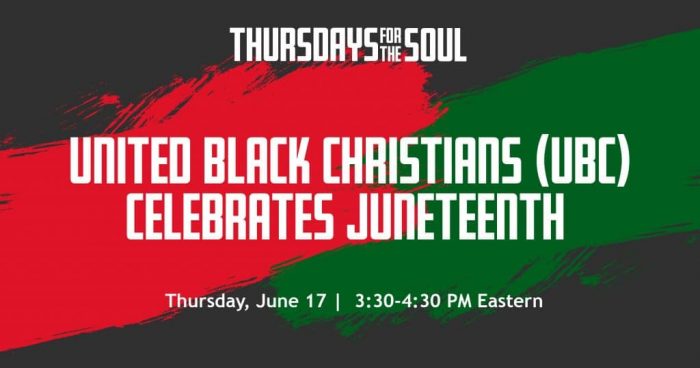 The hourlong celebration will include representatives from Peoples Congregational UCC in Washington, D.C.; Mt. Zion Congregational Church, UCC, Cleveland; St. Albans Congregational Church, UCC, St. Albans, N.Y.; and First Congregational Church, UCC, Atlanta. They will mark the holiday in prayer, meditation and song. Register here.
June 18: 'Stories and Sacred Music'
On Friday, June 18, Racial Justice Ministries is planning a noon ET Juneteenth Celebration with stories and sacred music. The Rev. Velda Love, UCC minister of racial justice, will host an hour and a half of music, spoken word and creative expressions of joy, sorrow and praise. Register here.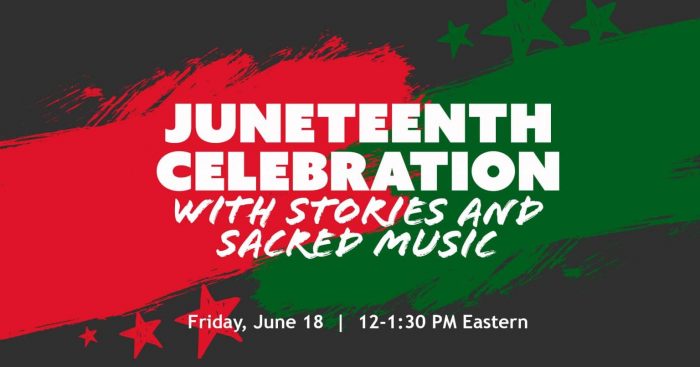 Here are the featured participants:
Valerie Tutson, master storyteller
Myra Taylor, Black liberation preacher, pastor, educator
Marcus Simmons, African-centered Ethnomusicologist
The Rev. Osagyefo Sekou, musician, theologian, freedom fighter, national and global performance artist
Vahisha Hasan, preacher, educator, community activist and organizer, and spoken-word artist
"African descended people have resisted, revolted, protested and fought for their freedom and right to exist as God intended since the beginning of human existence," Love said. On Friday, participants can "listen to lives of African peoples through four genres of storytelling and music. Experience the long history of first peoples despite the interruptions, setbacks and tragedies."
"The celebration tells the story of African-descendant people in this country," said the Rev. Traci Blackmon, noting the UCC's three planned celebrations. "It celebrates our power, our talents, our skills, our brilliance. It highlights the many contributions made by people of African descent in this country, without which this nation could not have prospered as it has."
June 19: Live from Carnegie Hall
On Saturday, June 19, the denomination is serving as one of the sponsors of a Juneteenth program at Carnegie Hall. The Rev. James Forbes, senior minister emeritus of The Riverside Church in New York City and founder of the Healing of the Nations Foundation, will host the event.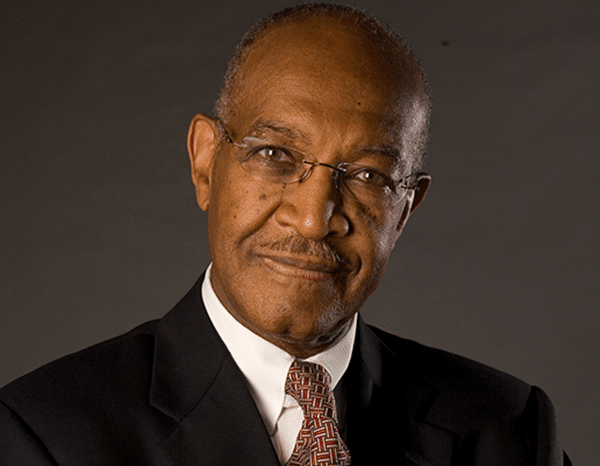 Juneteenth is a special day to Forbes, and one he hopes to see become a national holiday.
"My wife is from San Antonio, Tex.," he said, noting that he became aware of the importance of Juneteenth during celebrations in Texas. "That was the only day that Black people in San Antonio could go to the segregated park." He said it was a day of "music, dancing, speeches, how far they had come and how far they had to go."
That's when Forbes became convinced that Juneteenth should be a national holiday for the nation. "It was the first day all slaves were free. It's an all-America freedom day," he said. "That's the day all Americans were free. General Order #3, brought by General Granger, said all slaves were free. The order said former slaves and former slave owners had absolute equality. Not everybody remembers that."
So Forbes helped start a Juneteenth celebration at the Riverside in 2015, in the spirit of those first celebrations. Four years later, the event moved to Carnegie Hall.
"We shifted to Carnegie Hall in 2019, which gave an extra 'oomph' to the celebration," he said. "We filled Carnegie Hall with a glorious program." In 2020, because of COVID, it went virtual. This year, it remains virtual, and Forbes hopes to be back in the Hall in 2022.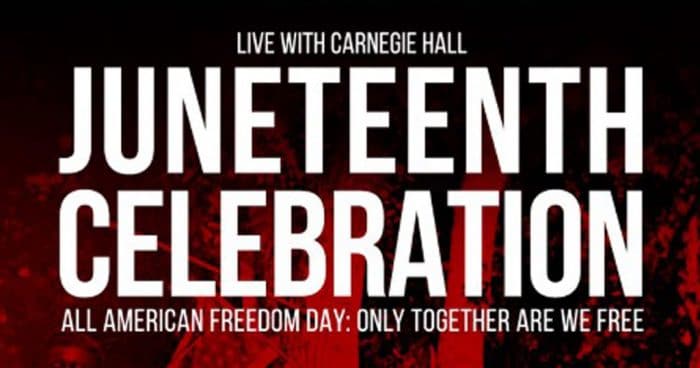 Forbes will lead a celebration of music, dance and commentary with Mistress of Ceremonies, actress Tamara Tunie; special guest, performer Wayne Brady; Martin Luther King III; and Annette Gordon-Reed.
The event, at 7:30 p.m. ET, will also mark important contributions that African Americans have made to the U.S., honoring Carnegie Hall Chairman Robert F. Smith; Founder and Executive Director Bryan Stevenson of the Equal Justice Initiative; and U.S. Rep Sheila Jackson Lee of Texas.
47 states so far
Juneteenth is recognized by 47 states and the District of Columbia as a state holiday or observance. Forbes hopes to see it become a national holiday. On June 15, the Senate unanimously passed legislation to make Juneteenth a federal holiday. It now needs to pass in the House of Representatives.
"It's a fascinating thing," he said of the movement to make it a national holiday, "the real breakthrough came after George Floyd's murder and the protests surrounding it.
"The nation has got to decide: Do we want to be a fully democratic society? It's important to be all Americans together, we need to have celebrations of that determination. We have to celebrate our unity. I won't rest until we are celebrating it all together, and there's a determination to keep it that way … to fight off voter suppression efforts all across the nation."
"The United Church of Christ is proud to host Juneteenth celebrations on June 17 by UBC, our June 18 event moderated by Rev. Dr. Velda Love, and to co-sponsor the country's Juneteenth celebration at Carnegie Hall on June 19, moderated by Rev. Dr. James Forbes," Blackmon said. "We hope you will engage and enjoy them all."
---
Related News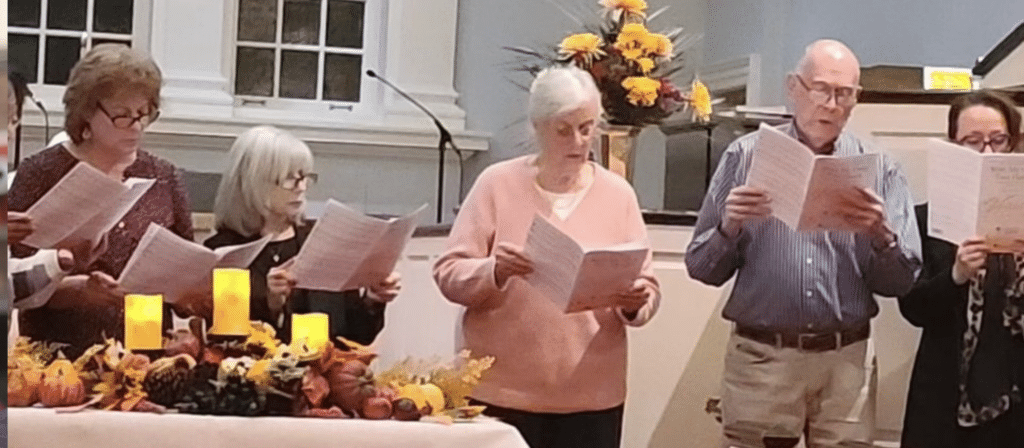 Many United Church of Christ congregations across the country participated in interfaith...
Read More