'This is our moment,' UCC members hear as $8M racial justice campaign formally begins
Memories of ancestors. Pleas for the children. Reasons for hope. Funding for a faith-filled anti-racist fight.
All were topics of the Sept. 15 formal launch of the United Church of Christ's "Join the Movement Toward Racial Justice" capital campaign. The goal is to raise $8 million over three years for programs, leadership development and initiatives to fight racism.
The online launch, which drew viewers from every region of the United States, was recorded and will be available soon at the UCC YouTube channel. It included:
Testimonials from the UCC's three elected officers and the campaign's three honorary co-chairs.
A remembrance of the horrific 16th Street Baptist Church bombing in Birmingham, Ala., 59 years ago to the day.
News that $460,000 had already been raised in a preliminary "silent phase" of the campaign.
An invitation to give or pledge to the campaign. Contributions can come from individuals, congregations, Conferences, church-related institutions and anyone interested in supporting a sustained movement for racial justice.
"The Christian church began as a movement towards a just world through the teachings of Jesus," said the Rev. Kent Siladi, UCC director of philanthropy. "As disciples of Jesus, we believe it is our mandate to work for and seek justice, love and compassion as we join and become our own Spirit-led movements.
"This is our moment and this is our movement."
'Anger into activism'
The ways the money will be used are detailed at the campaign web page. Siladi summarized them as follows:
Half the money raised, he said, will "go towards ministries in the present moment that will equip educational programs, provide grants, provide leadership development, encourage advocacy and support for anti-racism work."
The other $4 million "will be placed in an endowment fund which will ensure that anti-racism work continues in the United Church of Christ for generations to come, for the children and our children's children."
The topic of children — and of inspiration from ancestors — echoed throughout the 1-hour launch program.
The Rev. Arthur Price Jr., pastor of 16th Street Baptist Church, noted that Sept. 15, 1963, the day the Birmingham bombing occurred, was the congregation's Youth Sunday. Children were to be in charge of worship that day, using the theme, "Love That Forgives." Four of them died in the bombing and a fifth was blinded in one eye.
In response to that "home-grown terroristic act" — which came just 18 days after the Rev. Martin Luther King Jr.'s famous "I Have a Dream" speech — members of the Black community in Birmingham put their grief and anger into action, Price said. They pushed, for example, for the passage of the U.S. Civil Rights Act. The children's deaths and injuries "galvanized a generation and motivated a movement," Price said, and the children remain, to this day, "a beacon of light." He urged people to respond in the same way today in the face of white supremacy, institutional racism and violence.
"We should be angry," he said. "… But we need to turn that anger into activism, and that activism into action."
On ancestors' inspiration
The hour included reflections by the campaign's three co-chairs, the Revs. Otis Moss III, Naomi Washington-Leapheart and Starsky Wilson. Prompted by questions from the Rev. Traci Blackmon, UCC associate general minister for Justice and Local Church Ministries, their responses spanned generations. In personal ways, they spoke of how the spirit and example of elders and ancestors anchor them in their work for racial and social justice. And they shared their hopes for children of today and the future.
Their stories of their Black ancestors' struggles against racism included these:
Moss named his grandparents. Magnolia Moss, he said, "died of medical apartheid after giving birth." Her husband, Otis Moss, then raised five children as a single father while working as a sharecropper — but not on white-owned land. He "found a way in Georgia to find other Black families who owned land so he would be treated fairly." His effective work for Black people's right to vote inspired the same in his entire family.
Wilson also remembered his grandparents, Lorraine and R.L. Turner. He described their persistence and dignity in the face of difficult working lives in Texas and how his grandfather taught him to discern his own vocation in life.
Washington-Leapheart spoke of her "desire to be worthy of the inheritance given to me by my ancestors." "I think that a life of justice and integrity and joy is the price that I pay for that inheritance, and it is the price of the freedom ticket that my ancestors bequeathed to me."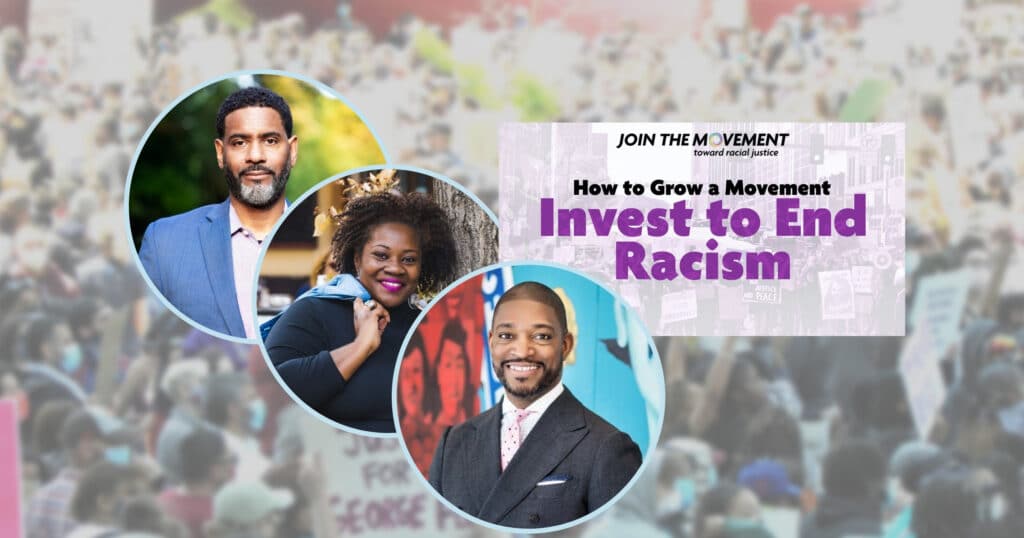 On children and racial justice
The Rev. Karen Georgia Thompson, associate general minister for Wider Church Ministries, told a story from her childhood in Jamaica. There, racism literally hit her for the first time when she was "hit in the head with a stone thrown by a little white boy."
"Racism is a global phenomenon," she said. "The invitation to Join the Movement … is an invitation to tell the stories about who we are, where we came from and how our lives have been impacted."
Visible to viewers, behind Wilson, was an image of a girl wearing a COVID-safety mask with the message, "Get your knee off my neck." Referring to that child, Blackmon asked the three co-chairs, "What are your hopes for this church that claims her but doesn't always care for her?"
"I imagine a church where children and youth ministry is not a line item in the budget, but is the budget of the church," Moss said. "I imagine a church without separate tables for children, but where they are centered for the celebration of all of our meals. I imagine a church that has not forgotten the beauty of holy play and imagination that children have."
Washington-Leapheart imagined a church "that protects children." She included "their mind," "their imagination," "their theological wrestling," "those questions they ask in Sunday school," "their hearts" and "their messiness and candor." "I imagine a church where their dreams are protected, kept safe from a world that instills nightmares instead."
Wilson imagined a church "where the children's sermon is not the prelude to the preaching" and where spiritual energy extends to "changing and shifting systems" — such as systems that produce child poverty, overwhelmingly affecting people of color. The search for solutions, he said, must be not only political but "missional." "We speak in hope," he said. "Racial justice, if it is to be lived out, has to be theologized."
The Rev. Velda Love, minister of racial justice, said the point of Join the Movement, which she leads, is nothing less than to ensure "a spiritual home for our children and our children's children to thrive" through efforts to "end white supremacy, racial terror and injustice."
Repenting of white power
There was an admission, too, that the church must repent of its own racism.
"We are both an institution called by the Holy Spirit of the living God and the risen Christ to manifest love and justice in the world; and an institution still heavily beholden to a way of living centered on the instantiation of whiteness as our cultural norm," said the Rev. John Dorhauer, general minister and president.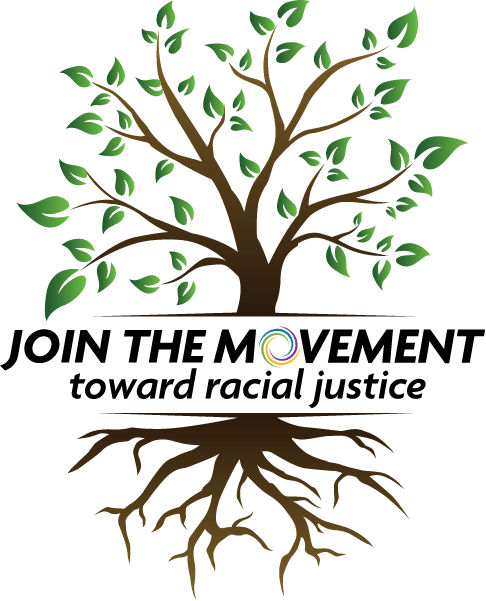 "At every level of our denomination we see the manifestations of white power and privilege. … The United Church of Christ is being asked to deepen its understanding of how whiteness continues to center itself in our governance, our hiring practices, our language, our worship, our theology, our ecclesiology, our polity and so much more."
"Every setting of the UCC, from local churches to global partners, has a role to play in expanding our practices of antiracism and strengthening our capacities as partners and participants in the burgeoning racial justice movements of our time," Siladi said. "… It is our sacred calling to uncover hidden histories, to heal past harms, and to work toward ending racism and creating a future of justice for all … Jesus invites us to confess the brokenness of our nation and our world and our brokenness within the church. We are not what we should be. We have fallen short."
He said that "inviting people and churches to share their resources in this Join the Movement campaign will allow them to participate as co-creators in bringing justice and healing to the world. This is our 'why.' We believe that the time is now to invite donors to join others in making a difference by utilizing their God-given resources for the common good."
'Radical imagination'
Now is the time for all settings of the UCC to make Join the Movement and its anti-racist work a financial and spiritual priority, UCC leaders said.
"This is not about having to go out and get money," Blackmon said. "The money is in the house."
"This is no small ask," Dorhauer said. "There can be no half-measures this time around, half-measures that often find largely white activists engaged only long enough to assuage their guilt — but never quite long enough to dismantle the system that privileges them. We must challenge ourselves to go all-in on the work to end racism, and to stay in the movement until Dr. King's dream of the beloved community and God's vision of shalom are fully realized."
People who tuned in to the live webinar filled its chat space with appreciation. At least one viewer said she would spread the word.
"Thank you to everyone who participated and spoke tonight," wrote Nancy Shimamoto, a lay leader at Pioneer Ocean View UCC in San Diego. "You have lit a fire under many of us, and I will personally carry this message to my congregation."
Moss said the UCC has a legacy of "radical imagination" to draw on. "I believe that is our call: to be a part of the work of imagination — of reimagining what is not yet, but function as if it is," he said. "That is the role of the prophet. The prophet has the radical, creative ability to imagine. And that is the great gift God has given us."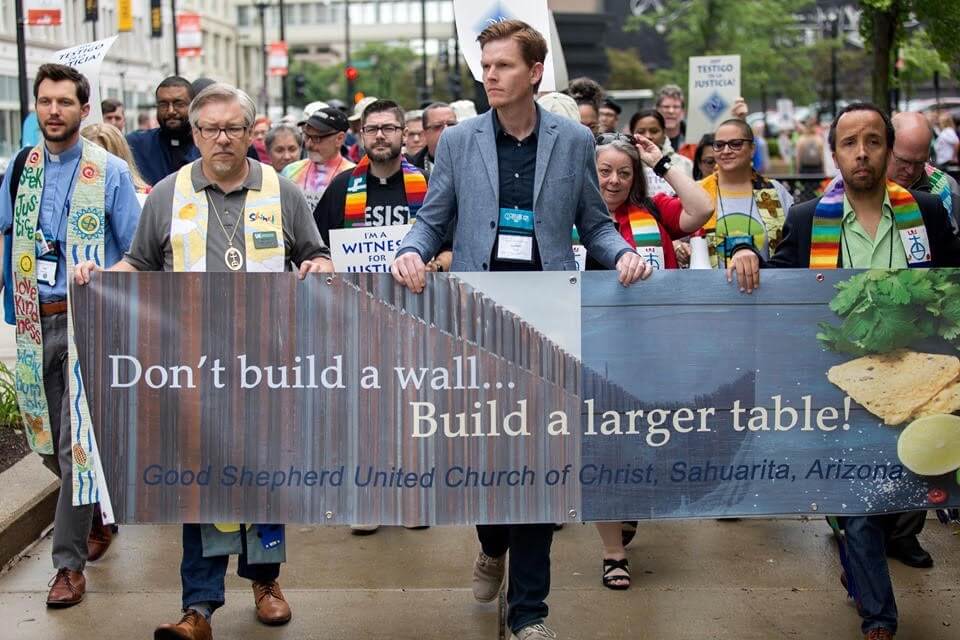 ---
Content on ucc.org is copyrighted by the National Setting of the United Church of Christ and may be only shared according to the guidelines outlined here.
---
Related News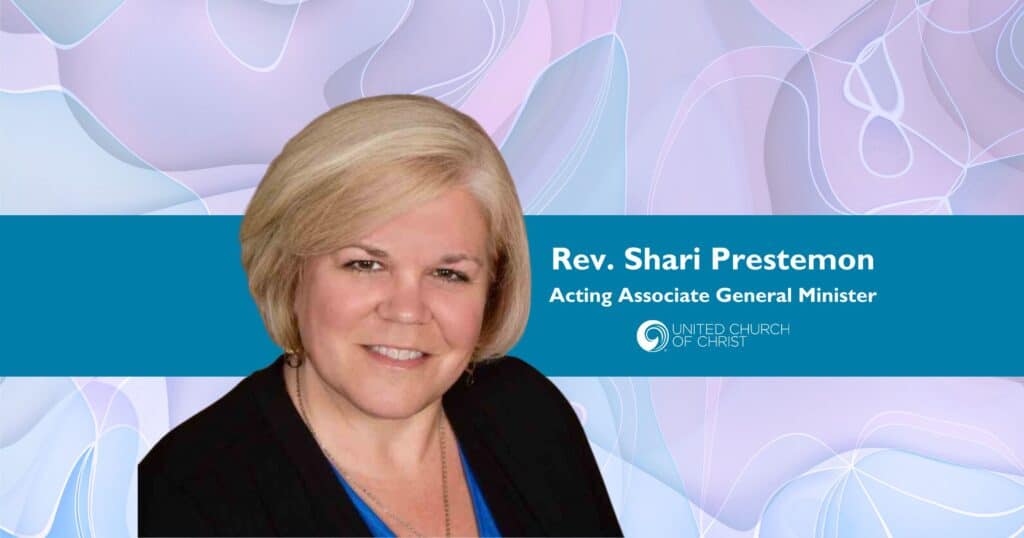 A new United Church of Christ national leader has been called. The UCC Board voted in a...
Read More