The Reluctant Radical: A Documentary for Churches to Screen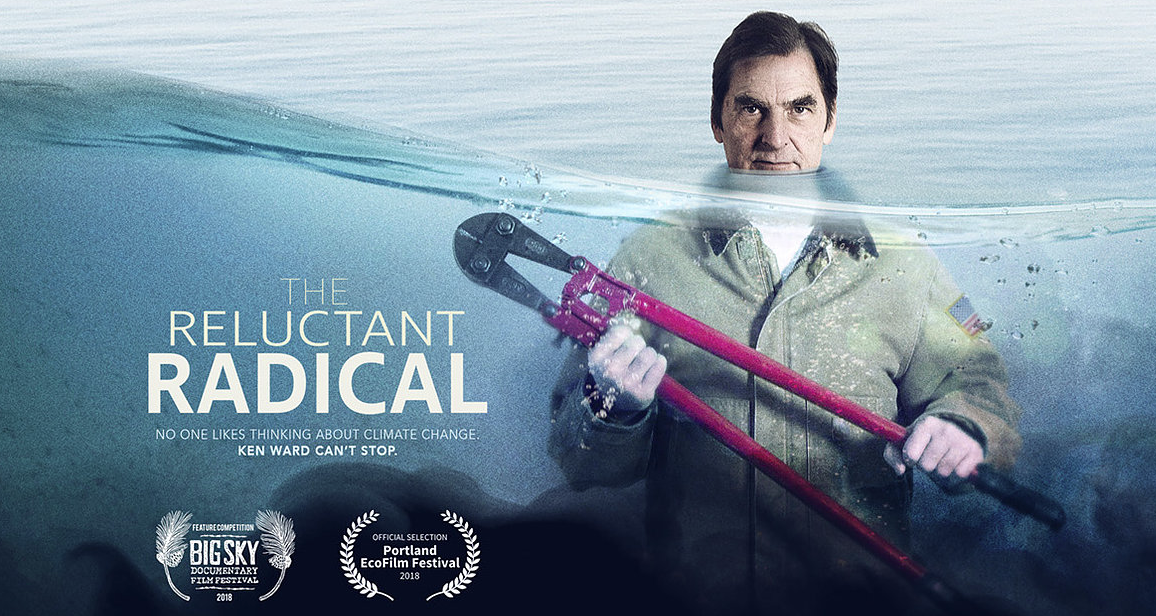 'Speak, Lord, for your servant is listening." 1 Sam 3:9
A new documentary called "The Reluctant Radical" offers congregations an opportunity to reflect and discern how God is calling them to act.
The movie follows the life path of Ken Ward, a long-time environmentalist and activist as he wrestles with what life choices should he make and what direct actions should he take in response to the greatest crisis that human civilization has ever faced: Climate Change. As Ward expresses his struggle: in response to the potential "end of conditions that make civilization possible," he is "obligated" to do whatever he can.
During the documentary, we witness his participation in a series of non-violent civil disobedience direct actions, some small and some huge, comfortable and uncomfortable, ranging from minimum risk to major risk. He does these actions as an individual and occasionally as part of a larger group action. As he hesitates/reflects prior to one action, Ward observes that he always asks, "Should I really be doing this?" This is followed by another question, "As compared to what?" Then, he acts. Because of his actions, he's gotten lots of experience within our legal system of criminal justice. He observes, "When my life ends, I want to be able to say that I did all that I could."
The film will disturb you, and that isn't all bad. Sometimes we need to be shaken from our complacency to ponder anew what should be our response to the greatest crisis that human civilization has ever faced. Several questions came to mind while watching this documentary:
•What is the role of the Church in this crisis?
•At what cost am I willing to "do what I can"?
•What are the limits to non-violent civil disobedience direct actions? Is there a point at which these actions can tip over into violence? What are the risks/rewards of participation?
•How literally should we take the Gospel's call to justice?
With the recent news that despite the Paris Agreement, carbon pollution continues to increase amid signs of escalating global devastation and human suffering, perhaps it's time for us, The Church, to wrestle with similar decisions.
Viewing the "The Reluctant Radical" in our faith communities may just create that opportunity. As Ward observes, "Direct Action creates opportunities of moral clarity."
Prayer: God of us all, help us to walk humbly with you to do justice with loving kindness in the saving of your Creation. Help us to do this soon dear God, while there's yet still time, Amen.
Watch a trailer for the film. Then, host a screening of The Reluctant Radical at your church. For an audience of 20-200, a screening kit costs $120 after a 20% discount. To get the discount, type UCC_20%off as a promo code when ordering.
---
Related News
On October 13th, a delegation of UCC laity and clergy are scheduled to deliver more than 6,500...
Read More