Texas church, washed out in 2016, flooded by Hurricane Harvey
They experienced a devastating flood on Tax Day 2016, and were just weeks away from worshipping once again in their sanctuary. But this growing United Church of Christ congregation 25 miles northwest of Houston took the brunt of Hurricane Harvey's heavy rains, which flooded the church for the second time in as many years and will keep Christ United Church of Cypress in renovation mode.
The Texas congregation returned to its iconic church building on Aug. 20, holding that first worship service in the fellowship hall. Since the flooding in April 2016 — which had never happened before — the people of Christ United rented out space from a school for services. The building reconstruction was just about complete. And though this church is situated on high ground, about 40 inches of rainfall from Harvey brought floodwaters up to the middle of the front door.
The Rev. Jeff Willey, pastor at Christ United, said that the two main roads on both sides of the building now resemble major rivers, with water rushing past and still rising. But he is resolved that the church will persevere once again.
"The church is not the building. We have new families joining us and some of them have never been in the building. We recently welcomed 13 new members and had five visitors on Sunday last week in our Fellowship Hall," he said. "When we get back into our sanctuary I expect to crest 100. Our church is a comfort. The steeple gives people faith that God is still with us." 
Just over a week ago, Christ United celebrated returning to its facilities after a year-and-a-half absence due to the devastation of the 2016 disaster. "We worshipped in our almost-finished Fellowship Hall and gave tours of our sanctuary-in-progress," Willey said. "The joy of 'coming home' re-invigorated the congregation and made a positive impression on visitors."
And then came Hurricane Harvey, which made landfall Friday night in southeast Texas south of Houston. The Category 4 storm, now a tropical storm still lingering over the state, came in with 130 mph winds and dumped more than three feet of rain, sending scores of people (an estimated 30,000) to temporary shelters and impacting a half-million homes.
"Unlike the Tax Day Flood, the waters of the hurricane have been much more widespread, have been extremely more damaging, and have lasted longer. In fact, the worst is perhaps yet to come," Willey said. "The storm is turning back toward the Gulf of Mexico, and could hit Houston and Cypress head-on. If Harvey turns toward Cypress as predicted, it will be a disaster piled on top of a catastrophe."
He said a few members have been flooded out of their homes, but most are trapped by rising waters.
"Until the waters subside, no one is able to get out of their subdivisions," Willey said. "So, we're calling each other and checking on each other to the best of our ability. At this time, I know of at least four families who have been flooded and several more have floodwater on their doorsteps. I'm so very proud of our members and friends who have taken upon themselves to reach out with prayers, phone calls, e-mails and tweets."
Willey said that the Houston area caught the worst of the hurricane — the side of the storm that picked up moisture from the Gulf of Mexico and dropped thunderstorm after thunderstorm, rolling through dozens of counties. Once the air cooled, tornadoes dropped out of the sky, with 12 of them reported in just a few hours in Harris County. One tornado, which Willey said was 100 yards wide, touched down near the congregation, only to "bounce skyward" over Christ United before landing again north of the city.
Sunday services at Christ United Church of Cypress and throughout the South Central Conference of the UCC were cancelled ahead of the hurricane. Members were told to stay home, check on each other, and prepare with extra water and food. There are 123 churches in the South Central Conference, 25 of which are in the Houston Association.
UCC Disaster Ministries has begun coordinating a long-term response with the conference, but with the area still in "search-and-rescue" mode, the extent of the damage won't be known immediately. The Church is encouraging donations at this time until volunteers are called for what is expected to be a recovery phase of 5 to 6 years.
Mona Lopez, South Central Conference disaster coordinator, said that congregations haven't been able to meet yet about how to help flood survivors. "It's still raining torrents, so we are still in a holding pattern to see where this is going," she said. "People can't make it across the city. Several areas are under evacuation orders but the roads around them are flooded so where those people are going we don't know. The area where I live is fine but it's surrounded by floodwater."
South Central Conference Minister the Rev. Don Longbottom pledged that the conference will look out for anyone affected, not just the UCC's own. "The UCC's Slumber Falls Camp in New Braunfels, Texas, an outdoor ministry of the [conference], has offered to be a refuge center and is ready to receive people," he said.
"Although this is the second major disaster to hit the congregation in the past two years, we still proclaim that our God is good and will abundantly provide," Willey said. "As we listen to the rescue helicopters fly over, we pray with thanksgiving to our Lord and Savior who will carry us through yet another earthy trial."
---
Related News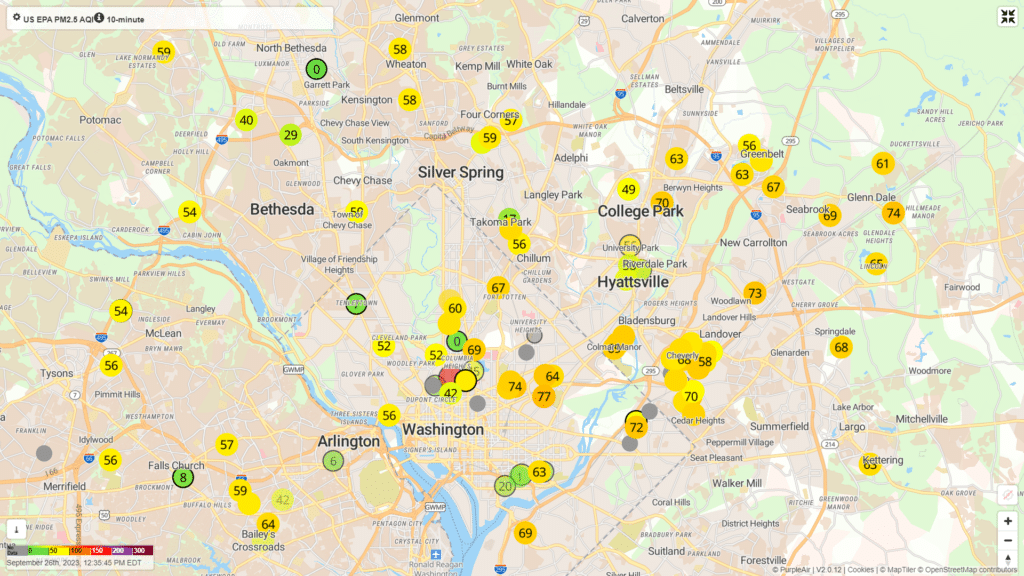 This summer, the United States experienced some of the worst days for wildfire pollution in...
Read More