Avoid foam coffee cups, support Carbon Act, church body urges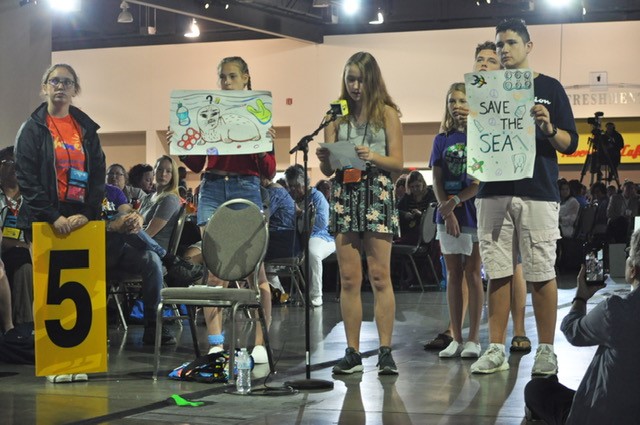 A day after endorsing a Green New Deal, the United Church of Christ's national deliberative body urged local churches and members to take two more earth-care actions: avoid the use of plastic foam products and support the Energy Innovation and Carbon Dividend Act now before Congress.

The challenge of quitting disposables
Young people taking part in the UCCs General Synod youth program were among the advocates of the resolution against using foam cups and plates. Delegates passed the resolution, 665 to 5 with three abstaining, on June 25, the last day of their five-day meeting at Milwaukee's Wisconsin Center.
"The youth back this resolution because we believe the amount of waste on this earth and in the sea is unacceptable," Lucy Adkins, 15, of Evangelical Reformed United Church of Christ, Frederick, Md., told adult delegates from a microphone on the Synod floor. Holding signs picturing sea creatures surrounded by plastic trash, other Synod youth program participants stood with her.
"This impacts our lives now and will continue to impact our lives in the future," said  Alyssa Kline, 14, of that same Maryland congregation. "One-hundred-thousand marine animals die each year."
Ocean pollution and overflowing landfills are not the only ills cited in the Synod statement. Styrene and benzene, used in the production of plastic foam, are probable or known carcinogens, it said, and the foam breaks down into microplastics that get into the bodies of fish and humans. "Non-sustaining and heavily polluting" petroleum is used to manufacture plastic foam.
The resolution encourages UCC congregations and other institutions "to avoid the use of plastic foam in food packaging and other activities within their church and church-related facilities," educate members about plastic foam and "encourage the use of alternatives such as paper products, or, better yet, ceramic or other dishwasher-safe products."
In a budget-conscious church culture filled with coffee hours, potlucks, picnics and meal programs, quitting disposables can be a challenge. "The church I serve doesn't have a dishwasher," said a pastor from Nebraska during a delegate committee's deliberations. "We have cupboards and cupboards of dishes and cups but we don't use them because no one wants to hand-wash."
Despite the challenges, the resolution can be a conversation-starter even for those who don't immediately take action, the study committee said. "We believe this can be a powerful tool for educating congregations regardless of their size or resources" and an aid to "learning, exploring and deciding how they want to respond to our environmental crisis," said the Rev. Diane Johnson of El Cerrito, Calif., who brought the committee's motion for approval.
Backing a bill to reduce fossil carbon pollution
The Synod endorsed the congressional Energy Innovation and Carbon Dividend Act of 2019 (H.R. 763) by a vote of 647 to 8 with 10 delegates abstaining. The resolution said it saw no conflict between that proposed Act and other proposals to fight climate breakdown, such as the Green New Deal (H.R. 109, S.R. 59).
In documents supporting its resolution, the Synod said the proposed act of Congress would be effective in reducing fossil carbon pollution because it "applies a fee on extraction of fossil carbon, returns the money to people as a dividend, supports fair international trade, and increases the fossil carbon fee yearly." It is "good for people, especially the poor, is good for the economy, is supported by members from both major parties, and is revenue neutral."
In addition to endorsing the act, the Synod resolution encourages:
"all settings of the United Church of Christ to seek ways to learn more about climate change and solutions";
the church's national ministries to "make available resources to learn about and engage with people of other faiths on climate change"; and
all members and churches "to speak out for energy innovations and conservation to reduce climate change."
---
Related News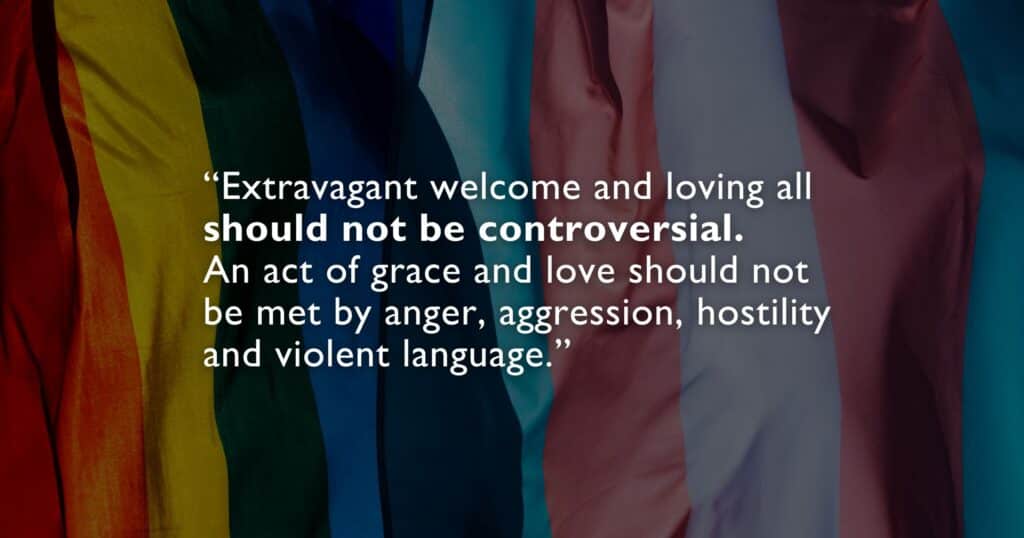 The United Church of Christ National Officers and the Conference Minister of the South Central...
Read More