Synod delegates call for reduction in single-use plastics and overall plastic pollution
Citing numerous reports on the impact of plastic waste on the environment and especially on vulnerable communities, and recalling various Scripture references, delegates to the United Church of Christ's General Synod called for a change from disposable culture to a reusable and sustainable one.
They passed the resolution "Free from Plastics Pollution," which calls for "strategies and actions to mitigate plastic pollution," including education on the toxicity of microplastics and organizing "Zero Waste" initiatives and similar activities on local, regional and national levels to draw attention to the impact of plastics.
"Plastic pollution has become one of the most pressing environmental issues of the 21st century," said the Rev. Rob Edwards, pastor of Bayside Christian Church in Virginia Beach, Va., who chaired the committee that considered the proposal. "The failure of manufacturers to recycle plastic bottles and single-use plastic has forced disposable plastics to landfills. We have a rapidly growing pandemic of plastic pollution. It is time to shift from a disposable culture to a reusable and sustainable one."
Not elimination but reduction 
The July 4 action combined two similar proposals, one from the Florida Conference and one from the New Hampshire Conference, which both called for education, action, and advocacy to reduce overall plastics use, and specifically use of single-use plastic such as bags and bottles. Both aimed to remind the church and individuals of their responsibility to care for and live with God's creation.
"Living in harmony with the environment is hard," New Hampshire Conference delegate Zeph Marean said. "We need to accept this resolution not just as a good thing and reduce plastics in our church, but also do the practice thing and enact change in our community to care for the sacredness of God's creation."
The resolution does not call for the elimination of plastic, acknowledging its value in industries such as health care and food distribution. Rather, it encourages manufacturers to seek out, and consumers to support, alternatives and even bans to single-use plastics and methods of reducing plastics use overall.
"We are trying to move to sustainable and reusable and compostable alternatives where possible," assured Southern New England Conference delegate Polly Brown. The church, she added, needs to "work to reduce the amount of single-use plastics in your congregation, gatherings and personal lives."
Delegates also called on the UCC "in all its settings" to engage in various initiatives in meetings, gatherings and in other outreach to address plastic pollution, such as organizing low or zero waste events, participating in cleanups of natural areas and supporting businesses that adopt sustainable practices.
Recycling isn't enough 
Plastics, typically made with petrochemicals, "resist degrading for hundreds of years," and often break down into microplastics which enter water and food supplies and impact lives of plants, animals, and humans, the resolution says.
Recycling efforts, it adds, are well-intended but fall far short of a solution. An educational session on this resolution claimed that only 5% of plastics produced in the United States in 2021 were recycled, with 85% ending up in landfills. "Local cleanups of plastic litter have limited impact and recycling is not effective for most plastic items," the "whereas" section of the resolution reads. 
The Rev. Jerry Barrish from the Southern Conference spoke in favor of the resolution and suggested that, in the end, the plastics business will adapt: "Plastic can be replaced economically because businesspeople want to sell their stuff and will find a way."
The resolution includes examples of collaborative efforts which have reduced use of plastics in communities, including the Sierra Club's Solutions to Plastics Pandemic and New Hampshire's Ten Towns Ten Actions Tool Kit. 
Tim Kershner is a General Synod newsroom volunteer from Campton, N.H., in the New Hampshire Conference. 
---
Content on ucc.org is copyrighted by the National Setting of the United Church of Christ and may be only shared according to the guidelines outlined here.
---
Related News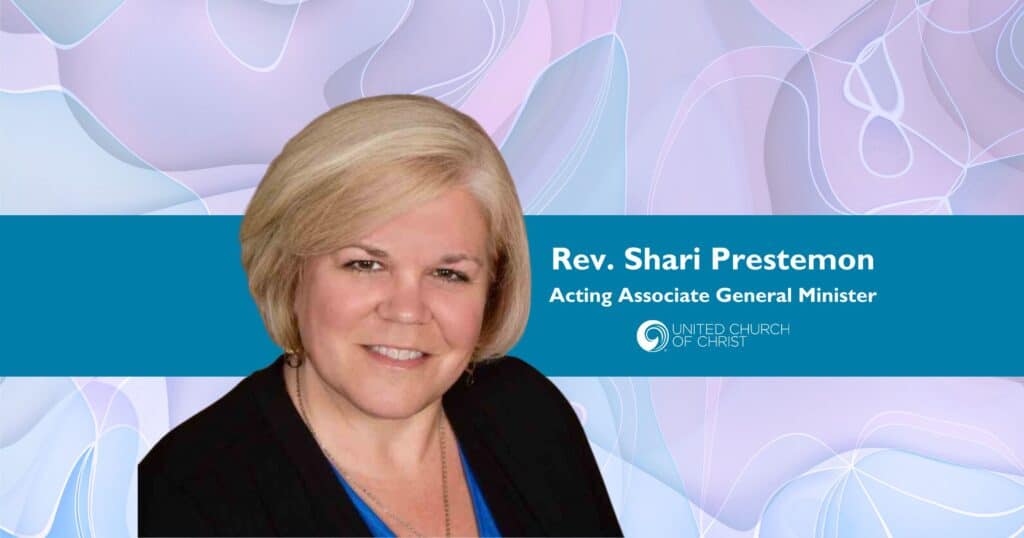 A new United Church of Christ national leader has been called. The UCC Board voted in a...
Read More