Sunday worship, a call to Shine!
"We are the United Church of Christ and God is calling us to Shine,"
The Rev. Traci Blackmon, associate general minister of Justice and Local Church Ministries, thundered during her sermon to 3,000 assembled at the General Synod community worship service on Sunday, June 23.
Shine is the theme of this year's Synod, based on Matthew 5:16: In the same way let your light shine before others …
But, as Blackmon told the gathering at the Wisconsin Center in Milwaukee, God is not calling us to shine for glory or applause.
"Jesus is not calling us to action so our names are in lights or so others can be depressed," Blackmon said. "Jesus is not calling us to get a win. Take my word for it, Jesus knows who won."
"The call of Jesus, the call to discipleship, is to something much more dangerous than that, something much more risky than that, something much more challenging than that, something much more transformative than that," she said. "The call to discipleship is a call to be changed.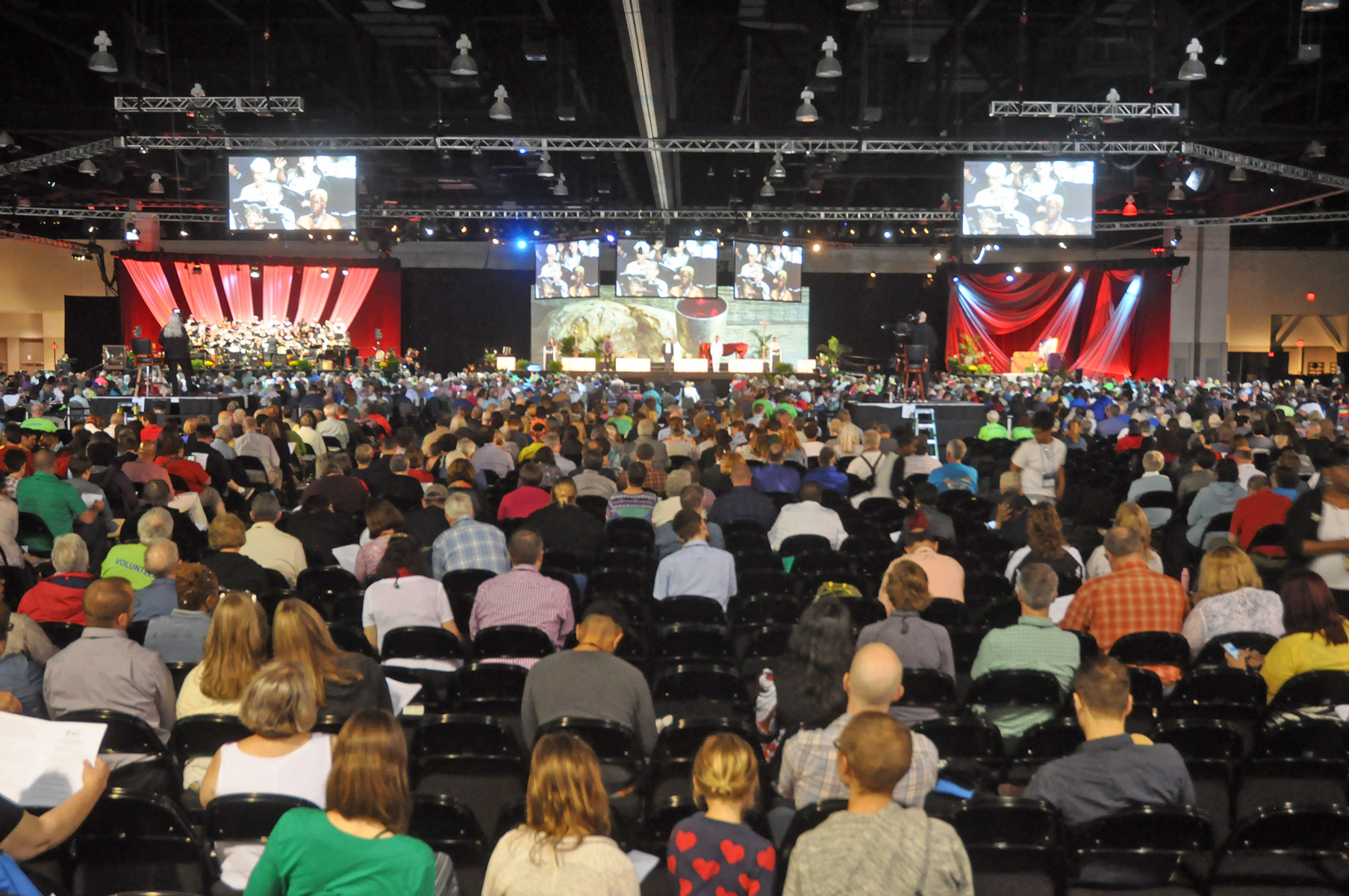 "The call is to show up and do the work. And before you think I'm talking about the work out there – the reason we're having so much trouble with the work out there is because we haven't done the work in here," she said.
"We, my friends, must do the inside work, our heart work, our head work, our soul work, that heals both internal and external pain," Blackmon said. "The call is not to be famous. It doesn't matter whether the press shows up. It doesn't matter whether there are any stories written. The call is to be faithful."
"We are not mere activists; we are disciples of Jesus the Christ, who had a call to activism. The difference is, it can never be about one side winning for us. It must always be about redemption," she said.
The Sunday afternoon service opened with drummers and dancers of the Indian Community School of Milwaukee, and – as in the opening worship – an acknowledgement that the meeting is taking place on the ancestral land of the Ho Chunk people.
"On Friday, Chief Clayton Winneshiek welcomed the General Synod of the United Church of Christ into this sacred space, and we responded with words of confession and commitment to justice," said the Rev. George Graham, vice president of the Council for Health and Human Services. "We begin today in that holy spirit."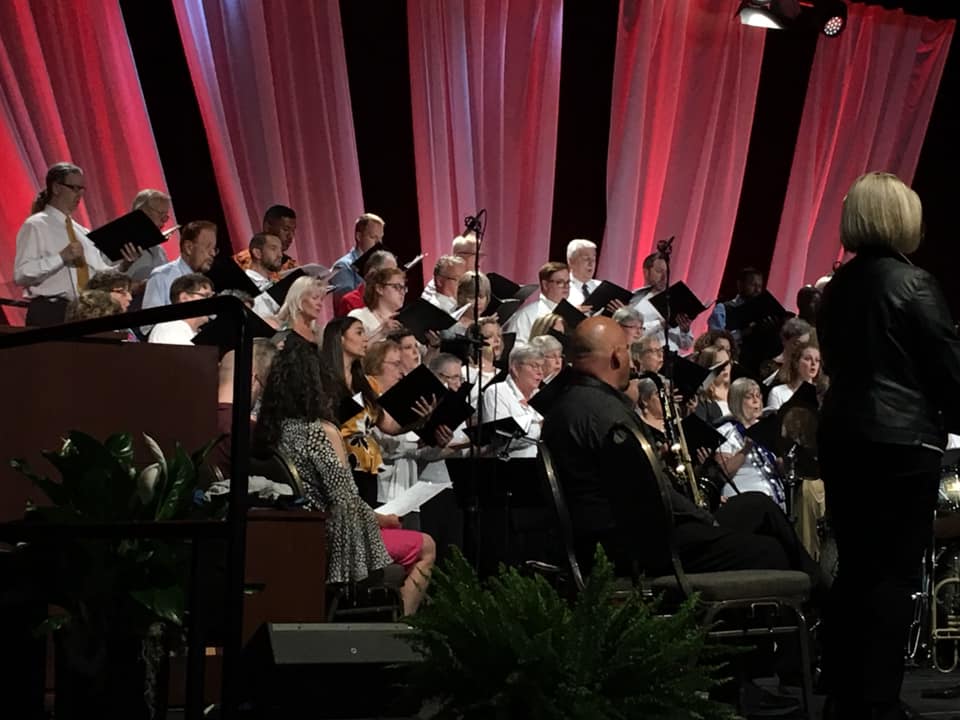 As part of the call to worship, attendees faced east, south, west and north, giving thanks "to our God who provides the gifts given to us from the four directions, Mother Earth and Father Sky."
Six worship leaders then interpreted Matthew 5:1-9, lifting up as blessed by God people of all abilities, ethnicities and sexual identities while Cantor Kimberly Johnson sang the Beatitudes.
As part of that interpretation, Rev. Ray Jordan, senior pastor of the Central Congregational UCC in Dallas, Texas, said we cannot yet rest.
"Today as we gather here in Milwaukee County, where recently racism was named a public health crisis … today we thirst for the day of compassion, and hunger for the day of dignity, for these days are long overdue," he said. "Justice is what love looks like in public. It is only this kind of love that can quench our thirst. It is only this kind of love that can satisfy the hunger of our souls. So we will not rest until we see the day of this kind of love."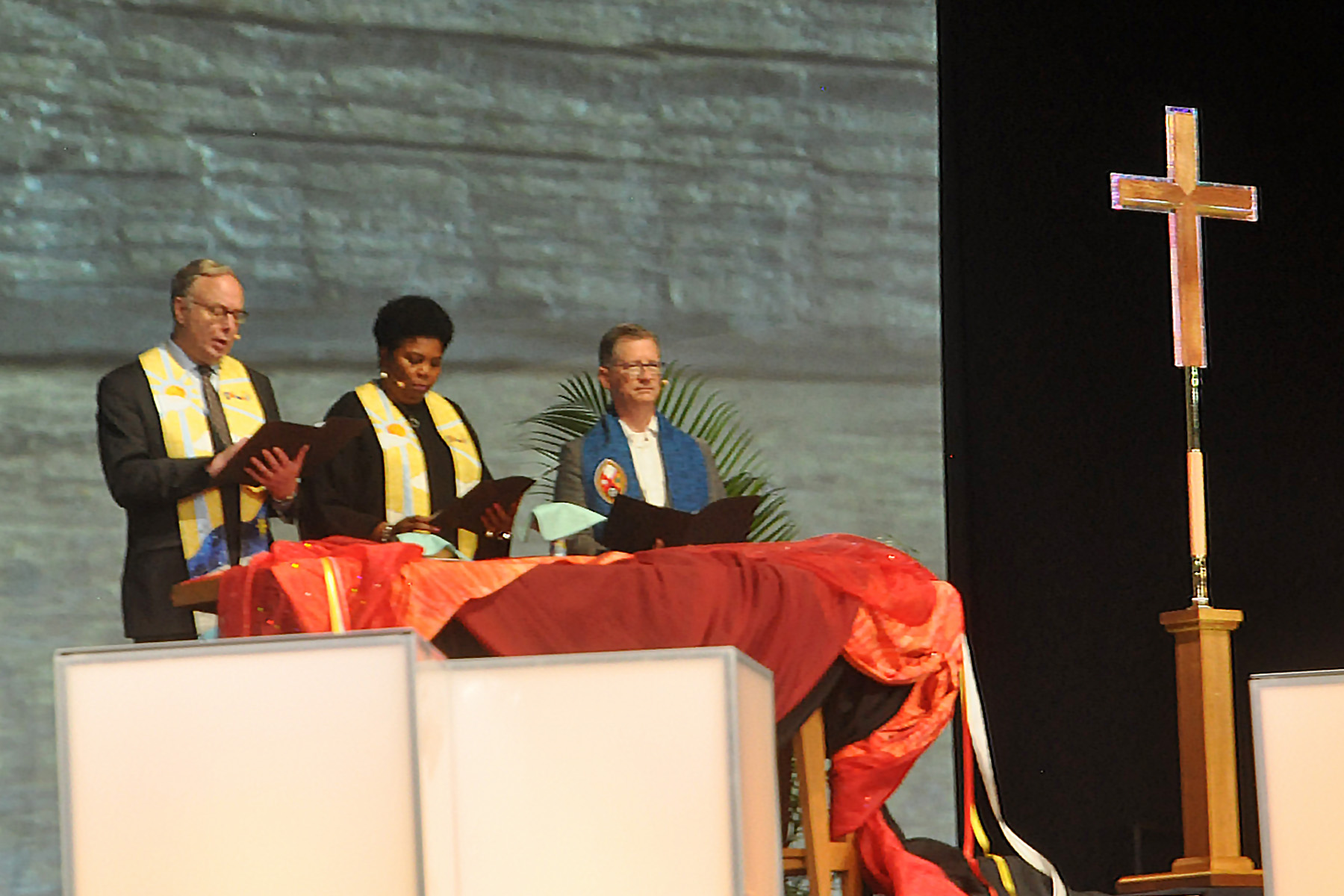 The service featured music performed in multiple languages by the General Synod Choir, Synod attendees who signed up to sing when they registered and were sent music and learning media in advance by Tom Scott, Synod Music Director. They had a single rehearsal together Sunday morning.
Following the sermon, a response – Something Inside So Strong – was performed by vocalist Kimberly Johnson and dancer Miah Yager. 
Communion, led by UCC General Minister and President the Rev. John Dorhauer, associate general minister of Global Engagement, the Rev. James Moos, and Blackmon was served by intinction.
The service closed with the singing of This Little Light of Mine in English and Spanish, as people processed out singing "Let it shine! Let it shine! Let it shine!"
Tiffany Vail is a newsroom volunteer and the Associate Conference Minister for Communications for the Connecticut, Massachusetts and Rhode Island conferences of the United Church of Christ.
---
Related News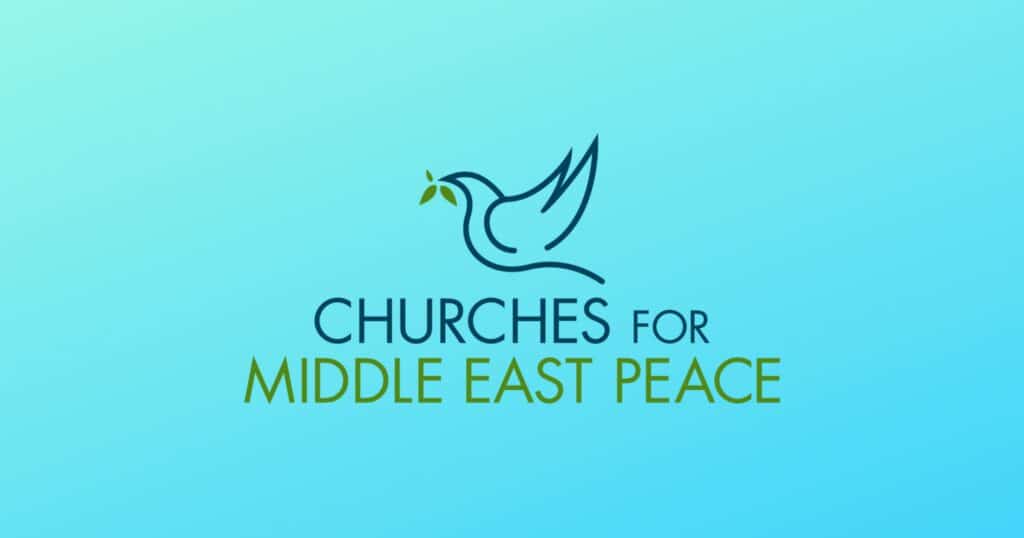 The following statement was issued Dec. 2 by Churches for Middle East Peace (CMEP), of which...
Read More