Storm survivor testifies it's still "devastating" one year later
Cynthia Charles, outside her son's apartment building, armed with fresh fruit snacks for her granddaughter and playmates. Photo courtesy Cynthia Charles.
"I hope people know how devastating this was and still is. It's mind-blowing to know how this thing affected so many people. It's over a year since the storm and people are still struggling and suffering from it, especially the elderly and people on disability. Everyone thinks it's over, but it's not. We still need help. We still need volunteers."
Those are the words of Cynthia Charles, 57, of Columbia, S.C., who was among thousands in communities across South Carolina and in several other states whose homes suffered damage from high winds and record-setting torrential rains in October 2015.
The wind ripped holes in her roof, allowing water to seep into the house. The ground under the house was saturated with water, sending moisture up into the house. 
"All of a sudden, mold and mildew started to appear all around my house," she said. "I had to throw out clothes and furniture. My sister and nephew, who live with me, complained that they couldn't breathe and had headaches."
The mold and mildew aggravated Charles' own ill respiratory health, which is linked to exposure to asbestos now being removed from her last workplace. "I always worked two or three jobs," she said, "but then I had to stop working and take disability."  She is on oxygen to help her breathe.
What's more, the October 2015 rains caused flooding around her son and granddaughter's apartment building. They had to be evacuated from their second floor apartment and move in with Charles for four or five months until they could get back home.
"My four-year-old granddaughter still panics and packs a bag when it rains," Charles said. 
Charles homeowner's insurance company assessed the repair costs at just $900, less than her $1,000 deductible.  "Shortly thereafter, they canceled the policy," she said, noting that she was one among many others who lost their insurance in the wake of the October 2015 storm.
Ruined belongings, including many toys, piled up outside the apartment building of Cynthia Charles' son and granddaughter, after the October 2015 storms. Photo courtesy Cynthia Charles
The whole experience "was just horrific," Charles said. 
Then a FEMA representative referred Charles to the Disaster Recovery Support Initiative (DRSI), a joint on-the-ground program started in late 2015 by the United Church of Christ Disaster Ministries in partnership with the disaster ministries of the Christian Church (Disciples of Christ) and Church of the Brethren. 
Their goal: reach as many people in Columbia, West Columbia and environs as possible as early as possible with recovery help, including repairs and reconstruction by volunteer work teams.
Major funding for construction materials was provided by grants awarded to the three denominations from the Central Carolina Community Foundation's One SC Flood Relief Grant and from the United Ways of the Midlands.
The DRSI sent volunteers in September to Charles' home to redo the roof and install a layer of plastic sheeting under the house to protect against water seepage. 
"If it wasn't for the volunteers, I would really, really be in bad shape, even this long after the storm," Charles said. "They were great. Whatever they could do, I was grateful."
She said she made sure the work crews had drinking water and use of the restroom. If she was napping or out at a doctor's appointment, she would leave a key "so they could come and go as they needed to."
For her part, to this day, she runs a dehumidifier and keeps the house – especially her bedroom and the den – well-ventilated. A space heater in her bedroom further helps keep things dry. 
Click here to support the UCC's Emergency USA Fund.
---
Related News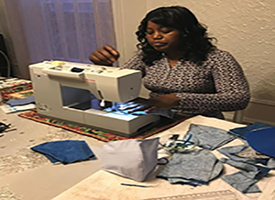 "It's so good making masks because it helps the community," said Sandra, a Congolese refugee...
Read More