Sonoma congregation offering neighbors welcome home after wildfires
As scores of Northern Californians are being allowed go home to put their lives back together – to see if their houses are still standing, and to recover belongings torched by deadly wildfires, a Sonoma United Church of Christ congregation, many of them returning evacuees, went out into a neighborhood of immigrants Tuesday morning as the hands and feet of Jesus.
"The long road to recovery begins one day at a time," said the Rev. Curran Reichert, pastor of First Congregational Church of Sonoma UCC (FCCS). "Our church, in partnership with Congregation Shir Shalom and our other churches in town will do all we can to reach out to those who may have lost property, wages, and the basic ability to function day to day. Our goal at FCCS will be to help one family at a time get back on track with the basics—rent, food, water, electricity, school or work supplies and health care."
On Oct. 17, church volunteers hoped to greet people as they came back to the area to offer cleanup assistance and to provide gift cards to help restock refrigerators. Finding it too early for returnees, they'll be focusing on community gatherings to meet people where they are.
"Leaders from the Latino community have arranged for a community dinner and lunch program each day this week at the local hall located in Springs neighborhood," Reichert said. "In partnership with the school board members, an equity and justice task force will join in those meals to help discern where the greatest needs are bubbling up."
Reichert, pastoring a church in the heart of one of the areas hard-hit by more than a dozen major wildfires still tearing across California, has spent the last week displaced — staying with her parents, monitoring the progress of the fire teams, and offering love and care to her congregation in daily written missives. The messages, which kept her spiritual family up to date on daily events, offered helpful information — and hope.  Though the fires have scorched over 217,000 acres, and destroyed more than 5,700 structures, her home is safe, the church is safe, and other Northern California Bay Area congregations are offering much needed support.
"We didn't lose anybody. Two families lost houses," she said. "Everybody just so exhausted. You wake up at 4:30 to see if you missed anything while you were sleeping."
On Sunday morning, about two dozen people from her congregation of 200 gathered at FCCS for worship.
"Everybody who showed up sat a circle, had donuts, talked about what they knew, and shared where things stood with them," Reichert said. "One of the families that lost everything showed up at church on Sunday, it was an amazing moment — so good to see them, so good to lay eyes on them."
She is also thankful for first responders, and for several other UCC churches, some which took offerings for FCCS on Oct. 17, so that members can reach out to offer help in their community. In Sonoma County, damages are expected to top more than $3 billion.
"Sonoma FCC was very much in our prayers (Sunday) at Danville Congregational Church," said Kristina Kelchner, church moderator. "We hope this will provide some small measure of help and hope to FCC members and friends who are suffering."
'This' is almost $1,500 that Danville Congregational Church will be sending over this week. Kensington Community Church UCC, Congregational Church of San Mateo, College Heights Church UCC and First Congregational Church of Alameda UCC also delivered cash and a collection of gift cards.  In addition, Alameda pastor, the Rev. Laura Rose, dispatched an RV that Reichert plans to park outside her church so people who may not have a home will at least have a place to sleep.
"Sonoma has an enormous undocumented population, that's where we'll be concentrating our efforts," she said. "Those brothers and sisters are facing such terrible obstacles and they are the people who will also rebuild our community."
Reichert is planning to make the donated cash and gift cards available to immigrants and those with low incomes. She's partnering with two elementary schools, a homeless shelter and other faith groups, using the relationships already in place to find and immediately help the people who need it most.
She said the Northern California Nevada Conference already provided financial assistance to a family who lost their employment options in the fire. Conference Minister the Rev. Diane Weibel said that it's pretty certain that support will continue in many forms.
"What I can say, without a doubt, is this is a disaster that has affected every church in our Conference," Weible said. "Even places not directly in the line of the fires are experiencing the smoke and reminded of their siblings in communities most affected. People are asking how to help and what they can do and all of us are keeping everyone in prayer."
"We are deeply grateful for the support of Rev. Diane Weible and NCNC, UCC who has been with us every step of the way," said Reichert. "Together we will once again rejoice, though it may not feel that way right now."
---
Related News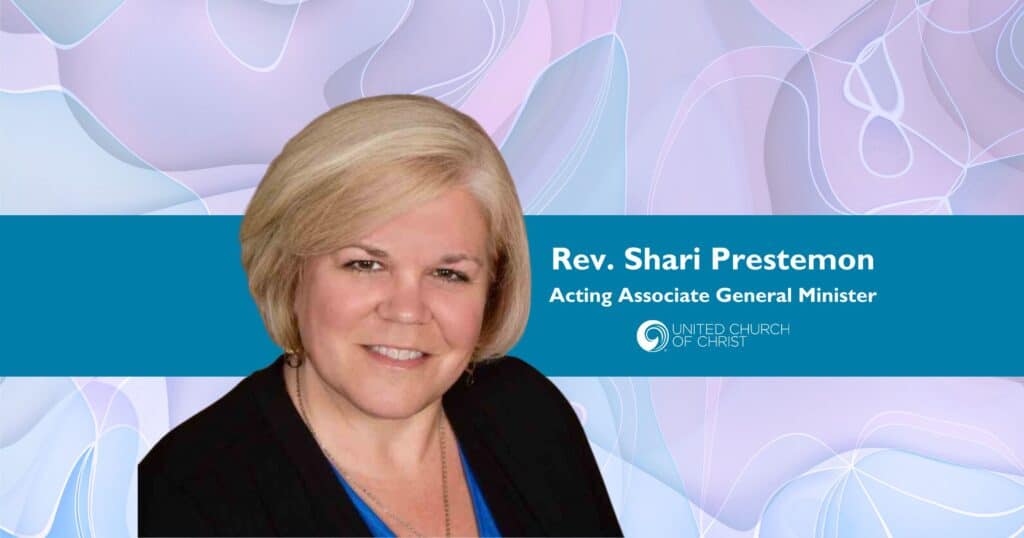 A new United Church of Christ national leader has been called. The UCC Board voted in a...
Read More