Small Transformations
– Karen Campbell-Nelson, West Timor, Indonesia
Imelda (pictured) has always been quiet in class; she never stood out academically. But she has transformed from a mousy student with a hesitant communication style that lacked self-confidence into a young woman able to assert herself, ask pertinent questions, and share thoughtful reflections. Members of a village congregation, whose young woman pastor serves as Imelda's field education mentor, have helped to water Imelda's seeds of leadership potential.
In August 2015, John and I recently made an eight-hour trip, some of it over harrowing mountain roads, to visit theology students doing their field education for several weeks this summer. This is an important part of the curriculum and each year members of the Theology Faculty visit semester 6 and 8 students, and their mentors, for evaluation and a period of group reflection. This year, we met with 16 students and their mentors who gathered at a congregation in Betun, Belu Presbytery, not far from the border with Timor-Leste. There is now a permanent military presence (border guards) in many of the border villages, including some where students have been placed, but the more pressing issues for the congregations with whom we met have to do with the impact of migrant labor (much of it illegal) and local politics that tend to exacerbate religious tensions in this predominantly Catholic region of West Timor.
I was heartened by discussions with students and reminded that field visits are one of my favorite aspects of teaching at UKAW Theology Faculty. One student shared a story of incest in the congregation where she serves and other students offered her practical and pastoral advice. Another student spoke of a rift in one of his teaching congregations and how he successfully managed to resolve the conflict. And Imelda? Imelda spoke of Mama Jermi, the older woman with whom she lives and whose prayer discipline inspires her. "I see how prayer is really her strength. I want to learn that from her."
Many of the students are placed with pastors who serve more than one congregation. Yanus (on the left in the photo above), for example, is scheduled to visit all 13 congregations connected to the "mother church" where he has been placed during his short stay in Biuduk Foho. He glows with pride and pleasure as he speaks about the challenges he is faces.
Karen with some of the students who
did their field education in Belu Presbytery
My heavy teaching load often drains me; stories about lack of transparency and abuse of power in the church can leave me sad and frustrated. But when I have an opportunity to experience the energy of students who are learning valuable lessons of faith and practical ministry from humble pastors, wise congregants, and from each other . . . well, my faith is lifted up and my heart filled. The transformations I have recently observed in students may be small, but they are seeds bearing fruit. Then God said, "Behold, I have given you every plant yielding seed that is on the surface of all the earth, and every tree which has fruit yielding seed; it shall be food for you." (Gen. 1.29)
---
Related News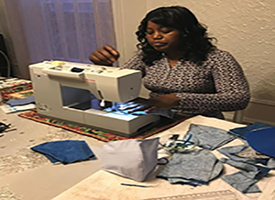 "It's so good making masks because it helps the community," said Sandra, a Congolese refugee...
Read More