Sharing love of neighbor in Charlottesville
UCC ministers and mission teams deployed around the community of Charlottesville, Va., on Saturday had a job to do – to offer hospitality, love and care in the church, on the streets and in the hospital.
In prayer services, and in peaceful witness, clergy from number of faith traditions came from Virginia and beyond called by the organizers of Congregate C'ville.
Rev. Laura Martin of Rock Spring Congregational UCC in Arlington, Va., was assigned to the UVA medical center, "just in case."
"I went and sat in the ER, and before 11 a.m. the first four injured had come into the hospital," Martin said. "One additional marcher came with them; she wasn't hurt physically but was emotionally impacted by what she's seen, and sat next to me and cried. I told her that I knew that she'd been through a lot and she didn't have to say anything, but if she wanted to I was there to listen. She told me that she and the others had been making a line and chanting in peace when some of the white nationalists charged them and beat them with shields and sticks."
Two of the injured were from a church in Tennessee, one was from Chicago, one was from New York. Martin brought them water and sat to wait with them. They all had blood on their clothes, faces, papers, and backpacks. And when a police officer told them as they were checking in they couldn't keep their backpacks with them in the emergency room because of security concerns, Martin took care of their possessions too. She locked their bags in her car until they were well enough to retrieve them. It was as she was walking out with two of them, with stitches in their head, the report came in that people had been run down on the mall.
The hospital went on lockdown, and Martin had to be searched twice before they allowed her back in.  As she waited for the remaining two people whose backpacks she was holding, Martin watched triage preparations, not knowing what would happen next, or how she might be needed.
"This is what the Gospel calls us to," Martin said. "To love one another, and stand with justice and mercy."
She stayed in the ER as several people came in on stretchers surrounded by police and medical teams. Around 4 p.m. the pair from the church in Tennessee was released, and she took the two demonstrators back where they needed to go.
On the streets of Charlottesville, the Mobile Care Unit from Hope United Church UCC in Alexandria, Va., was providing physical and spiritual care to people who needed it. A wagon, packed with donations from the congregation, was pulled around by the Hope mission and social justice team, with several members handing out water, snacks, eye wash and first aid supplies. They were also charging cell phones.
"Think it was really good that we had a job to do," said Destiny Aman, the team organizer. Envisioned taking the trip in a support role. We felt it was important to be seen physically in that space, as people of faith."
The team roamed the area, handed out six flats of water, boxes of granola bars and eye wash. Everything was donated. All of it got used. "It was like the loaves and fishes," Aman said. "People kept giving us more supplies during the day."
"The vast majority of people we interacted with were glad we were there," said Karen Rivers, a member of Hope UCC. "Everyone we interacted with was peaceful, and friendly and gracious. To be able to hand someone a bottle of water, felt like handing them love, to show them the peace of God with a bottle of water, that was our goal in the day. To be present. To show that love and hope is going to fight hate."
"God was absolutely there," Aman said. "The things we saw were more complicated than we expected them to be. When you are interacting with people and you see someone's face burned with pepper spray, and you can make them feel less alone . . .  there's God in that."
"The best thing I could do was to be there to feed and support and sustain the people on the line," she continued. "There are different roles in this fight; you can contribute in other ways."
"All Christians should prayerfully consider what each of us is called to do in the face of this racial violence. I identify as white, and probably won't feel that sense of vulnerability again," said Julie VanEerden, member of the Hope UCC mission and social justice team. "It was a brief experience of vulnerability that some people in this country experience daily. A risk of violence, risk of death . . .  With all the fear, it was just a fraction of the experience our brothers and sisters have been feeling for hundreds of years. We have a moral obligation to speak against violence and oppression. That is at the heart of our faith. To do the work Jesus began. I felt a deep profound presence of God that I haven't felt in over a decade."
"We have to speak out against the empire of white supremacy and anything that gets in the way of the fullness of God in our world," said Martin. "Some of those espousing neo-Nazi or white supremacist language claim to be 'Christian,' and I feel that it is especially important that we do not let them tell a lie as the Gospel."
"White nationalists have made it very clear that they will do this again in other cities," said Hope UCC member Michael Douglass. "And so will we."
As Aman said on Saturday, "Despite what you are seeing on the news, know this: God was here in Charlottesville today. God is still here. In the hands of the clergy who are helping families at the hospital, in the fierce faces of the counter protesters, and hopefully one day, in the hearts of the angry, cowardly, hateful little boys wearing white polo shirts and khaki pants. God moved us to show up here, and God will move us again. God. Is. Still. Speaking. And today she was heard in Charlottesville."
---
Related News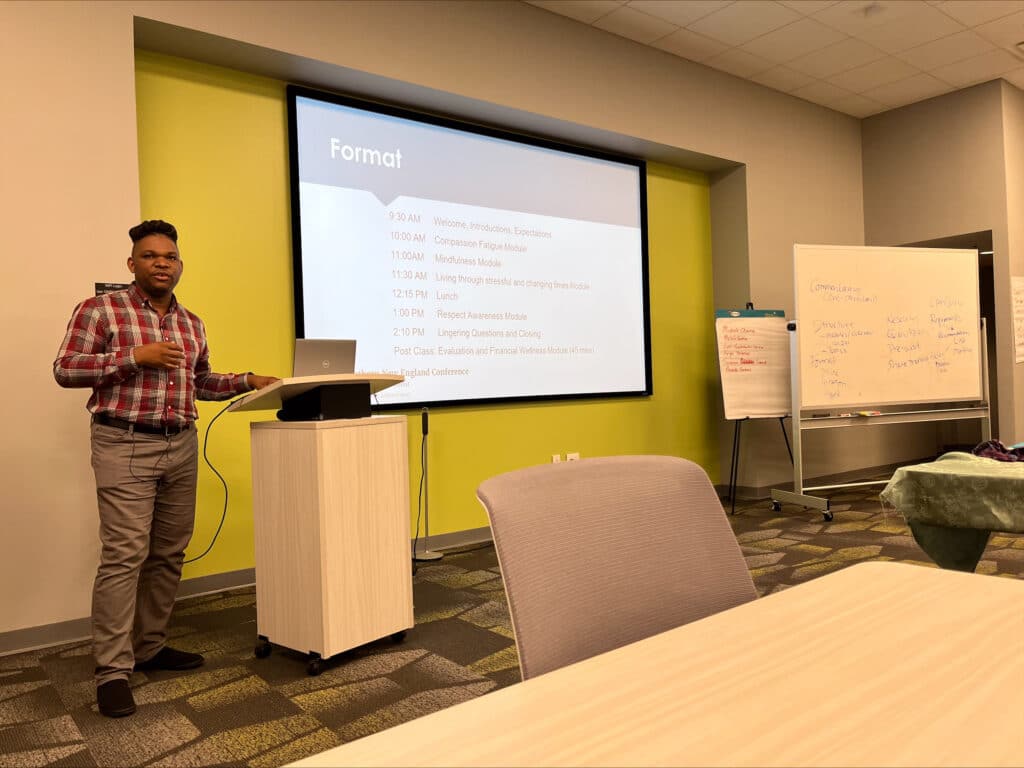 Sometimes it seems that hardly a day that goes by when news headlines don't include a story...
Read More