Second consultation in Phoenix continues conversation on multiple religious belonging
The United Church of Christ is continuing the conversation around multiple religious belonging. With a shifting religious landscape, ecumenical and interfaith leaders in the denomination are hosting a three-day gathering the first week of November in Arizona, where they will continue examining how the faith community can welcome people and families that identify with more than one faith tradition. 
"It's happening. More and more people are identifying with more than just one religious identity," said the Rev. Julia Jarvis. "We live in a world where we have the freedom to explore and learn about and we find curious, and we live in such a diverse world. The churches and synagogues and mosques are not prepared and trained to learn how to be with people that have multiple religious identity, and if they don't learn they are going to lose them." 
Jarvis is an ordained UCC pastor and the spiritual director of the Interfaith Families Project (IFFP), one of the largest interfaith programs in the country with 122 families that explores both Christianity and Judaism equally.  
Multiple religious belonging is a growing, but not a new, movement in which a person or families live across different religious traditions, such as Christianity and Buddhism, or Christianity and Judaism. 
"I believe what we are doing by honoring and sharing about both traditions, we are drawing a lot of people in," Jarvis said. "We teach, we don't preach. We don't have doctrines or creeds that we follow." 
As one of the presenters at the consultation, from Nov. 2 through Nov. 5 at Shadow Rock UCC in Phoenix, Jarvis will join other theologians, pastors, multiple religious practitioners and individuals interested in the changes that are challenging traditional understandings of religion. 
The Rev. Karen Georgia A. Thompson, UCC ecumenical and interfaith officer, is the event's lead organizer, which continues a discussion on multiple religious belonging started in Cleveland in April. 
"My vision remains that this conversation continues so we can learn more about multiple religious belonging, and hopefully we move closer to providing clergy with support as they deal with the topic and minister to people in need of community," she said. 
Said Jarvis, on the opportunity to share her expertise, "We've been doing it for 20 years at IFFP, and we've been doing it so much that [the consultation] spoke to me." 
"Being in this community has changed my life, partly because I think if Christians don't learn about Judaism then they're missing a big part of their heritage," she added. "Jesus was Jewish his whole life, and if we aren't learning about that religion, we are missing what his faith was about. To be in the Jewish culture has been a beautiful, powerful journey for me." 
The increase in marriages of two people from different faiths is leading to more dual belonging families, as parents maintain their religious identities and raise their children in both faiths and celebrate the holidays of both religions. 
The number of religiously unaffiliated persons is also increasing, up by 19 million since 2007 to 56 million people today. In addition, Jarvis said that one-in-four adults changes their affiliated faith during their lifetime. 
"What is clear is that religious communities are changing as interfaith families increase and more individuals seek to learn more about other traditions," Thompson said. 
That raises some of the core questions the consultation will examine, such as how religious communities respond to interfaith families, and what the increase in religious pluralism means for communities of faith. 
"I heard this great saying that said, 'Don't be Christian, be Christ.' Jesus didn't exclude people, and we've got a long ways to go to do what he did," Jarvis said. "But I think we need to have an open table with each other and questions the creeds, and dogmas and doctrine because they've kept people away from each other."
Watch a live web stream of the interreligious consultation, and participate in the discussion on social media using the hashtag #HyphenateReligion on Twitter and Facebook.
---
Related News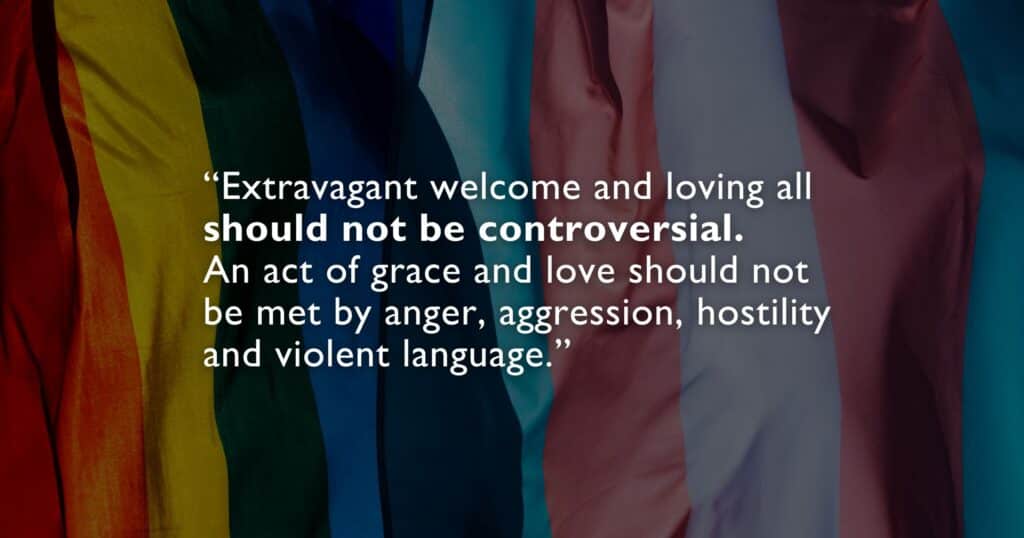 The United Church of Christ National Officers and the Conference Minister of the South Central...
Read More