Search and Call: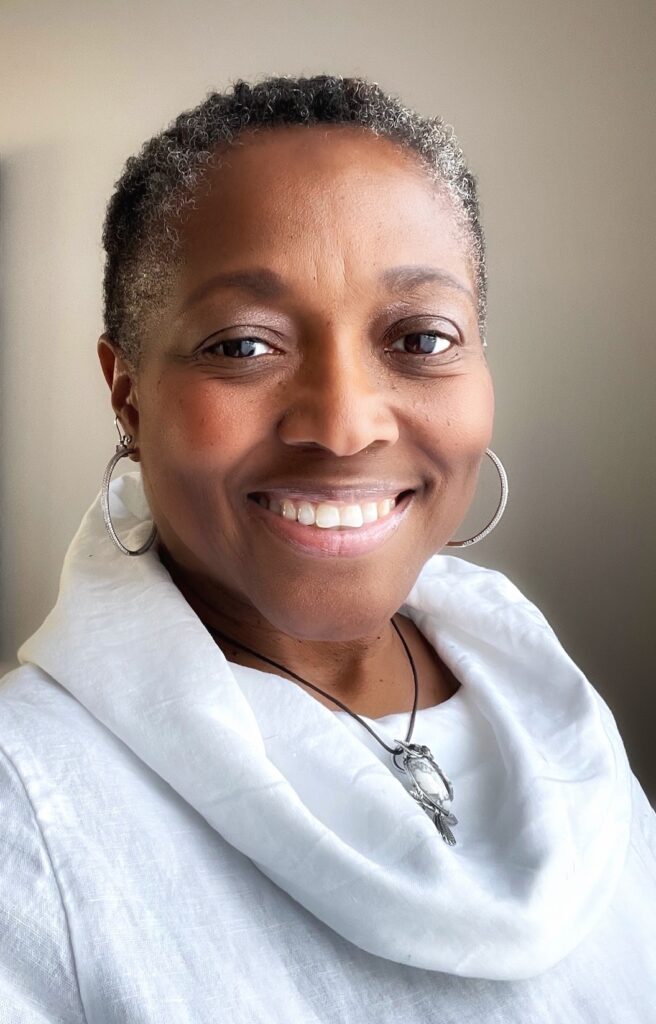 At the 34th General Synod in Indianapolis on Monday, July 3, 2023, the Rev. Dr. Karen Georgia Thompson was elected as the 10th General Minister and President of the United Church of Christ. This makes her the first woman – and the first woman of African descent to lead the denomination.
Introduction
In October 2021, Rev. Dr. John Dorhauer informed the United Church of Christ Board (UCCB) that he will not seek a third term as General Minister and President (GMP). Rev. Dorhauer's official notice to the board that he would retire in 2023 followed his public remarks at General Synod 32, indicating that he would not seek a third term in office. UCCB Chair Cameron Barr outlined initial steps in the search and call process for the UCC's next GMP in a January letter to the wider church.
Rev. Dr. Barr further outlined that process in an announcement on April 28, 2022, noting that with Rev. Noah Brewer-Wallin serving as chair of the search committee and Brenda Dalton James serving as vice-chair, we have trusted and faithful leaders in place for this important process of discernment. Check this site frequently for all news and updates on the search and call process, including: the latest communications; frequently asked questions; list of committee members; timelines; and more.
Send all questions for the search committee, nominations of candidates, or interest in the position to gmpsearch@ucc.org.
Town Hall Listening Sessions
For more information, click here.
A Message from UCCB Chair Cameron Barr on the Search and Call Process
Timeline

Frequently Asked Questions
The position profile will be published on ucc.org. When the profile is published, candidates will follow instructions provided to submit their materials for review. Anyone may communicate with the search committee to make nominations, express interest in the position, or inquire about the process at any time by writing to gmpsearch@ucc.org.
The GMP Search Committee will post updates at key milestones in the search and after every major meeting of the search committee. Updates will be posted on this site and via email communication.
The General Minister and President serves a four year term, and their call is renewable by the General Synod twice. Rev. Dr. John C. Dorhauer is completing his second term in 2023. He announced at General Synod 33 in Milwaukee that he did not intend to serve more than two terms. In October 2021, he gave formal notice to the UCCB of his intention to retire from his position in 2023, setting in motion this search and call process.
The GMP must be elected by the General Synod, which meets biennially. When the General Synod is not in session, the GMP is accountable to the United Church of Christ Board. The UCCB is responsible for overseeing the search and call process, and for nominating a candidate for consideration by the General Synod. The UCCB has appointed a Search Committee to conduct a thorough review of qualified candidates and discern one person to recommend to the Board.
The GMP Search Committee will nominate a candidate for validation by the United Church of Christ Board at its regular spring meeting in March 2023. Once the board affirms the candidate's call, the board will introduce the candidate to the Wider Church in time for the General Synod's consideration.
When Rev. Dorhauer expressed his intentions to retire, the UCCB appointed a "process team" to learn from our experience of past officer searches, conduct research into best practices in similar institutions, and recommend a path forward based on our own bylaws and our knowledge of UCC polity and culture. Following the recommendations of this process team, the board proceeded to appoint a search committee through an inclusive approach to soliciting nominees from major stakeholder groups.
The bylaws specify certain parameters for GMP search, including the appointment of one member from the Council of Conference Ministers and one member from the Council for Racial and Ethnic Ministries (COREM). Those groups were asked to identify their own appointees to the search committee.
To fill the remaining positions on the search committee, the following groups received special invitations to nominate up to 3 individuals for consideration:
Alliance of Associate Conference Ministers, Antoinette Brown Society, Council for American Indian Ministry, Council for Higher Education, Council for Theological Education, Council for Youth and Young Adult Ministries, Historical Council, Council for Health and Human Service Ministries, Colectivo de UCC Latinx Ministries, Ministers for Racial, Social, and Economic Justice, UCC Disabilities Ministries, Pacific Islander and Asian American Ministries, United Black Christians, The Open and Affirming Coalition, United Samoan Ministries, UCC Mental Health Network
The board received a total of 28 nominations. These nominees participated in a process of discernment that included written reflections and personal interviews. Our goal was to appoint a committee that
Broadly reflected the diversity of communities, identities, and lived experiences resident in our denomination
Brought skills for group process, discernment, and attending to the needs of communities in transition
Showed the potential for group cohesion and promise for working together collegially through a time-sensitive process
There are 13 voting members of the search committee. 
At least one individual from each of the major geographic regions of the church

8 identify as people of color

8 identify as women or non-binary

6 identify as LGBTQ+

3 identify as having a disability

Additionally, we sought a balance of individuals who are lay/ordained, people coming from small/large congregations, people who have previous experience working with major National Setting initiatives v. people who have little previous experience with the National Setting, and people whose work is generally executive/non-executive
We accept with humility that there is no way for any small group to truly represent the many diversities present in the Body of Christ, but we feel proud that an intentional process has yielded a committee that is deeply connected to the church in many settings and reflective of identities that that will help us reach a diverse field of candidates.
Our process team researched this question thoroughly. While there were valid arguments for and against, we chose to work with a search firm for the following reasons:
It is very common for search committees in our denomination to receive some form of professional consultation, usually from their Conference Minister. In the case of the GMP, we sensed a similar need to make available outside counsel and professional services.

We learned that a search firm could likely help us to enact our commitments to Diversity, Equity, and Inclusion. 

We wanted to make sure our search reached candidates who may not be currently searching for their next position or who may be serving in non-ecclesial roles. It's important to note that the current General Minister and President of the Disciples of Christ came to her position from a university setting. 

Our bylaws require us to honor a strict timeline for GMP election, and professional assistance would help us to make discernment a priority for our search committee without making compromises for the sake of time or energy.
A team from the UCCB devised a competitive Request for Qualifications process. We interviewed two firms and selected Isaacson Miller for the following reasons:
The IM team has demonstrated experience with faith based institutions and has worked with institutions in the UCC network such as the Deaconess Foundation and Chicago Theological Seminary.

We were convinced that the IM team could extend our reach to qualified candidates serving in non-ecclesial institutions.

We were left with no question that the IM team could match our own commitments to Diversity, Equity, and Inclusion and teach us new practices that would be valuable to our community.

We felt that Isaacson Miller sincerely listened to our needs and was committed to our success, and that the specific consultants working with us share many of our UCC values, including a commitment to the role of faith communities in public life.