UCC pastor part of group gathering in D.C. to support immigrants in sanctuary
Representatives of the United Church of Christ and other faith groups will gather in Washington, D.C., beginning Tuesday, Dec. 9, to be a voice for the country's immigrants currently living in sanctuary. The group will ask the Obama Administration and the Department of Homeland Security for a stay of removal in all current sanctuary cases, and for broad and inclusive implementation of the new immigration relief policy announced by the president last month. Among other goals, the action seeks clarity on whether those in sanctuary can leave their safe spaces to spend the holiday season with their families instead of waiting for Obama's plan to be implemented.
"We want to be sure these families are included in the relief Obama announced," said the Rev. Anne Dunlap, a UCC minister in Denver and a representative of the Metro Denver Sanctuary Coalition. "Sanctuary cases in particular highlight the deep injustices and complexities that immigrant families experience because of our unjust immigration system."
Advocates attending the three-day event will attempt to meet with Jeh Johnson, Department of Homeland Security secretary, and Cecilia Munoz, director of the White House Domestic Policy Council. A news conference and meetings with individual state representatives and senators are also planned. Dunlap hopes the effort will amplify the stories of those living in sanctuary and encourage broad, inclusive relief for as many of them as possible. Obama's program includes relief for immigrants who have lived in the United States for five years, have a child who is a U.S. citizen or legal permanent resident, and pass a criminal background check—which still excludes a large portion of the nation's 11 million immigrants.
Dunlap will accompany to D.C. the wife and children of Arturo Hernandez Garcia, who has been living in sanctuary at First Unitarian Society of Denver since Oct. 21. She will also advocate on behalf of Jeanette Vizguerra, an immigrant mother of four and community activist in Aurora, Colo., who has been fighting to stay in the U.S. since being arrested for a traffic violation in 2009. While she is unable to travel to D.C., Vizguerra says the support she has received from the faith community is important and very meaningful to her.
"When faith leaders speak about our cases, when they go into meetings, for example, with the Department of Homeland Security for this trip, their presence and authority brings more impact to our cases and stories," said Vizguerra, who has been granted a stay of deportation until February 2015. "Not just for me, but for many others, having clergy presence and involvement in our cases helps us feel encouraged and protected."
"I view this as an act of solidarity and am honored and humbled to be asked to accompany these fine folks in this way," Dunlap said.
In recent months, the UCC has actively supported the sanctuary movement. Chadash Community UCC in Aurora, Colo., became a member of the Metro Denver Sanctuary Coalition, an ecumenical group of five congregations prepared to offer sanctuary to immigrants and their families that launched in September. Shadow Rock UCC in Phoenix is currently providing sanctuary to Eleazar Misael Perez Cabrera, and is one of a growing number of Arizona churches becoming immigrant sanctuaries.
UCC leaders also applauded Obama's move to shield up to 5 million immigrants from deportation, calling it "a call to hospitality and welcome that is at the heart of our faith traditions, and is a core American value." For Vizguerra, actions like this give hope, and prove that when people come together to fight for a common cause, change is possible.
"We can and will keep struggling for changes that are even bigger and more inclusive," Vizguerra said. "The struggle will continue. We know that community organizing works, and with faith and hope we can achieve even more."
---
Related News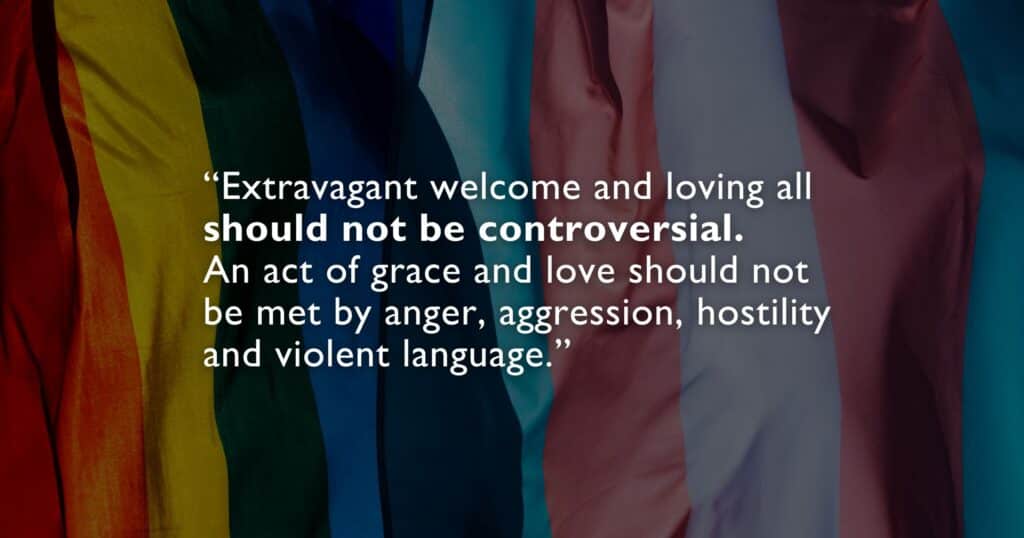 The United Church of Christ National Officers and the Conference Minister of the South Central...
Read More