Sacred Ally Quilts come to Ohio churches, national setting
Created by women in nine UCC congregations in New Hampshire in the days following the murder of George Floyd, Sacred Ally Quilts document the painful experience of his death at the hands of police in Minneapolis in May of 2020.
Those ten quilts – which capture Floyd's last words – have traveled from church to church, and school to school since they were blessed in September 2020 to "prove that racism is not the only reality." They offer a visible symbol, a graphic reminder, of the need for racial justice, said the Rev. Mark Koyama, pastor of the United Church of Jaffrey, N.H., which initiated the Sacred Ally Quilt Ministry.
"Immortalizing these tragic words centers this expression of allyship on the words of a Black man," he said. Words of discomfort and pain that were divided into eight stanzas, each made visible on a quilt. Two others were created to give the display a visual beginning and end.
'Space for holy engagement'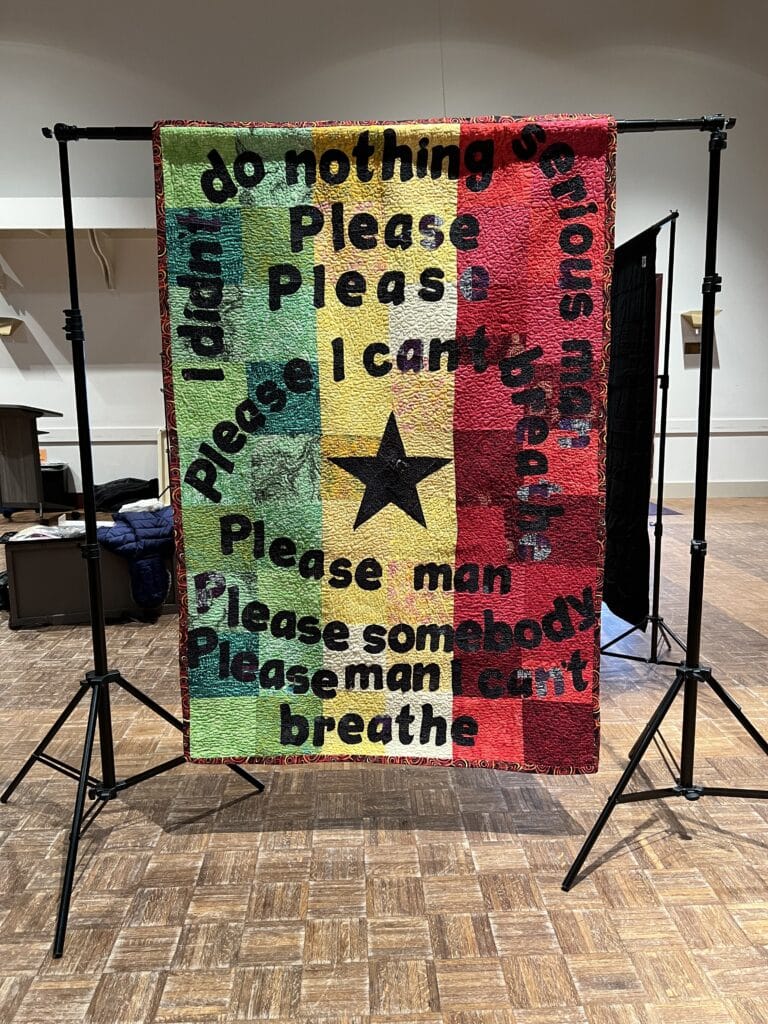 That display is now working its way through the Heartland Conference United Church of Christ, with a final stop planned at the UCC National Setting in Cleveland in March.
"It's like a modern 'Tent of Meeting' as found in the Old Testament," said the Rev. David Long-Higgins, Heartland Conference Minister. "It's a moveable space designed for holy engagement.
"This exhibit is more than something to be viewed. It's something people are invited to be entered into. To create vital life-giving conversations that are spirit led, filled with depth and grace. The hope is that those who enter into that space are somehow changed by the encounter with others who are also experiencing it," he continued.
"How we can form an anti-racist world – by bringing people from our churches together?"
A five church tour
The Ohio tour of five churches started in Columbus at First Community Church on Friday, Jan. 27 with a concert that drew 400 people.
"The opening in Columbus was quite powerful," said Long-Higgins, noting that it happened as the country was getting its first glimpse at the police beating that caused the death of Tyre Nichols in Memphis. "Friday's release of Tyre Nichol's video will certainly enter into our conversations, I am sure going forward. There was a consideration of it in Columbus, mostly evoking recognition that we have so much work to do."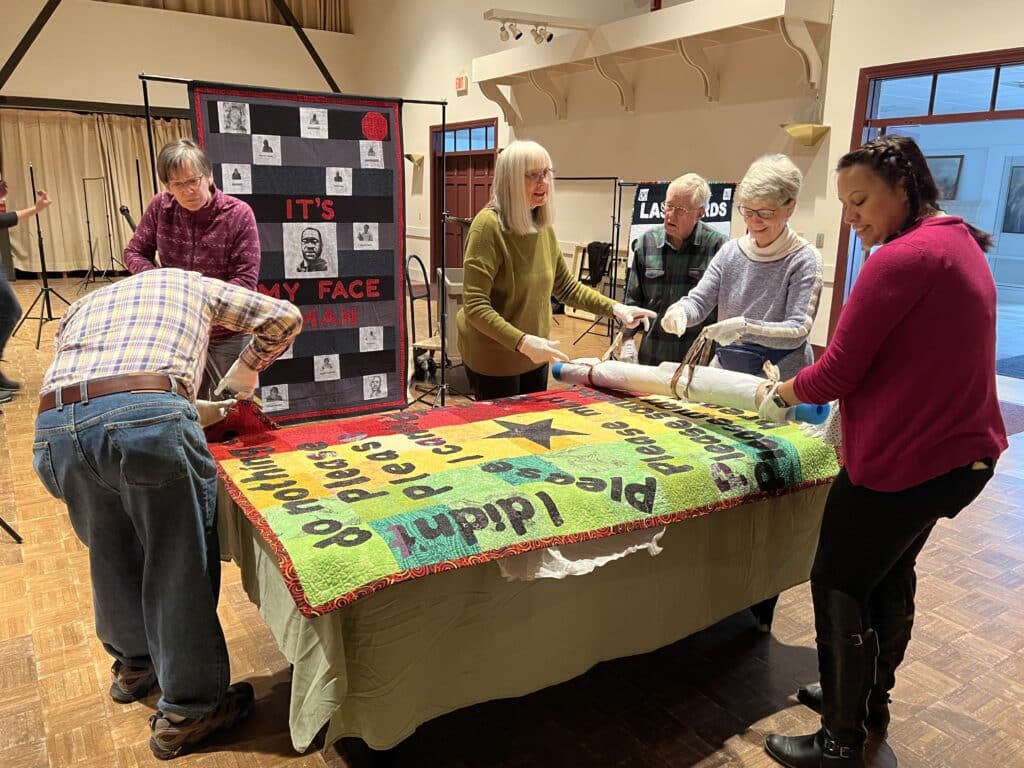 From Columbus, the quilt exhibit moves to Cuyahoga Falls and Pilgrim United Church of Christ on Feb. 2, where it will remain until Monday evening, Feb. 6. Next stop, the Community Life Collaborative, a nonprofit established by members of Federated Church UCC in Chagrin Falls. It will be on display there Feb. 8-13 before moving to Mt. Zion Congregational Church UCC in Cleveland's University Circle neighborhood for nine days beginning Friday, Feb 17.
Long-Higgins said the Heartland Conference Anti-Racism Network believed that the exhibit "would be a powerful gift to foster and experience, creating a space for sacred conversations around ending racism to happen throughout our geography."
The New Hampshire pastor and one of the quilters, Harriet Ward, will help foster those conversations, appearing both virtually and in-person as the exhibit travels Ohio. A complete schedule can be found here.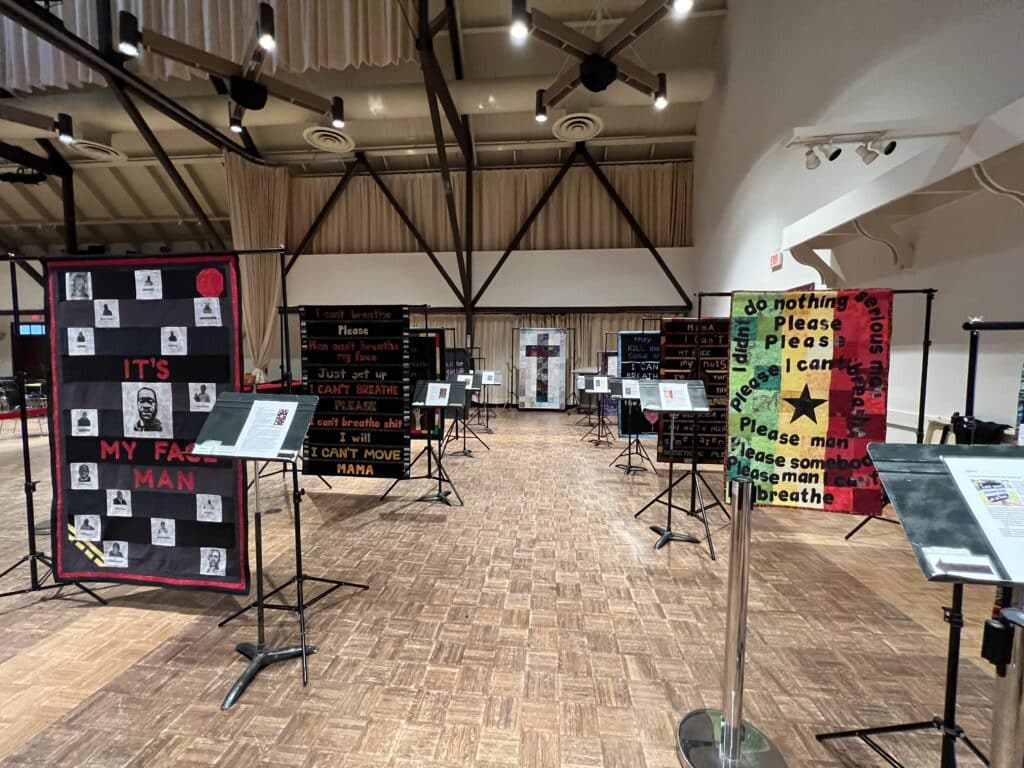 At each stop, along with the quilts, organizers are offering people the opportunity to view Stitch, Breathe, Speak, a 17 minute documentary made shortly after the quilts were blessed. New Hampshire minister the Rev. Chris Owen and his colleague Jan Sutcliffe chronicle the creation of the quilts and the people who were transformed by the process.
"It's proven to be an extremely valuable tool in our tour with the quilts." Koyama said. "It frames the relevant issues in a responsible and engaging way."
The exhibit's final stop at the UCC national offices will dovetail with gatherings by the Council of Conference Ministers and the United Church of Christ Board the first week of March.
'Prompting difficult, sacred conversations'
"We hope it to be deeply moving," said Long-Higgins of the exhibit. "There's power in the medium of quilting. It takes that which is torn apart and brings it into a newly formed wholeness that can convey beauty and depth that is powerful and transformative. I hope we can have that kind of engagement with this gift that the New Hampshire Conference is offering."
Koyama said he believes the quilts are having the impact the creators had envisioned. They are certainly garnering attention. In August, the quilts will be presented at the Parliament of the World's Religions in Chicago.
"We've been seeing the fruits of much of our efforts," he said, stressing that viewing the exhibit is just the beginning. "Our hope is that seeing the quilt is not a done deal – that the exhibit prompts difficult, sacred conversations on race in the places we visit." He would like the trip through Ohio to serve as a model on this form of engagement for other churches in the UCC and beyond.
Long-Higgins' goal is also engagement. "We hope that, by this exhibit, we can cultivate important conversations around the Conference. That the people who see the quilts respond not just with the head, but with the heart. The work for social justice integrates our whole being."
---
Content on ucc.org is copyrighted by the National Setting of the United Church of Christ and may be only shared according to the guidelines outlined here.
---
Related News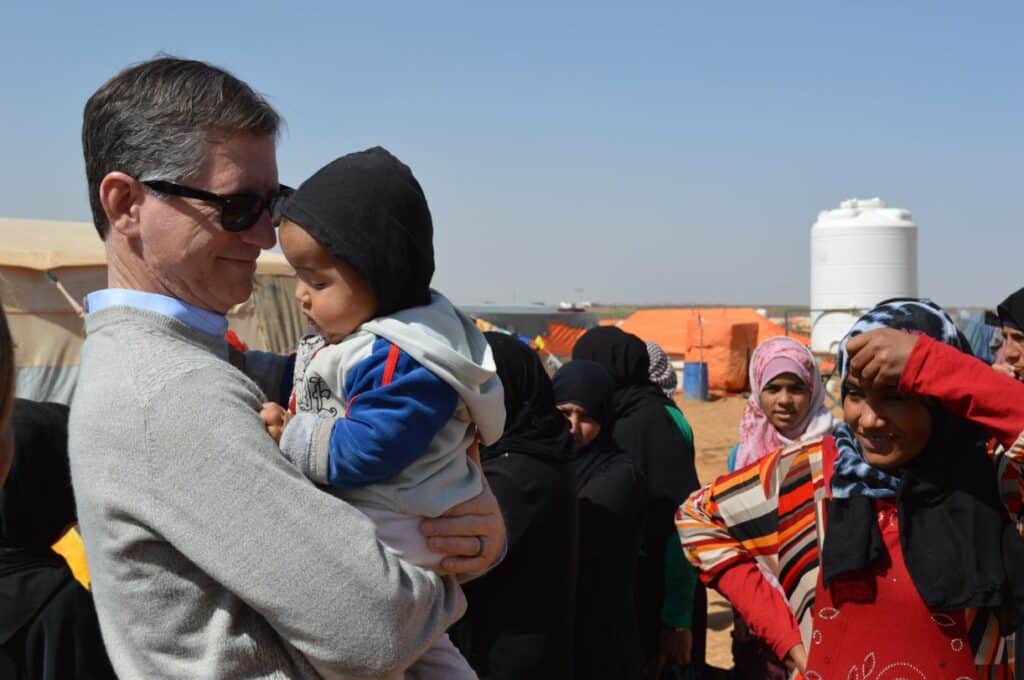 General Minister and President-elect John Dorhauer celebrates his new call with his wife Mimi...
Read More