Reversing Climate Change and Saving Money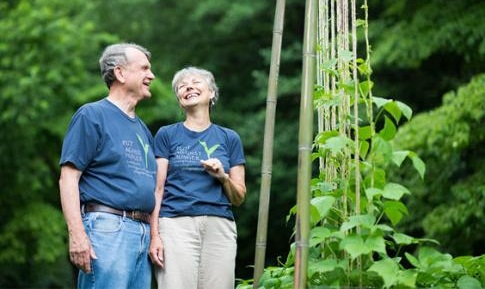 When we flip a light switch or turn the key in our vehicle, few of us think about the impact of our energy choices. We have grown accustomed to an energy intensive lifestyle that is dependent on fossil fuels—both in our homes and in our cars. However, with improvements in technology, we no longer have to sacrifice our lifestyle to live in a sustainable way that protects the planet. While combatting an existential threat like climate change can seem overwhelming, the Rock Spring UCC congregation believes it's not a hopeless task, and has chosen to launch a mission endeavor that we are calling the Green Accelerator Project (GAP).
With GAP, the congregation has partnered with the Solar Village Project to bring $50 dollar solar-powered units to homes in developing countries who currently rely on kerosene lanterns that cause lung disease and burns in children. The Solar Village Project helps rural households choose clean energy from the start rather than dirty fossil fuels from the grid that exacerbate climate change. Additionally, clean solar power charges cell phones and radios, and provides an extra 8 hours of light for reading and entrepreneurship in the evening. These economic, social, and health impacts can dramatically improve lives – particularly for women whose domain is often the household.
Secondly, GAP asks congregation members to purchase 100% green energy (wind, solar, biomass) from their utility. Through pamphlets and educational workshops, the congregation is learning how to reduce their carbon footprint with attic insulation, LED bulbs, energy efficient appliances, and electric or hybrid vehicles. Going green not only saves the planet, it saves money. LED bulbs use 70% less electricity than traditional bulbs and last up to 25 years. A programmable thermostat saves $3-400 per year. Electric vehicles with 2-300 miles of range can now be purchased at prices comparable to the average price of a new car. With a $7,200 federal tax credit and thousands of dollars in savings on gasoline and maintenance costs, electric vehicles are actually the better bargain over the life of the vehicle.
At the end of the year, GAP asks congregation members to donate their energy savings to microlending proposals by the Solar Village Project, thereby creating a virtuous cycle of reducing energy impact at home while creating a green energy future abroad—helping close the "gap" between the two.
Finally, GAP calls on congregation members to care for the local environment by partnering with EcoAction Arlington on stream clean up, invasive plant removal, and the expansion of tree canopy. Congregation members are trained to become Energy Masters to install efficiency improvements in low-income households. Others take the "plastics challenge" to dramatically reduce this long-lasting, ubiquitous, and destructive material.
Through GAP, Rock Spring is living out its core values while creating lasting impact on the planet. By making smart energy choices and investing more in efficiency, our carbon footprint is reduced, alternative energy is expanded in developing nations, and the local environment is protected.
For more information on how to implement this program in your congregation, email Eco@RS.
---
Related News
One hundred and twenty-five years ago, the United States was in the throes of a most vibrant...
Read More