Resurrecting Hope: An Easter Message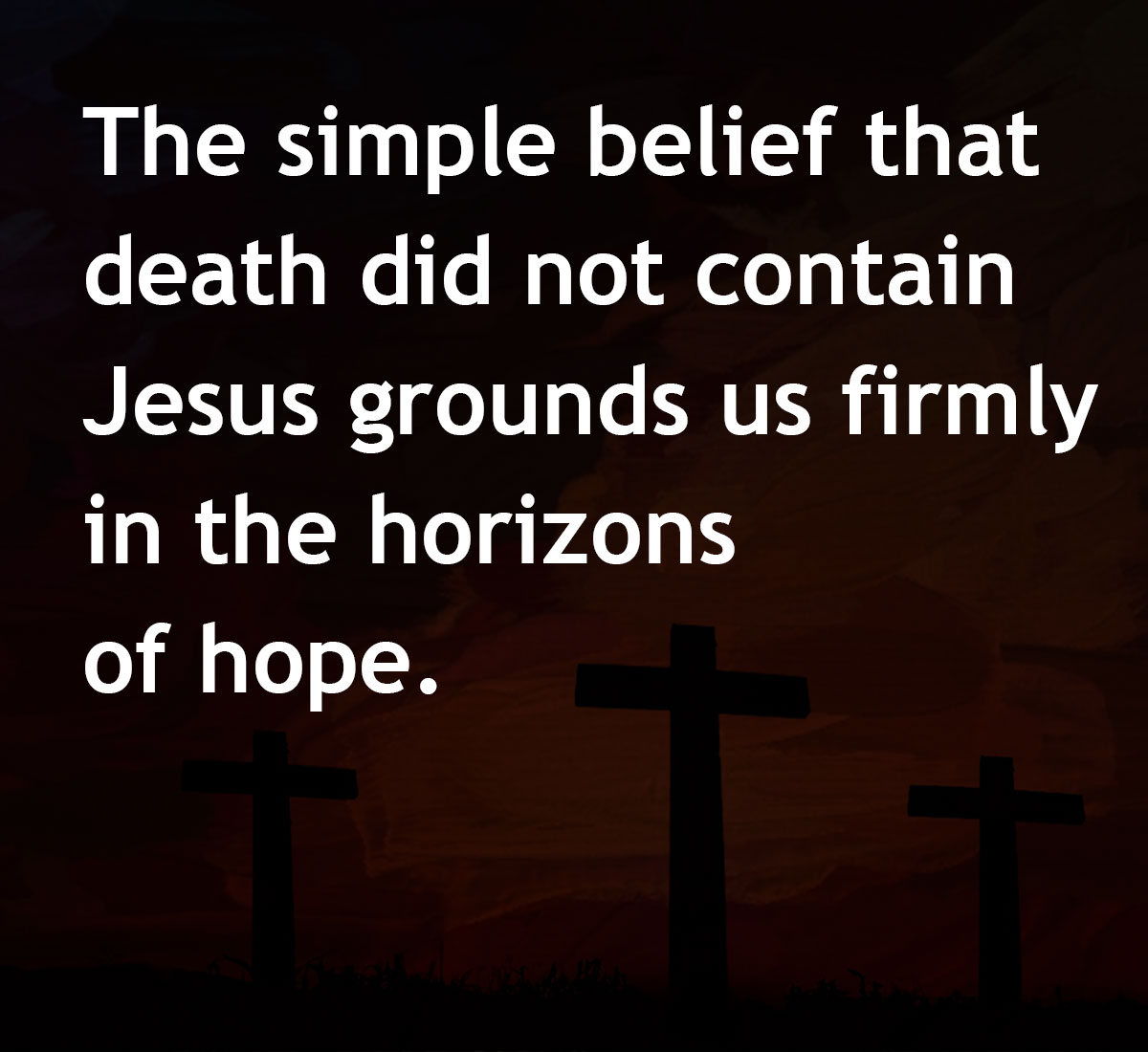 I walk through the world, opening myself up to the daily vagaries of life's unanticipated joy and sorrows. I find myself grateful for a faith that orients itself around one foundational belief: resurrection.
Death did not destroy Jesus. That is my grounding fundament. Like every disciple of the risen Christ, I hear and take to heart the words of Paul who wrote that because of Him "we do not grieve as others who have no hope." (I Thess. 4.13).
To be sure, we grieve.
We worry.
We fear.
We grow anxious.
We are not immune from any of these powerful and life-altering emotions. In the face of what life can throw our way, we too will succumb to experiences that mitigate our joy. Death, disease, hunger, poverty, injustice, fear, warfare, oppression, famine, natural disaster, climate disruption, political crisis, mass shootings all have their way with us.
They consume our attention.
They steal our joy.
They strip us of some of the happiness and pleasure that would otherwise be ours but for the sufferings we endure in their presence and aftermath.
There is one thing, though, they cannot do: destroy our hope. The simple belief that death did not contain Jesus grounds us firmly in the horizons of hope. It is perhaps the singular vocational responsibility of the Church, the Living Body of Christ: to procure hope in the face of life's most disruptive and destructive forces.
Hope calls us to play the long game.
The long game of hope believes that the wars in Yemen and Syria can end.
The long game of hope believes that peace between Israel and Palestine can come.
The long game of hope believes that our children and grandchildren will again breathe clean air.
The long game of hope believes that the immigrant and the refugee, the strangers and aliens in our midst, will find a new home and be greeted with hospitality and freed from the cages they've been placed in.
The long game of hope believes that entire cities in Zimbabwe and Mozambique and farms in the Midwest destroyed by floods can be rebuilt.
The long game of hope believes that colonial empires can see more joy in restoring equity through reparations than in hoarding wealth accumulated on the backs of enslaved black bodies and displaced indigenous communities.
The long game does not see death as our destiny. It believes that though suffering may endure for the night, joy cometh in the morning. Some new dawns may not arrive as early as others, but we do not lose hope that new dawns are ever before us.
This is where my Easter joy is found: the orientation of hope. It is found in the beating heart of every disciple of Jesus who, once again, will rehearse the remarkable story of his rising from the dead. The miracle of hope in the heart is my Easter joy.
May it be yours as well.
Easter message available for download here.
---
Related News
On October 13th, a delegation of UCC laity and clergy are scheduled to deliver more than 6,500...
Read More