A Note of Resiliency of the War-Affected Amidst Violence
Last July, the Ecumenical Institute in Jaffna organized a two-day program with hundreds of people from the Northern Province of Sri Lanka. Through panel discussions and papers presented for discussion, participants described their situation and the problems they face for survival after the war.
The war-torn population in the North and East of Sri Lanka, has shown considerable resiliency amidst the violence and devastation. In some parts of the Vanni, almost every family has lost someone to the war, with others maimed and handicapped.
Issues of disappearances and war-related political prisoners remain crucial. Many other issues facing farmers, fisher folk, the landless and homeless, preoccupy them even as they yearn for both solutions to their everyday concerns and of the political situation.
Amidst such suffering, the survival and resiliency of the community has depended on a variety of local social institutions—cooperatives, schools, community centers and religious institutions. The ability for communities to work together and to function democratically has been critical for their resiliency.
Women show great resiliency as they carry much of the social burden including providing for their families and dependents with increasing difficulties due to an economic crisis. The resiliency of the women, and society more broadly, results from social investments in community organizations and the education of women prior to the war. Panelists predict that for continued resiliency, new initiatives will be needed to support community organizations and the empowerment of women.
—Submitted by Deenabandhu Manchala, executive,
Global Ministries Southern Asia Office
---
Related News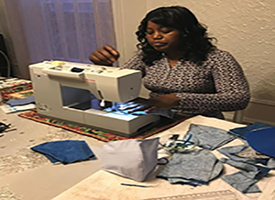 "It's so good making masks because it helps the community," said Sandra, a Congolese refugee...
Read More