Refugee nativity replaces live animals in Philadelphia's Old City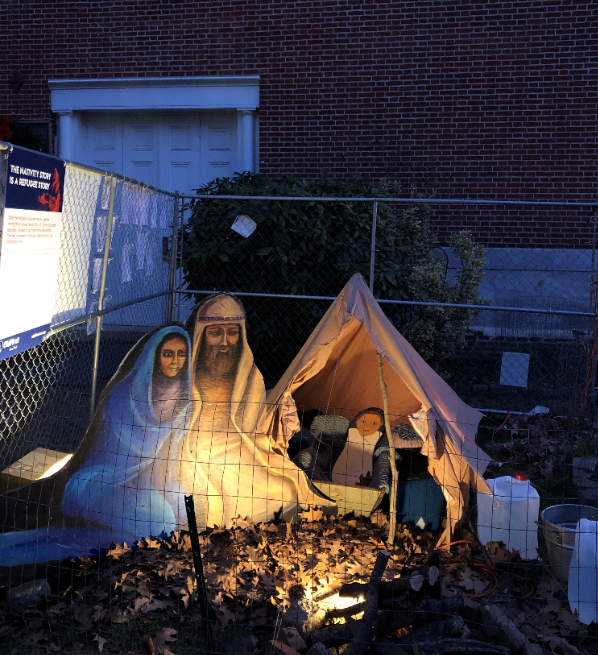 One of Philadelphia's oldest churches has changed up its presentation of the Christmas story this season — ending a live nativity tradition of more than 40-years to highlight current immigration, refugee and asylum issues.
Old First Reformed United Church of Christ's nativity crèche with live animals has been displaced this year by a refugee tent.
The switch was made, according to Pastor Michael Caine, for a number of reasons. One of them, though not the most important, involved last year's escape of Stormy the cow. The Hereford wandered away from the gated crèche at Old First not once, but twice last December, ending up first on the freeway, and later in a parking garage. Both incidents spurring protests from animal rights groups around the country.
"We worried that our telling of the Christmas story last year got lost in another important issue in our culture — the fair and just treatment of animals," Rev. Caine said. "When this year, our world and our nation were faced with the refugee crisis and the caravan at our southern border, we felt that was a pressing, cultural issue with which to re-energize or make our presentation of the Christmas story more relevant."
The 2018 nativity scene is a story about displaced people. Mary and Joseph sit outside a tented space covering baby Jesus, with jugs of water and blankets close by.
"Jesus and his family were essentially homeless and stateless," Caine noted. "Both Mary and Joseph kind of end up displaced from Nazareth because of the census."
The display also links the well-told story of Jesus' birth to the harsh realities facing refugees in the world today, and the Church's mission to offer them welcome and aid.
"There are people out there right now, at Christmas. who are far from home. How are we going to make room for them, to welcome them and make sure they are safe?" Caine said. "The Refugee Nativity sort of places us and our faith and our ministries in a clearer light! Some people, mostly political and religious conservatives, have been very offended by the depiction of the holy family as refugees —despite Matthew 2 — but the folks who our church might make sense to, they get it."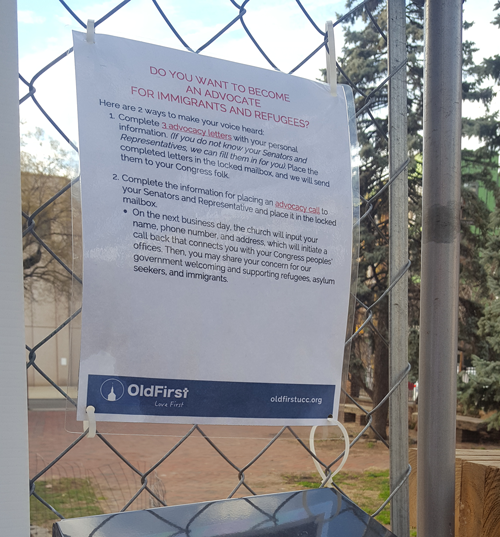 Behind the Holy Family, on a fence, the informational part of the exhibit. Real stories about real people. Facts and figures about the current plight of refugees in our world. The nativity also features a donation box to benefit asylum seekers along with information from the UCC Justice and Witness Ministries on how to contact lawmakers on the issues of immigration and asylum.
"We have been concerned and involved as a congregation in the issues of displaced people and asylum," Caine continued. "But, of course, it helps us that we are proud members of a denomination that is working on refugee justice issues. We ordered the signs (Jesus was a Refugee signs from UCC Resources). We are using an adapted form of the letter that our Washington, D.C. advocacy office created, and we are taking up a collection through the denomination to help support asylum seekers while they wait."
And while the current nativity scene communicates more specifics about the mission and ministries of Old First, live animals aren't completely out of the picture. The church is renting a donkey for a few hours on Christmas Eve, and congregants will play Mary and Joseph, roaming the neighborhood, where they will find no room at the inn.
As for next year, who knows?
"There are people within our faith community and also those farther astream who are mourning no animals," Caine said. "But there seem to be as many that are grateful for the changed idiom of this year's Refugee Nativity."
Right after Christmas, Pastor Caine will be advocating for those who are now far from home, joining clergy colleagues and other refugee advocates in Tijuana to accompany migrants as they apply for asylum at the U.S. border.
---
Related News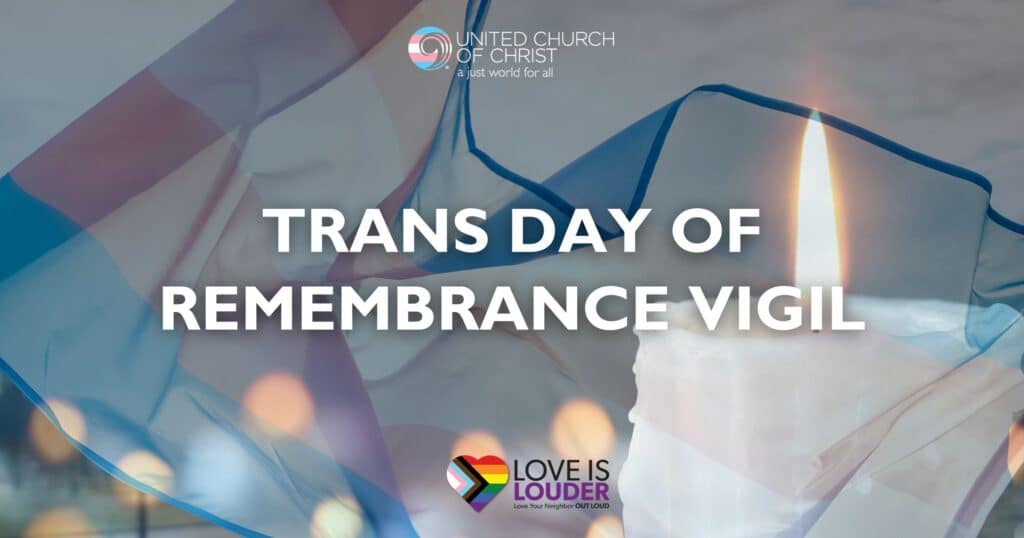 To mark Transgender Day of Remembrance (TDOR), the United Church of Christ hosted a vigil...
Read More