Get Out the Vote
In recent decades, about 60% of the eligible voting population votes during presidential elections and about 40% during midterm elections.
Voter turnout in the U.S. is lower in comparison to most established democracies. There are a variety of reasons why people don't get out and vote: their job schedule does not allow it, they are away and didn't apply for an absentee ballot, disillusionment with the political atmosphere, among others. With the rise in popularity of suppressive voting legislation, we may see an even lower turnout than normal in upcoming elections. Our vote is our voice, and our democracy can only truly represent us when we are all able to participate. So we ask the question, what can we do to get out the vote?
Remind Your Neighbor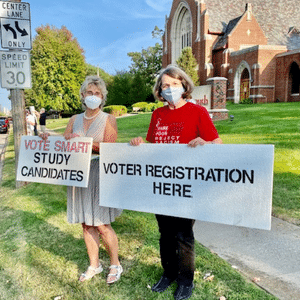 Remind your friends, neighbors, family members, and congregations to vote in November. Let them know that voting is one of the best ways to make our voices heard. If the political system is not what they'd like it to be, they can change it through voting. Remind them that Election Day involves voting far more than the presidency – important local issues are also at stake. A group of you and your friends can get together and organize a night of phone banking before the election to call the families in your church directory and remind them to vote.
"The vote is precious. It is the most powerful non-violent tool we have in a democratic society, and we must use it."

– John Lewis, late civil rights activist
Help Out
Some people you know may not be able to make it to the polls. If you know of someone who does not drive, offer them a ride to their polling place on Election Day. If you know many people who don't drive, ask a few friends to volunteer. Single parents or working parents may not be able to leave their children alone to go to the polls. Offer to babysit. If you have a teenager who is not old enough to vote but can watch younger children, ask them if they'd be willing to volunteer to babysit so parents can go out and vote.
Know Your Laws
With the rise of restrictive voting legislation, people may not vote because they aren't sure what identification they will need at the polls, or they feel it will be too much of a hassle. Find out the requirements in your state for registering, voting, early voting and more via the Election Protection web site.
Teach Your Children
The largest block of eligible voters who don't turn out at the polls are young people. Start talking to your children (and nieces, nephews, friends' children, and grandchildren) about voting. Explain to them why you believe it's important to vote, and get their ideas on why some people may not vote. Let your children know that their political opinions and their vote matters so future generations will turn out at the polls.
Spread the Word About Election Protection
The national, nonpartisan Election Protection coalition, of which the United Church of Christ is a member, was formed to ensure that all voters have an equal opportunity to participate in the political process. Made up of more than 100 local, state and national partners, Election Protection works year-round to advance and defend the right to vote.
Election Protection provides Americans from coast to coast with comprehensive voting information on how they can make sure their vote is counted. If you have any questions about voting, or encounter difficulty when attempting to cast your ballot, call the Voter Helplines:
Throughout the election, our volunteers collect information to paint a picture of election irregularities. Election Protection focuses on the voter – not on the political horse race – and provides guidance, information and help to any American, regardless of who that voter is casting a ballot for.

Get Involved. Answer the Call to Action.
Questions? Contact UCC.
Jessica Quinn
Online Communications Specialist
UCCTakeAction@ucc.org