Oregon university chaplain supporting students after deadly shooting at community college
A United Church of Christ minister and chaplain at Pacific University held a prayer vigil on the Oregon campus Thursday night to remember the nine people murdered on the campus of Umpqua Community College, just 182 miles away. The latest victims of yet another mass shooting in this country were four days into a new school term in Roseburg, Ore., when a lone gunman opened fire Oct. 1.
"Mass shootings like this happen too often and Oregon has not been immune," said the Rev. Chuck Currie, director of the Pacific University Center for Peace and Spirituality and University Chaplain at Pacific University. "Today we offer our prayers for those killed and injured. We also lift up the families of those impacted. Still, we must also work to take steps that reduce gun violence this day so that there are no more days like this."
One of Currie's ecumenical colleagues echoed his concern.
"All of our faith traditions abhor violence, and Ecumenical Ministries of Oregon has joined the National Council of Churches in calling for action to prevent gun violence," said Jan Elfers, the organization's interim executive director. "Our prayers go out to all those whose lives have been impacted by this terrible tragedy; to the victims' families and friends, and to the entire Roseburg community. We are grateful to those who responded to the emergency and undoubtedly prevented the loss of even more lives."
Ecumenical Ministries of Oregon is a statewide association of Christian denominations, congregations, ecumenical organizations and interfaith partners working together to improve the lives of Oregonians through community ministry programs, ecumenical and interreligious dialogue, environmental ministry and public policy advocacy.
After word spread about shooting in Roseburg, Pacific University students called the prayer vigil. Currie said he was planning on opening the chapel to offer his services, but the young people quickly got organized.
"Pacific University has numerous students from the Roseburg area, including students who have transferred from [Umpqua] to Pacific; some have connections to those who were killed or wounded, and the Pacific community is providing whatever support is needed," Currie said. "In addition, our Eugene campus has reached out to the hospitals there, where several of the wounded were airlifted, to provide support to wounded students."
Currie, who is also the moderator for the United Church of Christ Central Pacific Conference, said he talked to the White House several times on Thursday, to offer whatever support he can provide on a national level, as the Executive Office works to respond to these type of events.
Presidential Press Secretary Josh Earnest, who learned of Oregon shooting during his daily press briefing Thursday afternoon, stressed the Obama administration's deep concern over the growing need for gun control in the country — an issue that he says is not making any headway due to bipartisan bickering.
"We've not yet seen that kind of strong bipartisan support across the country translate into legislative support in the United States Congress that's sufficient to pass legislation that would, again, implement these kinds of common-sense solutions," Earnest told reporters.
President Barack Obama made a definitive call for gun control after learning of the shooting that left 10 dead and at least seven injured, saying our thoughts and prayers are not enough.
"We are the only advanced country in the world that sees these mass shooting every few months," Obama said, underscoring the need for common sense gun control laws. "Somehow this has become routine. We have become numb to this. It cannot be this easy for someone who wants to inflict harm on other people to get his or her hands on a gun."
Obama, who predicted that he would be attacked for "politicizing" the tragedy said, "This is something that should be politicized. It is relevant to our common life together, our body politic. Each time this happens, I am going to bring this up. Each time this happens, I'm going to say we can actually do something about it, but we have to change our laws," he said. He called on Americans to think about gun violence when they go to the polls and vote next month.
Currie in a prayer he shared after the tragedy underscored that statement:
"We ask forgiveness for not being bold enough to protect our young.
The reality of gun violence is a sin in which we are all complicit."
---
Related News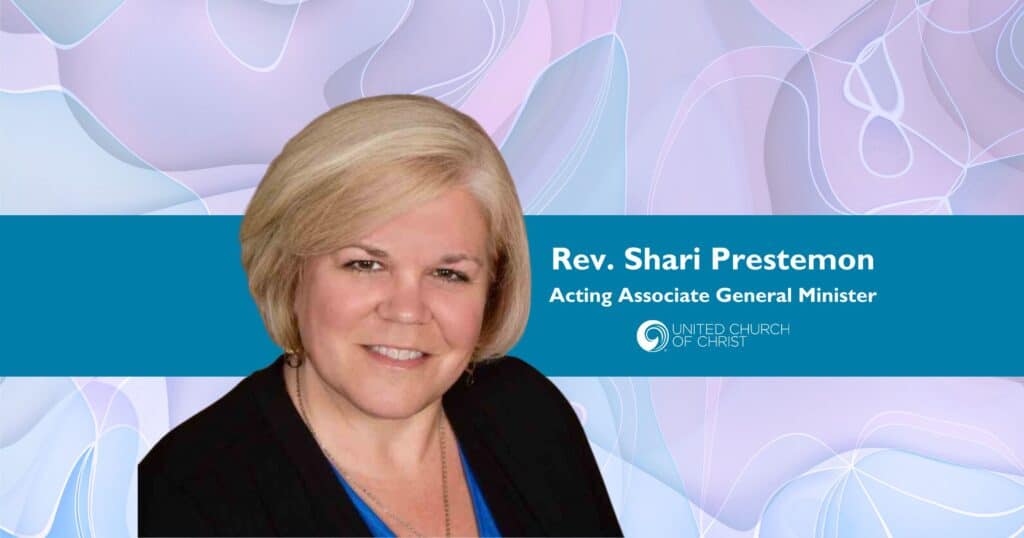 A new United Church of Christ national leader has been called. The UCC Board voted in a...
Read More