Heads of two communions learn about resilience during Global Ministries pilgrimage to Venezuela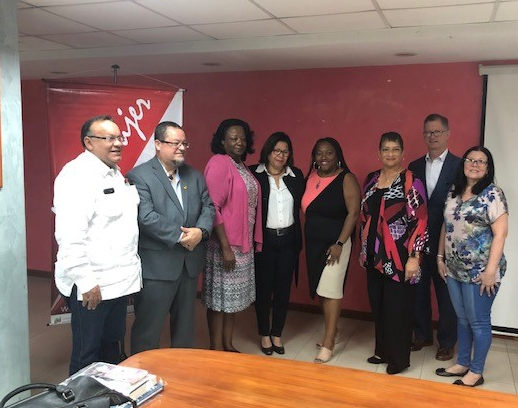 The heads of the two denominations partnered in Global Ministries, in a rare dual visit, learned much about what Venezuelan communities are willing to do to take care of each other during a people-to-people pilgrimage to that country in late September.
The Rev. John Dorhauer, United Church of Christ general minister and president, and the Rev. Teresa "Terri" Hord Owens, general minister and president of the Christian Church (Disciples of Christ), teamed up with the Revs. Julia Brown Karimu and Karen Georgia Thompson, the Global Ministries co-executives, to see how economic and trade sanctions against Venezuela are affecting millions of people in that South American country.
"Terri and I are responsible for messaging the impact of our collective mission at home and abroad," Dorhauer said. "It is one thing for Terri and me to talk about the impact created by global relationships. It is another thing to witness them firsthand and then be able to speak about them. Our presence also signals to our allies and partners that they matter."
The church leaders have committed themselves to establishing a framework of solidarity and accompaniment with local partners and with the people of Venezuela.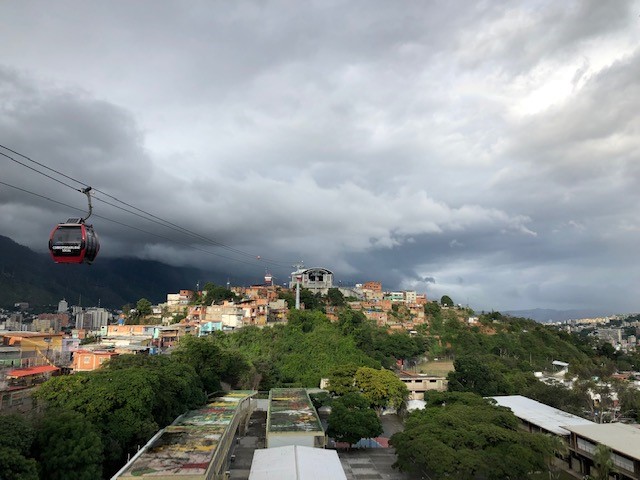 Invited by the Evangelical Pentecostal Union of Venezuela, an ecumenical partner for 60 years, the Global Ministries delegation spent four days, Sept. 23-26, visiting with government officials, human rights advocates, church leaders and community members.
"The agenda for this pilgrimage was very intense," said the Rev. Angel Luis Rivera-Agosto, Global Ministries executive for Latin America and the Caribbean, the fifth member of the delegation and organizer of this pilgrimage. "We had the opportunity to speak to the Minister of the Popular Power for Women's Affairs, a representative of the Bolivarian Republic of Venezuela (the country's official name since 1999), but we also had the opportunity to sit with one of the leaders of the political opposition in the country. We met with leaders from the Afro-Venezuelan cultural circuit as well as with an organization that advocates for human rights. We were invited to worship with dozens of church leaders from the Caracas area. We saw the public tram system, which provides transportation for citizens going to and from work in the city. And an orchestra of children from a musical program in the country organized a concert for us."
During those visits church executives learned how United States sanctions against Venezuela, tightened up since they were first imposed in 2015 by former President Barack Obama, are both limiting and challenging millions of people in the socialist country.
For example, as Thompson noted, the Metrocable gondola system in Caracas has limited service because the parts it needs for full operation cannot be acquired. Venezuela's famous network of children's orchestras, El Sistema, is raising money for instrument strings, which are hard to acquire.
That's because foreign companies, pressured by the U.S., have stopped doing business in Venezuela. President Donald Trump intensified sanctions in 2017, aimed at forcing out President Nicolás Maduro. Earlier this year, the U.S. imposed an oil embargo that blocked the purchase of petroleum from Venezuela's state oil company, PDVSA. The country also lost control of its subsidiary of U.S.-owned Citgo – the refiner that made its crude oil marketable – to a Canadian creditor. Since 90% of the country's government revenue comes from the oil industry, these were huge blows to its economy. The U.S. government has also frozen billions of Venezuelan funds in international accounts.
Thompson said that, as a result, government imports of food and medicine have fallen off, leaving Venezuelans to turn to each other. She pointed to people living in an Afro Venezuelan community in the region of Barlovento, 60 miles east of Caracas as an example.
Barlovento was developed by Spanish colonizers who started cacao plantations, worked by African slaves, primarily from the Congo. Their descendants are now involved in a number of projects and initiatives to keep their heritage alive. The Global Ministries delegation met community leaders at the only Afro Venezuelan television station, run on a shoestring budget, which was damaged by arson aimed at silencing that historical narrative.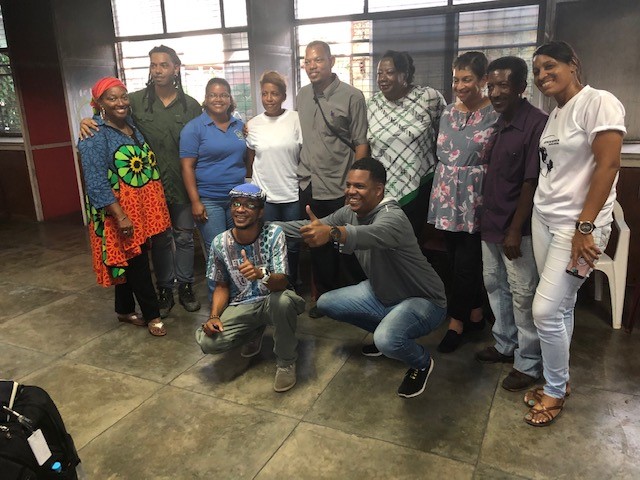 "The messages in the media about the Afro Venezuelan community are negative," said Thompson, associate general minister of Global Engagement, co-executive of Global Ministries. "Through Afro TV, they are working to change the perceptions of the Afro Venezuelan communities. Afro TV wants to show a positive perspective of African-descendant people. With the studio in disrepair, there has been a shift to broadcasting online and continuing the work they started."
Thompson said that, to address the challenges of sanctions against Venezuela, many people of the area are moving back to the traditions of their ancestors and returning to the land.
"Like many other communities in Venezuela, Barlovento became dependent on oil," she said. "But the community sits on fertile lands and the people have returned to farming cacao (cocoa), maize, rice, yucca. These items are helpful in a community where food that was previously imported is no longer available."
Sanctions have also reduced the availability of medicine, which a church-based organization called The Body of Christ is addressing.
"They are using their resources to purchase medicine for the sick and to ensure that the gains made in reducing illnesses and health disparities are maintained," Thompson said. "Working with Afro TV, The Body of Christ is focusing on spreading the gospel and providing services and programs for at risk youth."
She pointed to another project, Maroons for Hope, which was started to develop cleaning products that could no longer be imported.
"In each case we heard similar things: the embargo is affecting the lives of the people," said Thompson. "We also heard of the resilience and strength of communities here — returning to planting and harvesting their own crops and using resources to acquire medicine and medical supplies for the community of Barlovento."
Meeting with those Venezuelans left a lasting impression on Thompson and Dorhauer.
The UCC general minister and president was moved and inspired by the drumming they witnessed in Barlovento.
As Thompson said, "The drums are an important part of African heritage and tradition. The beat of the drum is more than music and rhythm. The drums hold traditions and rituals that are passed across generations. Each drum carries a different rhythm, holding sounds that call across time and space."
Three drums from the African Congo help the community preserve the heritage, culture, religion and traditions that were brought into Venezuela.
"They were called the Mamma, the child, and the Pappa drums," Dorhauer said. "They teach children to play traditional drums with traditional African rhythms. When they learned I played the drums, they asked me to play with them. We riffed for a few minutes — and it was a proud and deeply spiritual experience for me. I felt honored and trusted and welcomed all at once. We smiled, danced, laughed. It was precious."
"We gathered enough information to share in terms of what is going on in Venezuela right now and how-to walk-in solidarity with our siblings there," said Rivera-Agosto. "Our leaders committed themselves to enable congregations from both churches to interpret the religious, political,and social realities of the partner church and the people of Venezuela to (UCC & Disciples) congregations."
---
Related News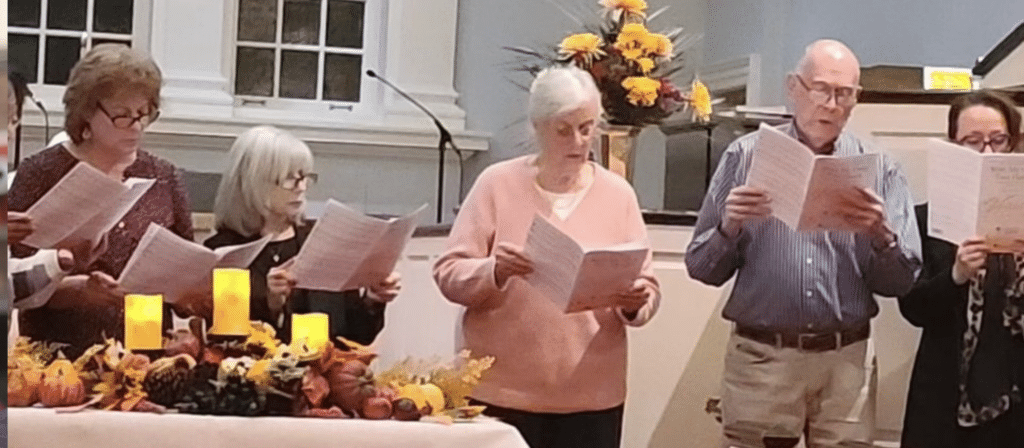 Many United Church of Christ congregations across the country participated in interfaith...
Read More