Resilient Baltimore youth look forward to Synod 2017 with faith, hope, excitement
Most of the Baltimore youth and young adults visiting General Synod in Cleveland, June 26-30, seemed content to be among themselves on the final day of the conference Tuesday, arriving in the Plenary Hall early for the afternoon session that would include the official announcement that their city will host General Synod 31 in 2017.
But even after five action-packed days of Synod activities, Brandon Hovermill and Austin Johnson of United Evangelical Church in Baltimore still had plenty left in the tank to discuss Synods present and future, and the recent unrest in their city.
"I felt more hopeful and happy that there is going to be more change," said the 18-year-old Brandon, tossing around a football with several of his peers in the far corner of the spacious Plenary Hall prior to business. All wore bright-yellow T-shirts with the Central Atlantic Conference logo on the front and "Welcome to Baltimore" on the back.
"They are working for equal rights for all, not just one group or race, under God," said Brandon, adding that he once lived around the corner from where much of his hometown's violence and looting took place in May.
"I would look on TV and say, 'Hey, I know that place' or 'Hey, I know that person.' Just seeing this destruction of the city, and for no reason," Brandon said, shaking his head. "It was not justice for Freddie Gray, or justice for black lives. It was just negative opportunists."
The April 19 death of the 25-year-old Gray sparked several days of unrest on the streets of Baltimore. Gray died of a spinal-cord injury suffered while in the custody of the Baltimore Police Department. In the month of May, 43 people were killed and 108 injured in protest-related shootings in Baltimore.
"It started becoming a lot more positive when the National Guard stepped in and the peaceful protesters came out into the streets," said Brandon. "Even the gang members were like, 'Hey, this is not what we want for our community.'"
For Austin, also of United Evangelical, the collective message of peace and hope at Synod 2015 resonated with him.
"We realize that all lives matter, no matter who you are. That's the message I take home from this; especially from people like Rev. Dwayne," said Austin, 15, referring to the opening worship led Sunday by the Rev. Dwayne Royster of Philadelphia.
"He was very moving, very energetic and passionate. He knew what he was talking about, and he supported it, It's good to know there are other people in the UCC who are defending the same topics you are."
Like Brandon, Austin was rocked by the violence in his hometown.
"I was broken – I was very broken," said Austin. "I couldn't believe what was happening sometimes. I mean, you walk around at an Orioles game and around the Inner Harbor or whatever, and everything's always so peaceful. There's no violence. Then to look and see everything that's happening . . .  "
Austin is already feeling waves of anticipation for Synod 2017, which will kick off less than a month after he graduates from high school. Nodding toward the large area of seats and tables arranged in rows in front of the stage, he said, "I want to be a delegate, up there representing my city."
---
Related News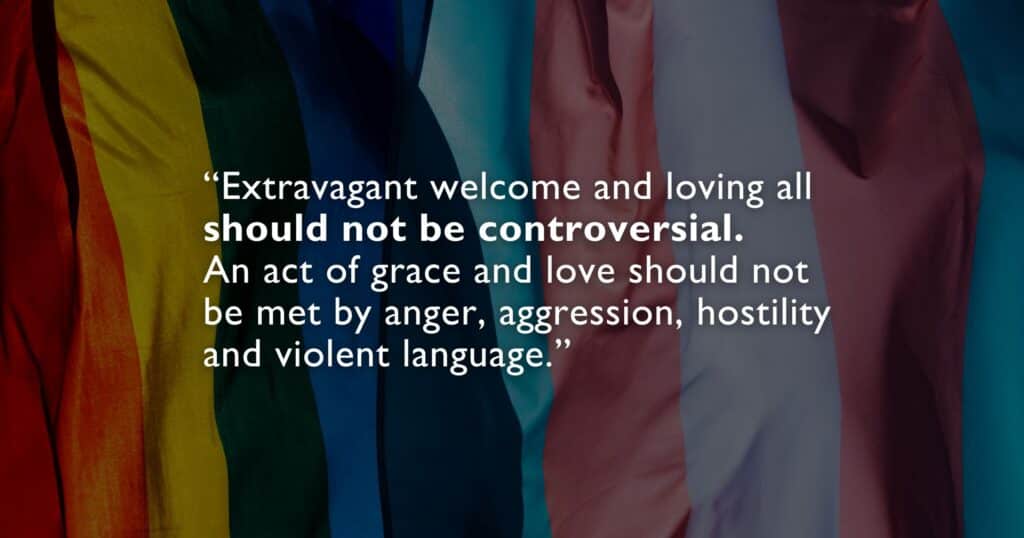 The United Church of Christ National Officers and the Conference Minister of the South Central...
Read More