Commentary: What we learned serving on a UCC disaster recovery team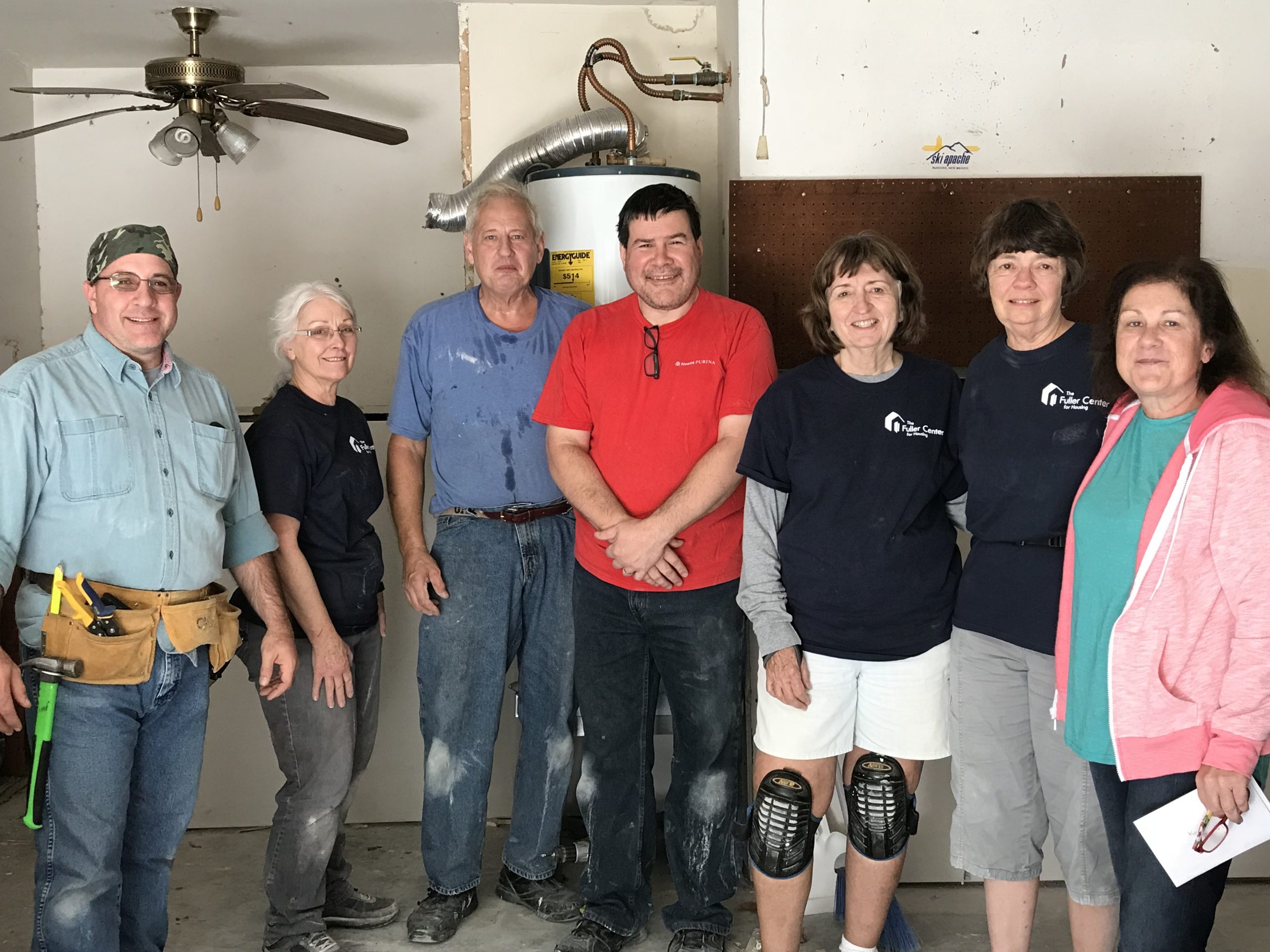 Six of us from St. Paul's UCC, in St. Louis, Mo., spent a week in a Harvey-battered neighborhood of Houston late last year replacing a homeowner's flood-soaked drywall and retrofitting the bathroom to make it handicapped accessible. It wasn't our first such mission team experience, and it won't be our last. We're exploring deploying another work team as soon as this spring. There is much we'd like to share about the experience.
Our Greatest Resource is Not Money
We think our greatest resource is our money; but it's not, it's our time. Most of our decisions have more to do with time than money. If UCC Disaster Ministries is doing something, the more personal we can make it the better. There's something very special about being hands on.
I find people are hungry to be part of something meaningful that's worth their time. After an experience like this you tend to reflect on other things you do in life differently. For example, mission trips tend to make you feel as if you are roughing it a bit. Maybe you have to sleep on a cot or the floor, you have to share a bathroom, or you have to wait in line to take a shower? Then you finally realize that your "roughing it" is still living better than most people do in the world. You have a dry place to stay, clean water to drink, something to eat that you know won't get you sick, and a purpose to get up in the morning. Such realizations can't help but transform us.
Please Give both Time and Money
Giving money for disaster recovery is awesome. UCC Disaster Ministries couldn't survive without it. St. Paul's latest work team gave both money and time. All six of us paid our own way to Houston and back. We spent a week helping restore a home. In addition, our congregation raised about $2,000 to replace many of the homeowner's kitchen appliances, as well for as a walk in shower. We gave the money to UCC Disaster Ministries' partner Fuller Center Disaster ReBuilders to make the purchases tax free.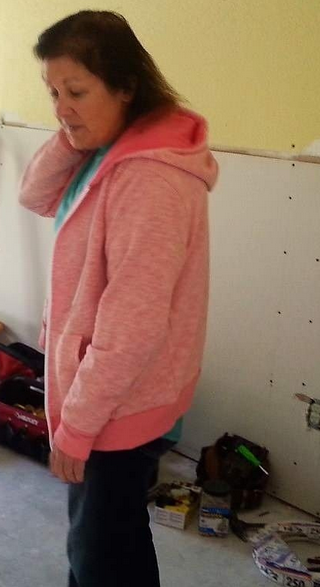 Restoring a Safe Home is Top Priority
A work team's priority should be restoring a safe home that meets the client's needs. The homeowner we assisted had worked as a systems engineer for NASA until she developed Meniere's disease and became disabled. Now widowed, she still lived in the house where she and her husband had raised their two sons.
When Harvey flooded the house with a foot of water, she was evacuated by rowboat with just a laundry basket full of her belongings. From then until we met her, she had been living in a hotel room provided by FEMA on a week-to-week basis, and didn't know when she would get back home. She said the uncertainty of her housing situation had taken a toll on her health.
We saw our first priority as getting her bedroom and a working bathroom finished – that way she would have as much as she did at the hotel when she came be back home. By week's end we were able to reinsulate, re-drywall, tape and mud the vast majority of the house. The majority of the house was ready for paint.
We also wanted to leave the house truly safe for her. We noticed that her bathroom door was very narrow. Most everything had been gutted already except the ceiling, so we took advantage of the opportunity to reframe the bathroom to have a 36″ doorway and made room for grab bars. We also took out a dividing bathroom wall and made space to replace the old bathtub with a zero-entry shower, which the home owner might need in the future.
Value the Disaster Survivor's Participation
Every time I've served on a disaster recovery work team, the client has participated in one way or another –sometimes by offering refreshments to the volunteer, sometimes by helping paint. This last time, the client's participation was deeply spiritual. We had taught her to put up drywall tape one day. But, before we put up the drywall, she and a friend went through the house and wrote prayers on the studs with markers so she knew that God's presence could be found within the very framework of her house.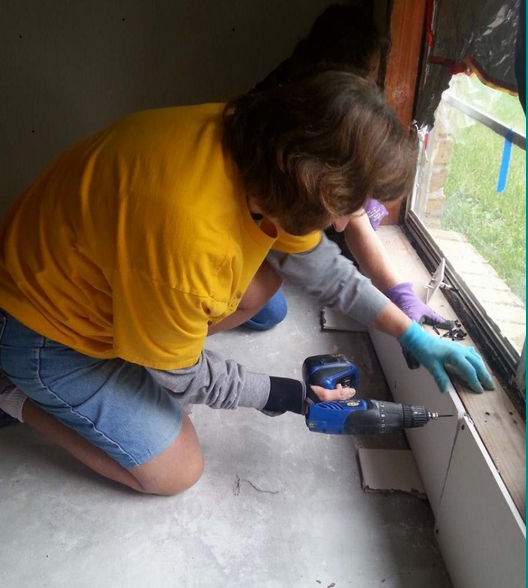 Mission is an Extremely Valuable Community Building Experience
Besides me, our team included a church member who is also our maintenance person, two teachers, a senior consultant for Nestle Purina, and our new church council president who is a quality control executive with Panera Bread. This group of people had never hung out with each other at church before. But in our week together in Houston, participants were surprised at how close they got to one another, to teams from other churches that were working in the same neighborhood, and to the homeowner.
We returned to St. Louis on a Saturday, and that Sunday donned UCC Disaster Ministries T-shirts and stood before the congregation to give a testimony on our mission trip. We shared not only what tasks we'd achieved but what new, transforming relationships we'd built in our few short days together.
Accept that No One of Us Can Do It All
When I came to the end of my first disaster recovery mission trip 25 years ago, I felt frustrated at all we had left undone. Over the years, I've come to realize that what I leave undone becomes an opportunity God is giving to someone else. I learned to find joy in the journey we were taking with others.
In Houston, for example, I would have liked to finish the bathroom. But a retired professional plumber was scheduled to come in after us to do that work. That was his God-given opportunity to participate.
In conclusion I would like to leave you with one of my favorite quotes by Edward Everett Hale who said, "I am only one, but I am one. I cannot do everything, but I can do something. And because I cannot do everything, I will not refuse to do the something that I can do."
Learn how to become a Disaster Ministries recovery team volunteer here.
The Rev. Mike Roth is the co-pastor of St. Paul's UCC (Telegraph Road) in St. Louis, Mo. (Pictured above in the tool belt and bandana with the church team and the homeowner.)

---
Related News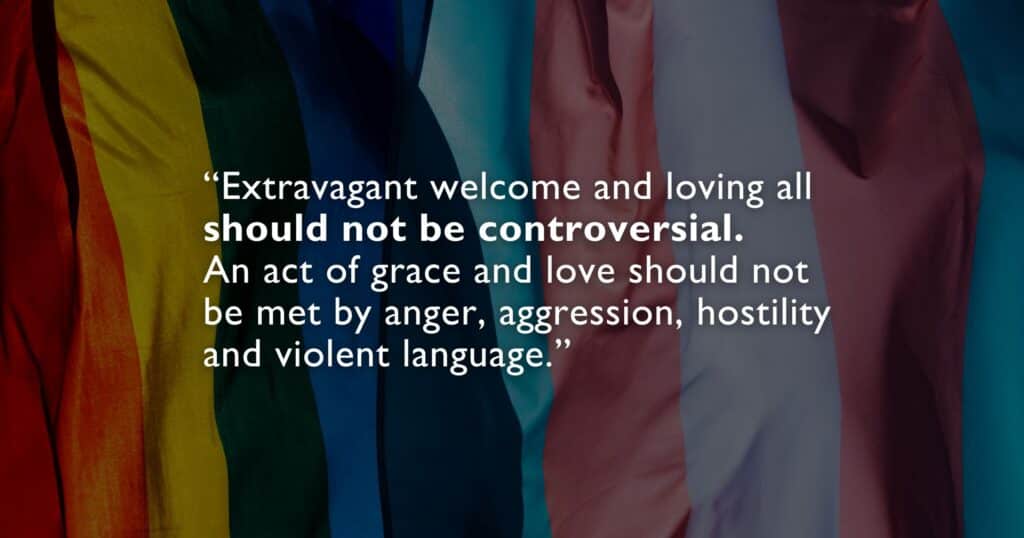 The United Church of Christ National Officers and the Conference Minister of the South Central...
Read More