Cleveland congregation offering sanctuary, one of three in NE Ohio keeping families together
A UCC congregation in Cleveland is providing sanctuary to a married father of four from Guatemala who wants to be here in this country as his children grow up. Pilgrim Congregational United Church of Christ, a historic church in the city's Tremont neighborhood, is part of a growing sanctuary movement in Northeast Ohio. It's one of three congregations in the Cleveland area offering refuge to immigrants, in an ecumenical effort of welcome.
"Out of a desire to be faithful to values and teachings of the gospel, we are called to stand with those in our communities facing threat of deportation," said the Rev. Kelly Burd, pastor of Pilgrim Church. "Our predecessors in faith built this very church to offer welcome and support to an influx of immigrants in the late 1800's in a time that was filled with anti-immigrant sentiment. We want to continue that legacy and welcome Eulogio."
Eulogio Hernandez Box was facing immediate deportation when sheltered by Pilgrim. He had been ordered by U.S. Immigration and Customs Enforcement (ICE) to turn himself in after exhausting his appeals. Like many unauthorized immigrant workers, Box was reported to ICE after a traffic stop, and targeted for removal. He has been in the United States for 17 years, living in Central Ohio, working and paying taxes. An active church member with no criminal record, Box also looks after his late sister's children, whose father was deported a few years ago.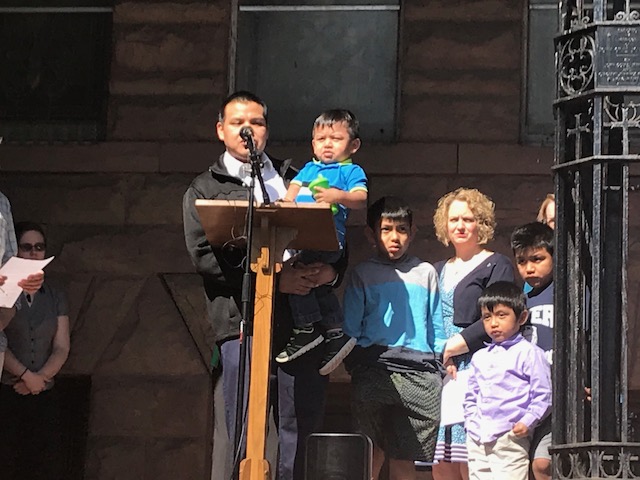 "I'm here today to ask the government and the immigration service to give me an opportunity here in this country," he said through a translator. "I did not report to ICE because I didn't want to be separated from my family." He said his four boys, all younger than eleven and American citizens, are being raised in the U.S. because of difficulties in Guatemala. Here, Box said, he and his wife can give their sons a better life.
"I ask pardon of ICE officials, I did not report myself as I was asked to do," Box said. "I want my children to grow up with a father."
The Pilgrim congregation voted unanimously on December 3 to become a Sanctuary Church after months of study, conversation and prayer, agreeing to prepare the building to welcome a person into sanctuary. Box has been living in the church long enough, Byrd said, for leaders to coordinate a press briefing and organize a community forum on immigration. Church members, with interfaith and secular partners, are now working for a stay of deportation for Box.
"With Pilgrim's recent congregational vote to become a sanctuary church, we enthusiastically committed to three things," Burd said. "To do advocacy and provide bold prophetic and public witness on behalf of more compassionate and reasonable immigration and deportation policies and practices; provide theological and historical education to help people grasp the context and circumstances influencing undocumented immigration; and, when called upon, provide sanctuary for a person or persons in the legal process of gaining citizenship and under immediate threat of deportation."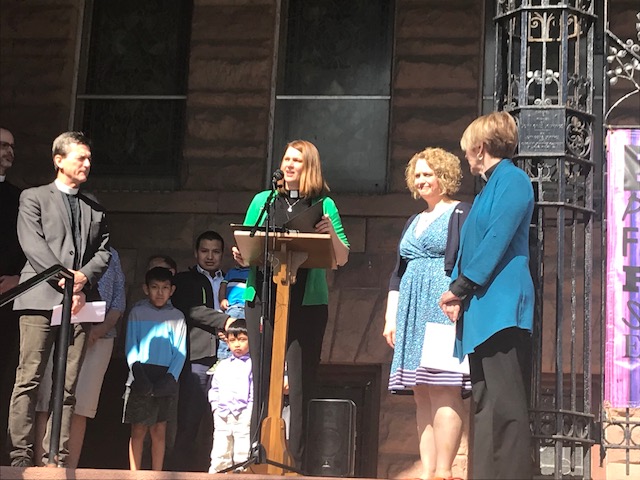 "In the church and in our lives as Christians, we must be as clear and informed about the 'why' of our actions as the 'what,' seeking God's will in scripture as well as prayer as we watch and respond to the events of the world around us," Burd continued. "To that end, we are committing to educational programming for the congregation and wider Cleveland community on topics related to immigration, beginning with a Community Forum on Immigration on May 2 at 7:00pm."
Clergy from the other two area churches offering sanctuary, Forest Hills Presbyterian Church in Cleveland Hts., and St. Andrews Episcopal Church in Mentor, joined Burd and members of the Pilgrim faith community on Tuesday morning, May 1, to welcome Box. Burd also noted that First Church UCC in Oberlin, Ohio has just voted to become a Sanctuary Church.
"Our Christian faith compels us to love our neighbors and ourselves, and the Good Samaritan parable used by Jesus to illuminate that challenges the modern notion of a neighbor as one born within a shared border and region," said Burd. "We stand with interfaith friends and local supporters against policies that are harming neighbors and needlessly tearing apart families."
The Rev. John Lentz, pastor of Forest Hills, the first Greater Cleveland church to offer sanctuary, talked about following a gospel call — standing up for the dignity of all people, treating the alien among us as a citizen, and holding firm against injustice.
The Rev. Lisa O'Rear, St. Andrews rector, said of the decision to welcome an undocumented mother and her sons into sanctuary on Oct. 21, "It's been a blessing and it's been challenging. It is what we're called to do as Christians. We are the body of Christ together on behalf of justice for all."
"In previous years, someone like Eulogio would be able to apply for and be granted a Stay of Deportation, or get his case administratively closed since he is not considered a threat to public safety or national security," said Burd. "But with new executive orders under the current administration these options are no longer available, the Stays are given blanket denials, and another family is tragically separated."
"I ask that the immigration authorities have mercy on me, to give me my freedom," Box said. "I want to thank all of you for being here today."
---
Related News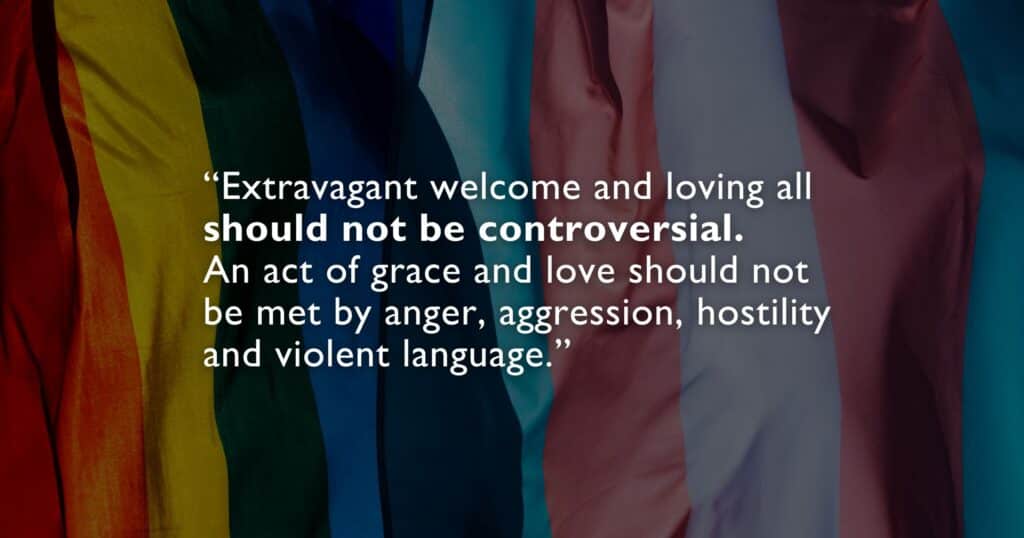 The United Church of Christ National Officers and the Conference Minister of the South Central...
Read More