New Jersey UCC provides foundation for Family Promise
Karen Olson, founder of Family Promise, and Rev. Mark Wakefield, former associate pastor of Christ Church UCC in Summit N.J.
A chance conversation between a New York City marketing executive and a homeless woman in 1981 has morphed into the nation's leading nonprofit focused on helping homeless families with children find their way to financial independence. It's not surprising that Family Promise, now marking 30 years as an interfaith organization, found its first partner in the UCC.
"The congregation doors open, they take them in, and everyone gets a home cooked meal," said Karen Olson, founder and president emeritus of Family Promise. "The families get to stay together. Complete strangers take them in, give them a place to stay, and they really care. That's life changing for the family. Christ Church was one of the first congregations to approve the program, and the members of the congregation were very supportive, very warm and welcoming."
In fact, Olson said that without Christ Church United Church of Christ in her hometown of Summit N.J., the National Interfaith Hospitality Network, which later became Family Promise, probably wouldn't exist.
"My passion drove me to do all this," empathized Olson when she described initially pitching the idea to community religious leaders, "and Isabel [Devenney] from Christ Church was my cheerleader. She and Mark [the Rev. Mark Wakefield] were so supportive. Everybody needs cheerleaders." Without their input, Karen –– who recently stepped down as president –– believes she probably wouldn't have gotten the network off the ground.
"Karen was the one who coalesced the energy, who had the vision for how we could respond," said the Rev. Mark Wakefield. "Her passion inspired and informed all of us."
Wakefield, who now pastors Christ Reformed Church in Frederick, Md., was the associate pastor at Christ Church when it became the first congregation to house, feed, and assist homeless people through Family Promise.
"One of my clearest memories of having the church serve as a host for the families was the conversation leading up to it," said Wakefield. "There were lots of questions about liability issues. This was in the early days of AIDS and some of our leaders were convinced inviting homeless families into the church was courting disaster. We could be sued or face other dangers. We decided to talk with our church's insurance agent. A small group of the church's leaders met with him, presented an outline of the project, and I'm sure several of them were secretly hoping he would give them cover for saying no to the project. After we finished he said, 'Isn't this exactly what churches should be doing?' I have long since forgotten the name of agent, but I've always been grateful for his response."
"It was one of those times in history where people widely sensed a need and were willing to get directly involved," said the Rev. Chuck Rush, pastor of Christ Church in Summit, N.J. "Karen gave them a way to do that without having to create their own infrastructure that would be overwhelming. And that brought people together that usually canceled each other out if they simply left homelessness to the voting booth as a social issue."
Rev. Chuck Rush, back, with volunteers Mike Paytas, Cathy Doremus and Brenda Dodds
"It had different beneficent effects than I would have imagined," Rush continued. "We thought we were doing our part to help the homeless in our area. And we did. But it was equally helpful in giving suburban people a personal understanding of the limited/bad choices that the homeless have to make. And it brought the congregation together around service, rather than dividing us on a social argument about the best way to solve structural homelessness with the Republicans on one side and the Democrats on the other. Personalizing the issue was really helpful."
"Our church members eagerly signed up to help, from preparing food to serving breakfasts and dinners, sleeping overnight at the church, entertaining the young children or providing transportation," said church member Sue Ballantyne. "Over the years, there were many additions to what the church was able to offer, such as transportation to employment agencies and making laundry service available."
"We could do what we do best, network specific problems," said Rush. "A homeless kid needs a specialist to look at him for free, we can find that. A family needs a car, we can figure out how to do that. They [Family Promise] provide the infrastructure that allows us to express compassion. Don't want to talk about service, you have to do it. And your children can only copy what they see you do. That's why the program became such a success."
"It's quite amazing," said Olson. "When we started the program, we thought we would do it for a short time. But Christ Church and others speak to the compassion of so many and the willingness to live out their faith. Family Promise provides people ways to be involved in outreach within the walls of their own congregation. That's why we have grown."
Family Promise now has 199 affiliates in 42 states, each comprised of dozens of houses of worship providing shelter, meals and support services to homeless and at-risk families. More than 200 of those congregations nationwide are United Church of Christ, making it one of the largest denominations represented, with thousands of UCC congregants volunteering in the service of families-in-need each year.
"We probably have a dozen volunteers that coordinate the Family Promise outreach," Rush said. "It draws on probably 60 members of the church and at least a dozen confirmation kids and/or high school volunteers every year." That group, which houses and feeds homeless families in a local rotation with other faith communities, is part of 170,000 volunteers nationwide who have served more than 650,000 parents and children since the organization was founded in 1986.
"The program at Christ Church is very much a multigenerational experience," said Ballantyne. "We had some of our elderly members volunteer to serve meals, enriching both the servers and our guests. My two youngest children volunteered, and it was an experience which opened their eyes to the world beyond Summit. They learned on a personal level that a person's circumstances do not define their worth."
"We didn't intend for the congregation to be changed as our reason for getting involved, but it was one of the beneficent by-products of expressing our compassion in action," said Rush. "So I say that the homeless helped us as much as we helped them … And I suppose, it illustrates how compassion works spiritually in our world."
---
Related News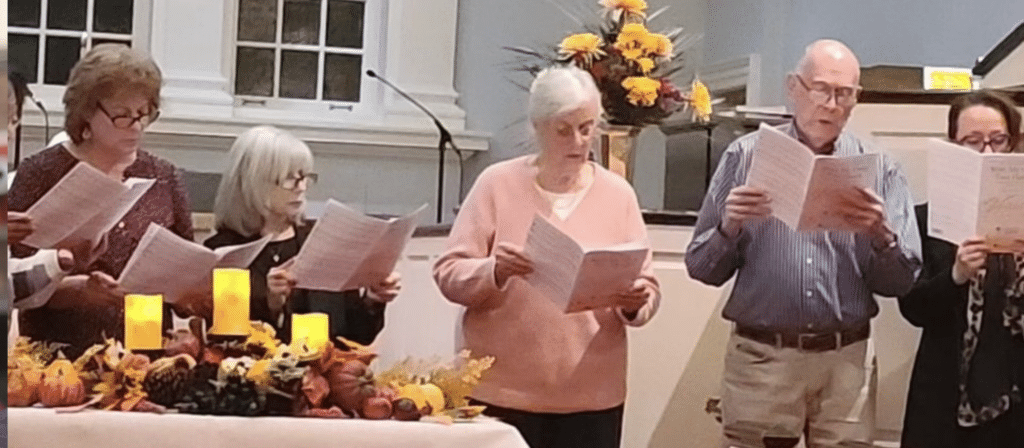 Many United Church of Christ congregations across the country participated in interfaith...
Read More