New York City church feeds multitudes, gears up for Thanksgiving
The calendar may say October, but a New York church already has its sights on Thanksgiving.
Hollis Avenue Congregational Church in Queens Village is aiming to provide a holiday spread for more than 400 households this year. It's part of a continuing effort to ensure "that no one goes hungry in Southeast Queens."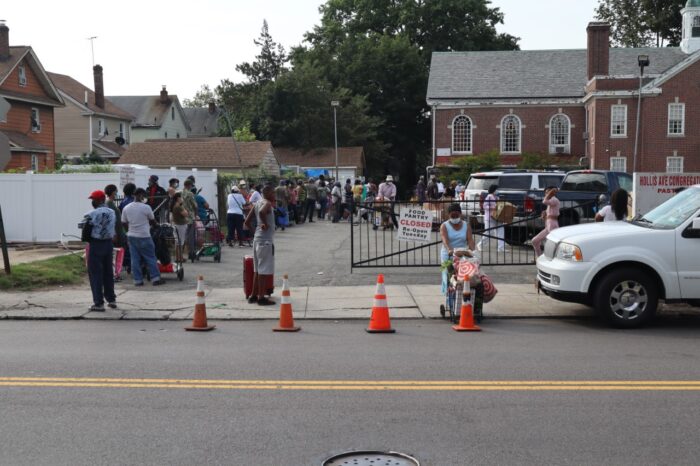 The congregation — a member of the United Church of Christ — operates the Hollis Avenue Food Pantry, which has taken up a lot of space in the shuttered church facility during COVID-19.
"We are one of the few large-scale pantries left. We don't turn anyone away. Anyone who comes can get food," said Church President and Pantry Director James Thomas. "No ID is needed. They only have to give their name and number of people in their household on the sign-in sheet."
Hundreds of bags weekly
Every Tuesday, between 8 and 11 a.m., the pantry distributes 800 grab-and-go bags – 400 with dry goods, 400 with canned goods, along with meat, fish and other protein sources. Thomas said he's got 700 people on a list for text and voice mail, "to keep them apprised on availability" when there's a surplus. This week, that allowed an additional 175 people to be served.
The pantry got its start in 1981, with members bringing food items to the church for families in need. This act of community concern has since expanded into a major hub for wholesale food distributors and food banks.
The Rev. Jerry Greene, the church's pastor, is the Hollis Avenue Food Pantry's executive director. He said he's seen the need for food grow dramatically in the last year due to the pandemic, with job losses and families quarantined after positive tests for COVID-19.
"We saw the line for food increase tremendously as the pandemic wore on," Greene said. "We are primarily an African American community, but we saw people coming from all over."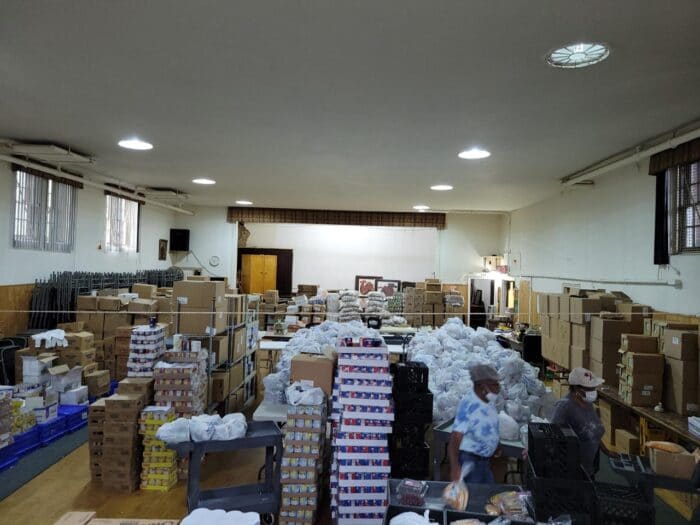 He also noted an influx of immigrants in the community who needed food, but didn't show up initially. "They were afraid to come, but we after we made them comfortable, even more came out. We offered a safe haven."
Greene said the focus is on abundance and on balanced meals, where people get what they like.
"We don't just give bags of food," said Sandra Johnson, food pantry vice president and site supervisor. "Each bag of food prepared has a balance of fruit, starch, beans, meat, fresh produce, juice and dairy. People need to eat, but eating healthy is also the key."
Corps of volunteers
Preparing the food is the weekly work of 28 volunteers, with sorting and packing on Mondays. On Wednesdays they spend time on cleaning and sanitizing the space. Other days, they order and sort a variety of foods that come in to replenish pantry stock.
"I want to thank the volunteers who have put their hands to the plow to do the work that God has called them for," Greene said, referring to the massive amount of assistance they offer to clients on Tuesdays. He said that the pantry staff allow people to choose what they take home. "We want to make people feel comfortable and get the opportunity to shop."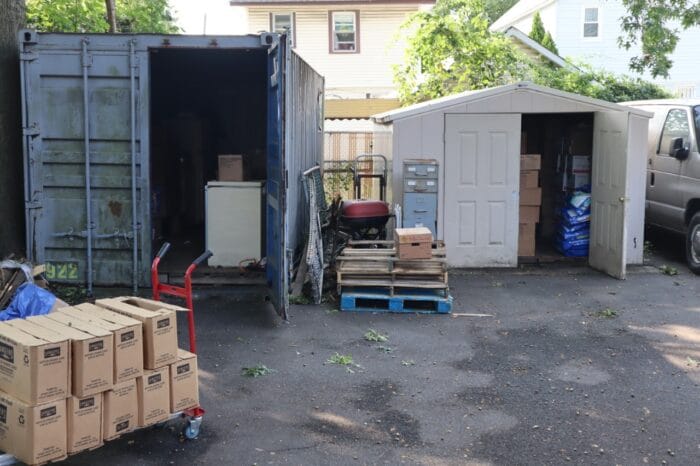 The church has two storage containers on site – one 20 feet long, the other 30 feet – to serve the ministry. Hollis Avenue Church has turned its lower fellowship hall, sitting empty during COVID, into a warehouse and pantry assembly line space.
The church also has 16 refrigeration units in addition to the outside trailers used for cold and dry storage. With the holidays coming and the eventual return to the use of the building, Thomas said, they'll need more of everything. He's already ordered another trailer, 40 feet long, which he expects by the end of the month.
Holiday demand
"We are preparing now for Thanksgiving because we anticipate a shortage of many food items due to holiday demand and the estimated shortage of turkeys," he said. "We need additional freezers and another storage trailer. And we can always use more volunteers and additional funds to reach our budget goal of $250,000 to meet the increased need."
The church's goal is to provide at least 400 dinners to its less fortunate neighbors. And the list of menu items being assembled is impressive.
Clients can expect to receive a turkey, ham or chicken with all the fixings: rice, stuffing, corn, green beans, yams, raisins, cranberry sauce, split peas, mixed fruit, juice, Jiffy mix, butter and oil. There's also a list of fresh produce: white potatoes, yams, oranges, kale, green peppers, grapes, carrots, cucumber, celery and mandarins. It addition, hand sanitizer and napkins go in the bags, too.
Network of churches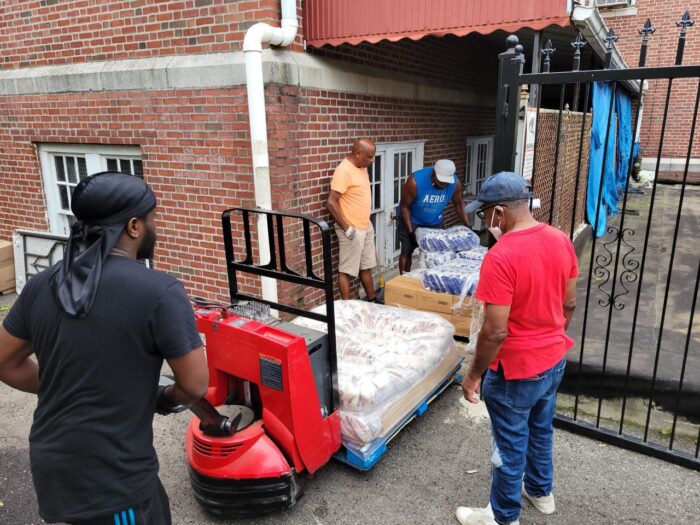 The Hollis Avenue Food Pantry operates on grants, donations and support of food donors like City Harvest and the local food bank. Thomas' former employer, the Darby Dental Supply Company of Jericho, N.Y., has been a primary source of financial assistance. "They always say — whatever you need, we'll get it."
The program is so blessed, Thomas said, the ministry has the ability to serve as a "feeder site" to a number of other churches, including the nearby Congregational Church of South Hempstead, UCC, pastored by the Rev. Patrick Duggan. As COVID numbers rose, CCSH delivered groceries to families in that Long Island community who were under quarantine.
"It has been a blessing," said the Rev. Rayford Howell, associate pastor. "When we deliver groceries to quarantined families, they are very thankful because most are already financially challenged and have little means to provide food for their families beyond a few days. The graciousness of Hollis Avenue Church to extend their pantry supply to us has allowed the Congregational Church of South Hempstead to reach and connect deep into the Hempstead community in a significant way."
"I truly believe that the food pantry ministry of Hollis Avenue Congregational Church, UCC has been a blessing not only Southeast Queens but to anyone standing in the need of food. It is my prayer that God will continue to bless us, so we can continue to be a blessing to others," Greene said.
As Thomas noted, the church is clear in its vision and mission: "Together we make a difference."
The Rev. Rayford Howell contributed to this story.
---
Related News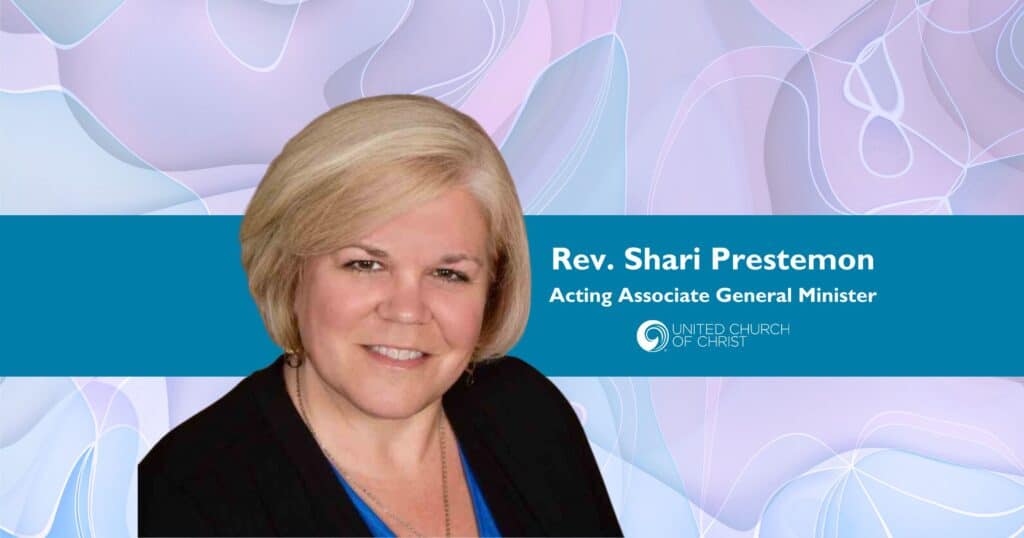 A new United Church of Christ national leader has been called. The UCC Board voted in a...
Read More