New energy for solar and heat pumps arising in UCC congregations
Churches across the country are going solar, and new resources are making that decision more possible.
St. Peter's United Church of Christ in Champaign, Ill., is one congregation in the process of installing solar panels and geothermal heating as part of a renewed mission to invest more intentionally in their community.
When St. Peter's engaged in a visioning process around a building that felt too large for their congregation, they felt called to lean into their mission of demonstrating love for all, beginning with their neighborhood.
One way they are doing this is through renewable energy. Pairing the installation of solar panels with geothermal heating and cooling — which works by installing deep wells that can cool or warm the air to circulate in the building — will lower their carbon emissions and amplify energy savings to more than a half million dollars over 30 years.
Chris Todd, a member of the congregation's building and grounds committee, feels this has reinvigorated excitement for the church's mission.
"The congregation is excited about this. I feel there's a new energy in the church," she said.
'Win-win for stewardship'
The UCC's Environmental Justice Ministries is seeking to spread this energy across the denomination.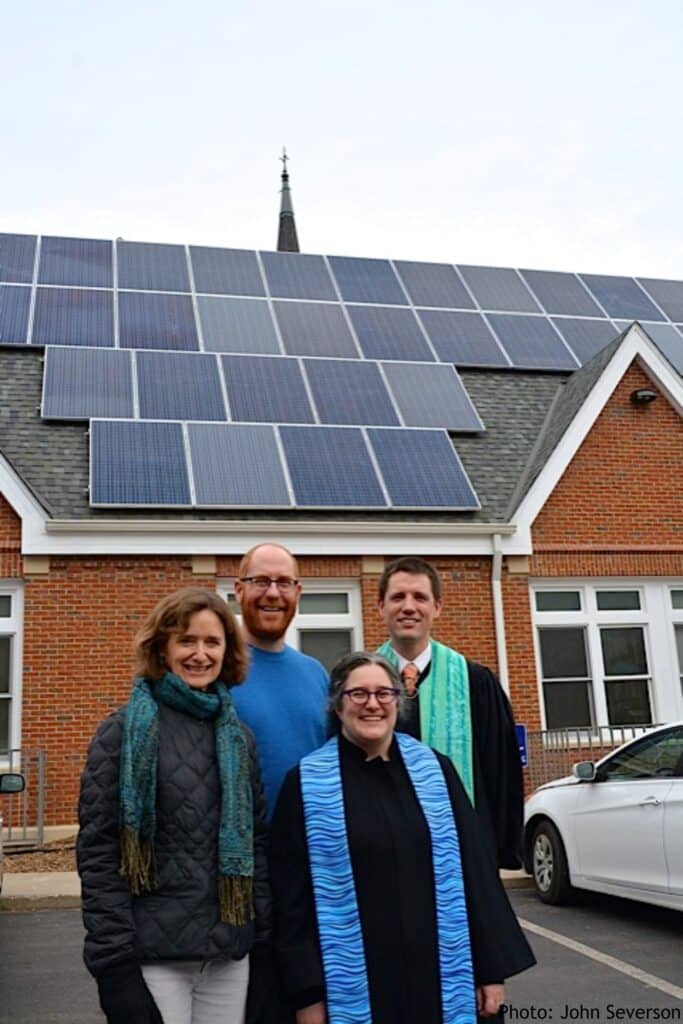 A new webpage dedicated to resources for churches considering a move to renewable energy is encouraging just that. In fact, it lists five reasons that churches who own buildings can "no longer afford to not to go solar." These include financial incentives, a plethora of resources and the call to creation care.
One newly available resource is a map of UCC churches located in areas defined as "Energy Communities" by the U.S. Department of Energy. The map was created by partner Creation Justice Ministries using data collected from the U.S. DOE map. The Rev. Brooks Berndt, UCC environmental justice minister, commended Creation Justice Ministries for helping to identify the 746 UCC churches that qualify.
The Inflation Reduction Act provides opportunities for tax-exempt nonprofits like churches to receive money for solar installation through a direct pay option from the federal government of at least 30% of the cost. Those in energy communities receive an additional 10%, and other opportunities could cover additional amounts of the cost.
"We are on a mission to contact every church in the UCC to let them know about the government incentives available for solar panels and heat pumps," Berndt said. "To have as many of our churches as possible take advantage of these programs will be a win-win for environmental and financial stewardship."
On a recent volunteer day for UCC National staff, several staff called over 500 churches that had no email on file to alert them of these opportunities. Berndt plans to continue sharing these resources directly with churches through email.
'Outside the box'
These resources, together with local and state incentives, can make it far more attainable for churches to cover the up-front costs of renewable energy.
St. Peter's UCC found that in order to move forward with their solar and geothermal heat plans, they had to be creative in how they approached their resources, "being open and thinking outside the box a little bit," said Todd.
When they learned the building's slate roof won't allow for installing solar panels, they instead planned to place the panels on the acres of green space beside the church that is often used by neighbors. They envision developing this further into a community education site.
Resources like St. Peter's regional environmental justice organization, Faith in Place, provided information and an energy assessment, and local contractors connected them with additional local and state financial incentives.
Because the rebates and financial incentives can take significant time to receive, St. Peter's decided to borrow money from their church's endowment and memorial fund that they will pay back with the rebates. The UCC-affiliated Cornerstone Fund's new Creation Care Loan Program covered the rest. It includes reduced rates on solar installations and energy efficiency improvements.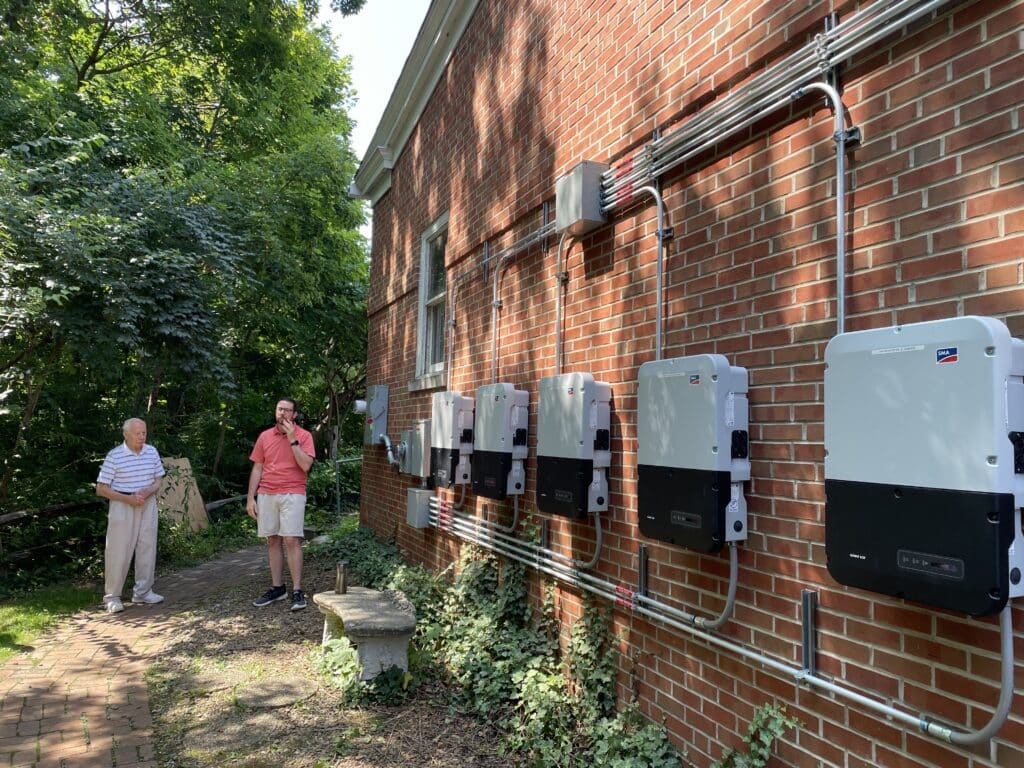 Rebecca Perera, director of lending at the Cornerstone Fund, said that interest and inquiries in renewable energy have skyrocketed over the past five years.
"Even a couple of years ago, inquiries about solar loans were uncommon, about one every six months," she said. "We've seen that accelerate over the past 12-18 months, to the point where we are fielding solar loan inquiries on a weekly basis now, sometimes multiple calls per week."
'A leap of faith'
One point worth noting is that, though the government incentives for solar and heat pumps have been announced, the process for receiving the money from the government has not yet been released. Legislation requires that the IRS have these programs accessible by the end of the year.
"We decided to start rolling out information now so that churches can begin to plan accordingly in the expectation that the exact details will become publicly known by the end of the year," Berndt said.
As for churches like St. Peter's UCC — which has launched fully into the installation process with calculations that incentives will save them 57% of the true cost — it takes a bit of faith.
"At some point it has to be a little bit of a leap of faith, and I think that's what churches do — we're risktakers," Todd said. "We're not the ones who always have our bank account the way it should be because we have a mission and outreach that sometimes we put above our bottom line. But I think we've always trusted God, and God wants us to do these kinds of things. We do our due diligence in finding out as much information as we can, and then we leave the rest up to God."
An upcoming Oct. 25 webinar on heat pumps will offer a more detailed look at heat pumps — how congregations can access government funds, stories from congregations with heat pumps and answers to common questions.
---
Content on ucc.org is copyrighted by the National Setting of the United Church of Christ and may be only shared according to the guidelines outlined here.
---
Related News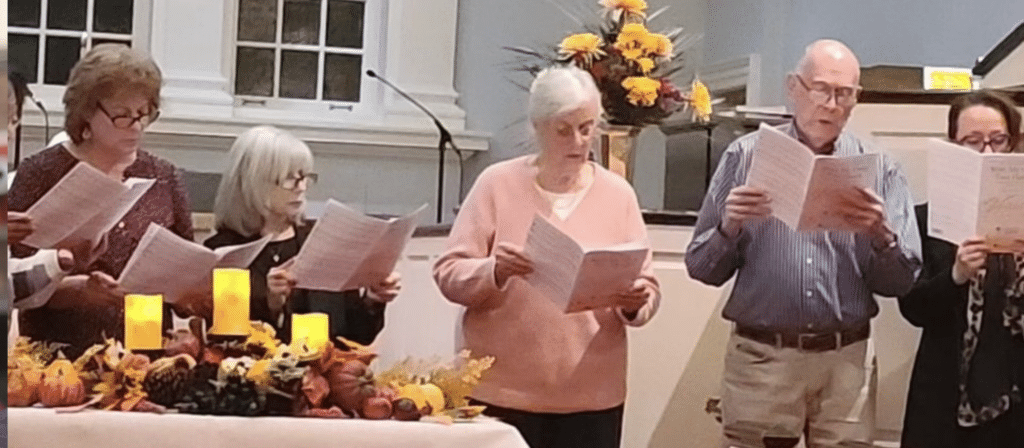 Many United Church of Christ congregations across the country participated in interfaith...
Read More