Churches Can No Longer Afford to NOT Go Solar
Most congregations that own their own building can
no longer afford to not go solar for five reasons:
1. The federal government will pay for at least 30% of the cost of a solar installation, if not 40 to 50%, depending upon where a church is located and whether domestically produced materials are used. (Technically, one could have 80% of a solar installation covered, if one additionally received funds through competitive processes.)
2. Solar can often replace all of a congregation's electricity usage. Say goodbye to electrical bills!
3. Even if a congregation does not have the funds to pay for the upfront costs of going solar, the Cornerstone Fund can provide financing that will enable a congregation to reduce its overall costs. (The Creation Care Loan currently has a reduced interest rate of 5%).
4. Even if a congregation does not want to purchase or finance a solar system, it can still go solar by partnering with an investor who pays for the system and gives the congregation (and possibly low income neighbors as well) a discount on electricity–typically around 10-20% off one's monthly bill.
5. Finally, even if a congregation has absolutely no interest in saving money on electricity, so that more money can be spent on ministry, going solar is one important way to reduce pollution and live out our first calling as Christians: to care for God's creation.
Quick Links:
---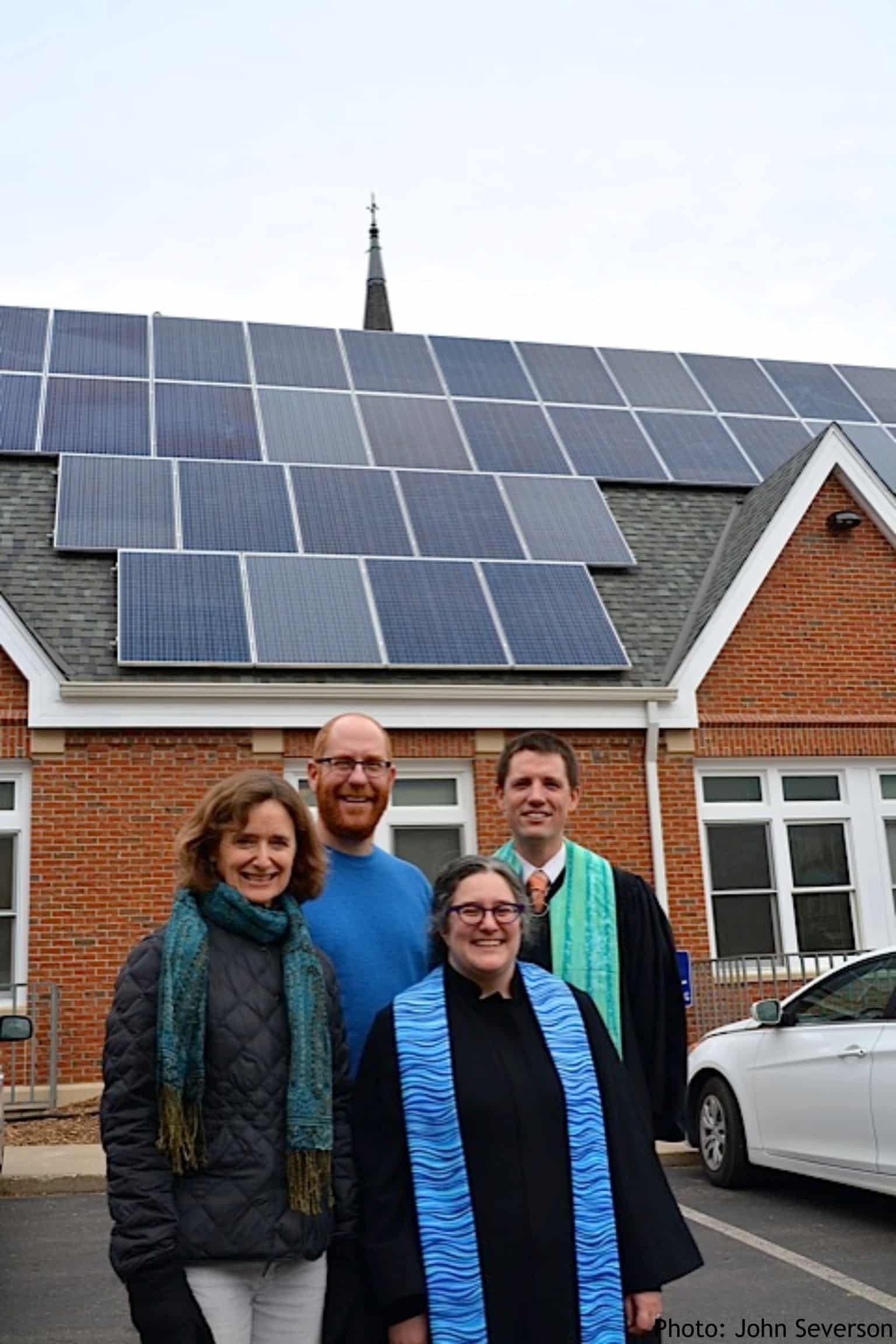 Do you have a historic church with a roof that simply will not allow for solar panels? Consider alternatives: solar parking lot canopies, ground mounted solar panels, or subscribing to a community solar garden.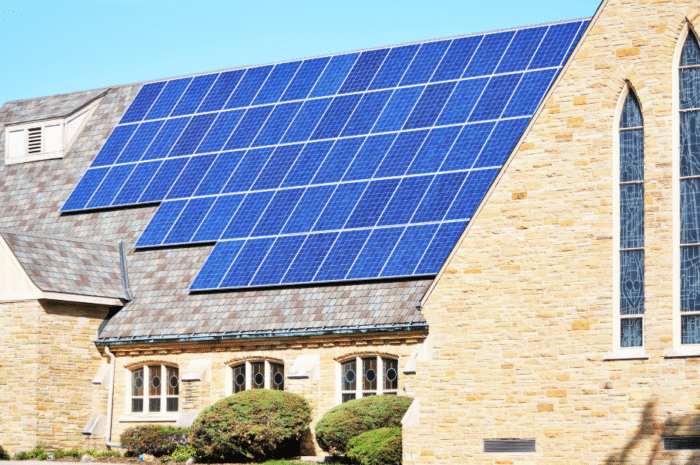 ---
If going solar makes financial and spiritual sense to you, below here are some resources to help.
---
How Do the Incentives Work?
As a result of the Inflation Reduction Act, churches are now eligible to receive a direct payment from the federal government for solar installations for at least 30% of the cost of a solar installation. There are added incentives that can increase this percentage. For example, if one's church is located in what the government calls an "Energy Community," the tax credit goes up to 40% of the solar system's total costs, including hardware, labor, and inverters. Energy Communities are identified by the government according to data on the environmental and economic characteristics of a community. Creation Justice Ministries has created an online map that identifies UCC churches that qualify.
A church can also receive an additional 10% payment from the government if the solar installation uses domestically sourced materials. A church would want to talk with its solar installer to determine if this is possible.
While the previously mentioned bonus payments are automatically awarded as part of the direct payment from the IRS, separate competitive application processes can garner further payments. A church may receive an additional 10% payment for being in a low income community or on tribal land. (Geographic areas covered by this incentive are determined in a different manner than the Energy Communities, but the two areas may overlap.) Furthermore, a church may receive an additional 20% payment if the solar panel system provides an economic benefit to low income households.
Direct payments from the government are also available for charging stations, combined heat and power systems, air-source heat pumps, and geothermal heat pumps. On October 25th, the UCC will be co-hosting a webinar on how heat pumps work and how to access government incentives. Sign-up here!
Payments from the IRS will not be made until after the solar installation is complete. A church will need to register with the IRS and receive a registration number before filing to receive payment. This registration can be done in advance of the installation. During this registration process, a church will need to provide information about the church, its solar project, and the credits it wants to receive. When the online portal for this registration process becomes available in late 2023, we will provide a link to it here. Additional bonus credits for being located in a low income community or providing an economic benefit to low income households will have a separate competitive application process to which we will provide links as well. Finally, we will provide guidance on how to document one's 501c3 status as soon as more information about the requirements becomes known. For a deeper dive into what is currently known about the payment process, check out this article by the Environmental and Energy Study Institute.  
Where Can We Get Financing for Solar that Actually Saves Us Money?
The UCC-affiliated Cornerstone Fund has a special program to give a reduced rate on solar installations as well as energy efficiency improvements. The current interest rate for this fund is 5%. The money that a congregation saves on electricity bills by switching to solar more than covers the cost of the interest rate. In relation to the Inflation Reduction Act, it is worth noting that a loan from the Cornerstone Fund can also serve as a financing bridge until a direct payment is received from the IRS. New and renewing churches can also be in touch with the UCC's Church Building and Loan Fund which additionally has an energy and environmental loan program.
Explain How a No-Cost Solar Installation Could Happen
If a congregation does not want to purchase or finance solar panels, it can partner with an investor who pays for the solar system and sells the electricity to the congregation at a discounted rate–often around 10% less. This arrangement is called a Power Purchase Agreements (PPA). The investor benefits from the federal tax credit and incentives, while the congregation lives into a new way to care for creation and reduce its electrical bill. Often solar installers will offer these agreements. Organizations like CollectiveSun can additionally help your church explore this and similar options.
Your Solar Resource Clearing House

Questions?
Please contact The Rev. Brooks Berndt,
Minister of Environmental Justice. 216.736.3722 berndtb@ucc.org
Learn more about Brooks here.