UCC youth, families invited to National Youth Event 2016 at Walt Disney World® Resort
The youth throughout the United Church of Christ should plan on bringing sunglasses and short sleeves to National Youth Event 2016. And so should their parents and the rest of the family, too. That's because the event will take place at Walt Disney World Resort in Lake Buena Vista, Fla., from July 26 through July 29. The decision to make the event into a family-inspired gathering where everyone is welcome prompted the decision to take NYE to Walt Disney World.
The gathering in central Florida will mark the first time that NYE will take place somewhere other than a college campus. The first NYE took place at Carleton College in Minnesota, and every four years since has ventured to campuses in Minnesota, Iowa, South Carolina, Tennessee and Indiana.
"The life of the church is changing and we have to expand the way we look at and do youth ministry," said the Rev. Waltrina Middleton, minister for youth advocacy and leadership formation. "Every NYE introduces something new. In 2012 we introduced technology at the event and said technology should be a sacred tool of worship. For the first time, families could stream National Youth Event online and be a part of it.
"We're expanding it further [in 2016] and now we're saying that families can come, that you don't have to choose between sending children to a summer camp or taking a family vacation," Middleton said. "This allows families to do both, while maintaining the integrity of a youth event."
The Rev. Davida Foy Crabtree, interim conference minister for the Florida Conference of the UCC, is excited the conference has the opportunity to welcome the wider church to the 'Sunshine State.'
"For the Florida Conference, hosting NYE creates a moment for people to understand the wider church and its many ministries — to see their mission gifts at work," Crabtree said. "It gives us a chance to bring our own youth together, conference-wide, and to celebrate all the great diversity of the UCC as it will be present.
"We'll get to experience, up close and personal, the best of youth ministries," Crabtree continued. "And who knows, some youth at the event may discover their call to ordained ministry and remember that it came to them in Florida, and return here to serve in the future!"
National Youth Event Locations
1980: Carleton College, Northfield, Minn.
1984: University of Illinois, Champaign, Illinois
1988: Grinnell College, Grinnell, Iowa
1992: Beloit College, Beloit, Wis.
1996: University of South Carolina, Columbia, S.C.
2000: Iowa State University, Ames, Iowa
2004: University of Tennessee, Knoxville, Tenn.
2008: University of Tennessee, Knoxville, Tenn.
2012: Purdue University, West Lafayette, Ind.
2016: Walt Disney World Resort, Lake Buena Vista, Fla.
NYE 2016 will also become the first joint youth event with the Christian Church (Disciples of Christ) as the denominations in 2016 celebrate 25 years of communion. By welcoming families from the UCC and the Disciples of Christ, as well as international participants, Middleton expects more than 4,000 registrants.
"We had an international and ecumenical presence in 2012. This is the first time we've intentionally planned National Youth Event with Disciples of Christ members in mind," Middleton said. "To be able to do this on the heels of the 25th anniversary celebration is significant and helps take our relationship to another level."
While prices aren't firm yet, the expected cost should be no more than $500 per person for a double-occupancy hotel room and meals for the week. The UCC's Faith Formation Ministry team is already exploring fundraising ideas to ensure that families without the means to attend the event have some financial support to get there.
"We're asking UCC congregations to put National Youth Event in their budget, and to budget for scholarships, so kids who don't have the means are able to be a part of this," said the Rev. Ivy Beckwith, team leader for the UCC's Faith Formation Ministry Team.
"We're really hoping the wider church sees this as something that belongs to them, more than just, 'Oh, we have a great event for youth,'" Beckwith said. "We hope they see it as something that is part of them and support their kids in helping them get to National Youth Event."
Beckwith added that Middleton has asked conference ministers to think of creative ways to support NYE, either through scholarships for youth to attend or by contributing money toward the event.
"We are challenging the wider church to support young people now and in the future. Disney is the epitome of family, community, happiness and joy, so we're hoping that families will choose to come and be a part of those things."
In choosing the event location, the Faith Formation Ministry also considered worker rights conditions at Disney World, as well as the spiritual aspects of the event, and the team is confident that the event can fulfill those ideals.
"While being at Disney is different from being on a college campus, our ideals, principles and commitment will remain," Middleton said. "We will engage in social justice issues, and we will make sure it is a Christ-centered and God-centered event.
"We have considered human rights, worker rights, unions, and we are vigilant about that," Middleton continued, "and we were intentional about those conversations in settling on this location. We want to ensure human rights and worker rights are honored."
Learn more about National Youth Event by visiting the NYE website.
---
Related News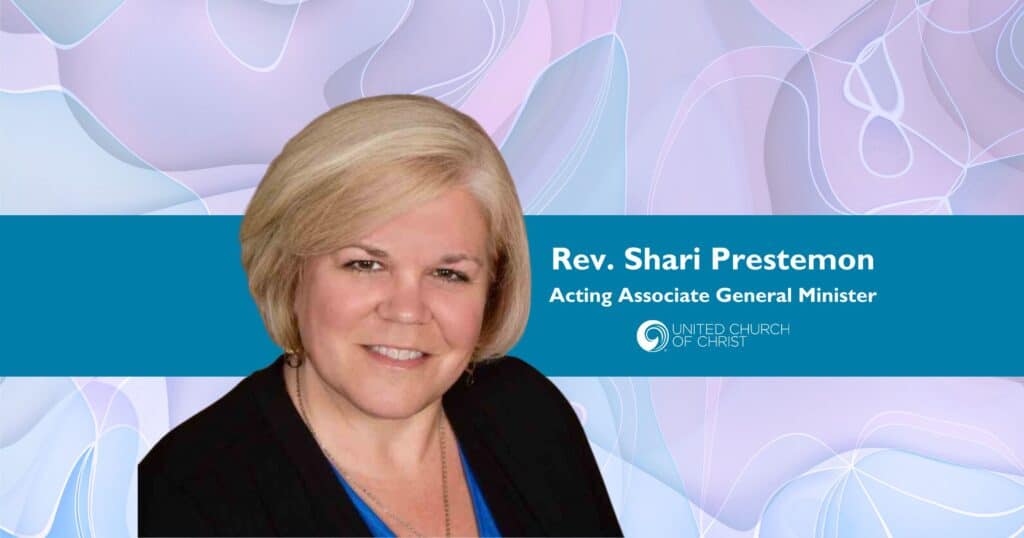 A new United Church of Christ national leader has been called. The UCC Board voted in a...
Read More