Muralist Cbabi Bayoc creates 'a just world for all' in the UCC's new offices
A boy with a mask over his face – or is it a hand? A refugee with a backpack, holding tight to her child. A same-sex couple, kissing and embracing their son. A smiling young person – gender not evident. A migrant at the border, blocked by barbed wire. An Asian mom, cradling a young one. A holocaust survivor, showing children the tattoo on his arm.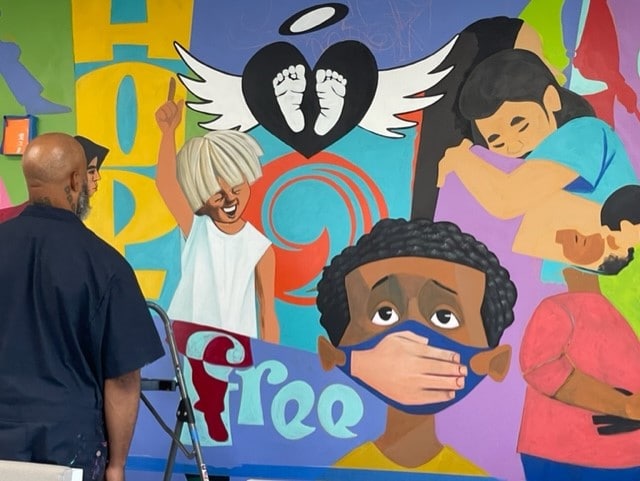 These are some of the people who have come alive in the staff break room in the United Church of Christ's new national offices in Cleveland. They make up a large, colorful, vibrant mural on the room's west wall – created by St. Louis artist Cbabi Bayoc.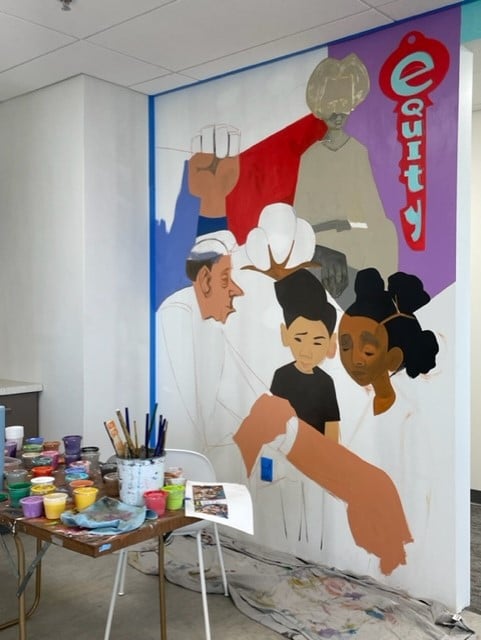 "I want them to inspire," Bayoc said. "Sometimes you need a reminder of who you are working for." He hopes his work will "give them a reboot – that and the view," speaking of the staffers who will use the room overlooking Lake Erie.
"I figured everyone is reflected here," he said. "And that's the goal."
Activist and illustrator
Cbabi (pronounced Kuh-bob-bi) Bayoc is an activist and illustrator who said he paints the world he wants to see his and all children thrive in.
"I started out with the approach to include the things they are working for – families of all types, compassion, hope, love. Something else that came to mind was sharing the stories of the Holocaust through survivors, and slavery through a child of reconstruction. Shared pains they are working to heal."
The Rev. Traci Blackmon brought him to Cleveland to share that vision.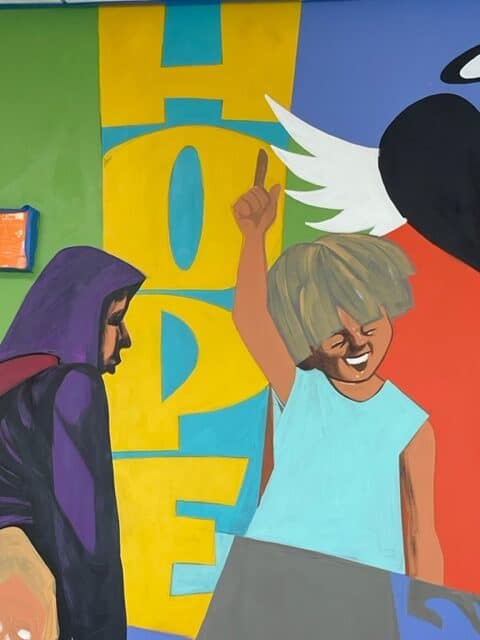 "I just love Cbabi," Blackmon said. "I know him, know his work. I have his artwork in my home. He's internationally known, and best at bringing community alive, incorporating what is happening in the community into his art.
"I sent him information about the UCC, highly engaged in justice, working for a justice world for all, interracial, intergenerational. We want a wall that reflected that, along with multiple levels of ability. To express the spirit of imagining. He knows what kind of representation we want – racial inclusion, diversity, and people of all abilities."
His name, his work
The illustrator, whose birth name is Clifford Miskell, Jr., adopted the name Cbabi (Creative-Black-Artist-Battling-Ignorance) during his time at Grambling State University. He legally changed his last name to Bayoc (Blessed-African-Youth-Of-Creativity) as a way of setting the stage of always reminding his three children, now 21, 19 and 17, of their value and worth.
Bayoc got his start as a caricature artist at Six Flags over St. Louis, where he said he got used to painting around people and using what he sees and hears to inspire his work. He also uses what he feels.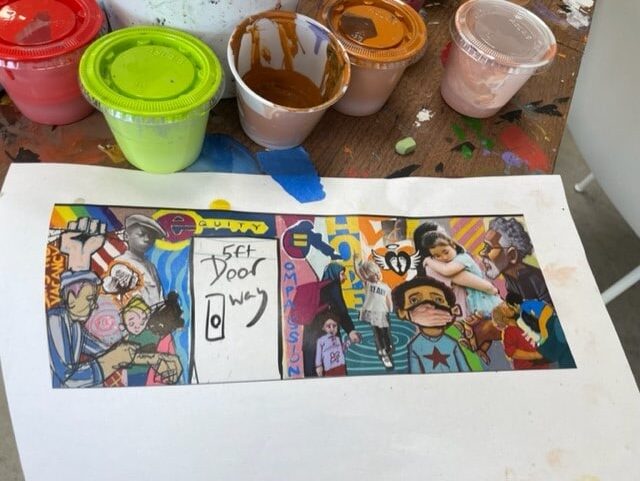 Even though he created a basic sketch after talking with Blackmon about the concepts for wall, the design evolved once he came into the space in mid-June.
"I struggle with the sketch process. The hard part is coming up with the design," he said. "Once I see the wall and what is going on, I know what I want to do. It comes to life."
International renown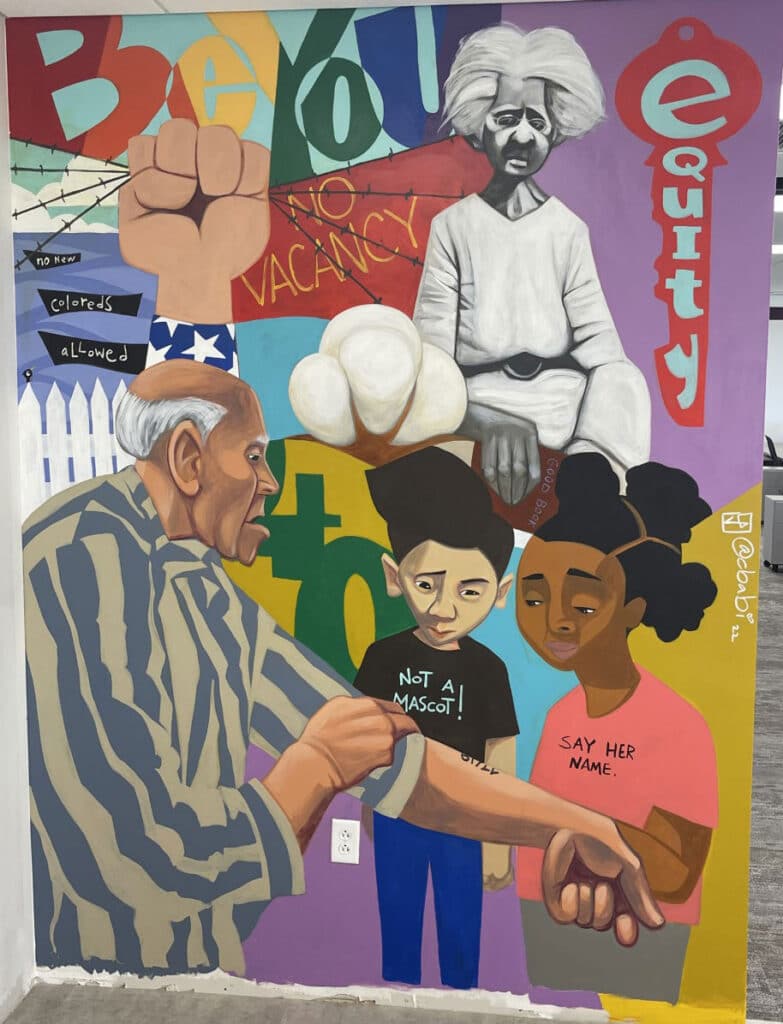 Bayoc has created artwork for companies like Anheuser-Busch and Coca-Cola. He has also painted an album cover for Prince. He made the transition from artist to social justice advocate after his "365 Days of Dad" project in 2012, a New Year's resolution to paint a positive image of black fatherhood every day, all year.
"365 Days of Dad opened the door for people to see me differently," he said, noting that he did his first mural in 2018 "during a wave of diversity and inclusion."
Since then he's recently done an outside mural on the wall of the St. Louis Library, illustrated a children's book, "Goodnight Racism," for New York Times bestselling author Ibram X. Kendi, and created a stained glass window for Episcopal Church of the Holy Communion in St. Louis' University City neighborhood.
Ongoing mission
That church window, installed last week, took five years from concept to completion. Bayoc's first attempt at working with stained glass depicts the biblical road to salvation. His take on the resurrection, with Jesus and Mary Magdalene outside the tomb, pays tribute to the Black Lives Matter movement.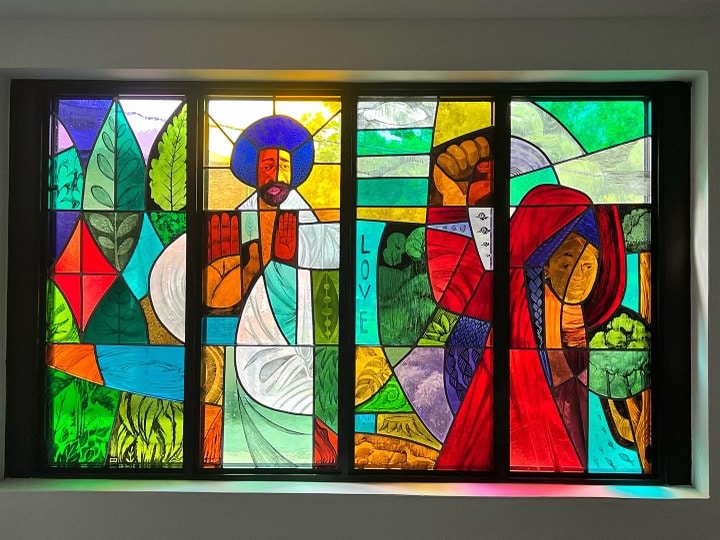 The Rev. Mike Angell, the church's rector, asked a local stained glass company, Emil Frei and Associates, to work with Bayoc. As he told St. Louis Public Radio, "We loved this idea that Mary would be the last figure you see, on her way out with her fist in the air — the revolution continues, the work continues."
Bayoc's just-completed Cleveland mural, on the wall of the 11th floor of the AECOM Building, also depicts "the work continues." But it's work framed in "compassion," "hope," "equity," and "love."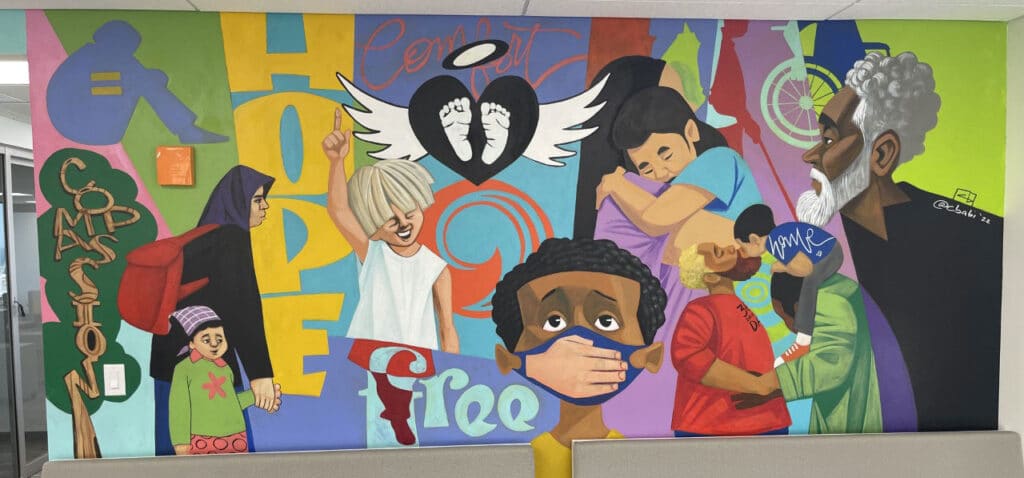 "The painting I put in the space reflects the people who are fighting for that," Bayoc said. "I want it to be heart heavy."
---
Content on ucc.org is copyrighted by the National Setting of the United Church of Christ and may be only shared according to the guidelines outlined here.
---
Related News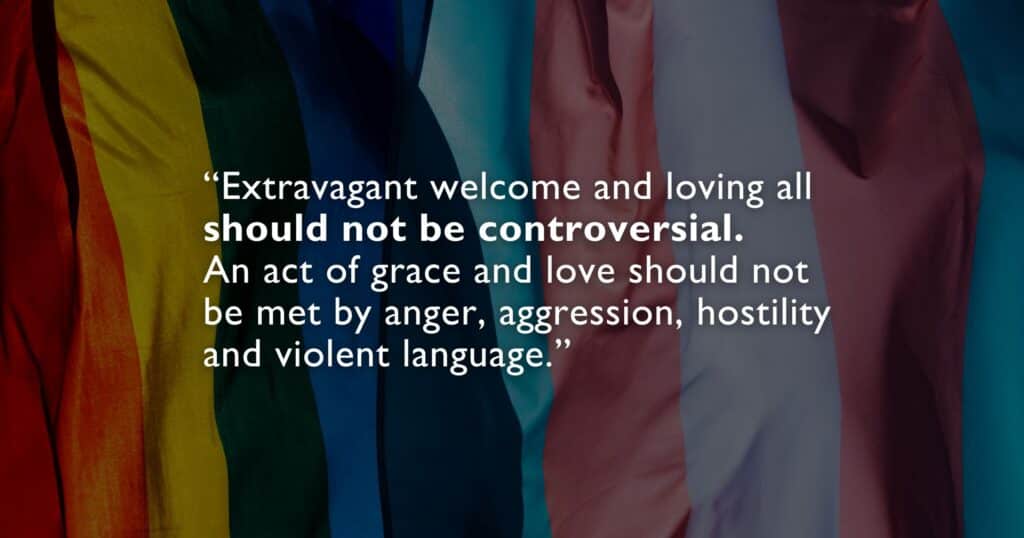 The United Church of Christ National Officers and the Conference Minister of the South Central...
Read More