Bringing the church into the dual belonging dialogue
To include the church in the conversation of multiple religious belonging and to better serve a growing number of multi-faith families, the United Church of Christ is gathering a group of 30 clergy and theologians from U.S. and Canadian denominations and organizations in the same room this week for one of the first global discussions on multiple religious belonging.
"I think having this consultation is an important acknowledgement that people with multi-religious belonging exist, and they become marginalized if we don't know how to speak or talk about it or minster to people," said the Rev. Monica Coleman of Claremont School of Theology and African Methodist Episcopal Church. "Our goal is to always widen the circle … For churches, which have been concerned about unity, the fact we are willing to engage in this says a lot about our concern for people."
"Exploring Religious Hybridity and Embracing Hospitality," a four-day consultation from April 20 through April 23 hosted in conjunction with the World Council of Churches at the UCC national offices, will closely examine the pastoral and theological challenges that multiple religious belonging poses to Christian churches in the 21st century. The participants are also exploring possible responses to the topic that would be theologically appropriate, pastorally sensitive and inter-religiously accountable.
"There is still a lot of learning going on around the topic, which is why we are having this consultation," said the Rev. Karen Georgia A. Thompson, UCC ecumenical and interfaith officer, and one of the consultation's lead organizers. She has invited leaders from the UCC, WCC, Andover Newton Theological School, Claremont School of Theology, the United Church of Canada, the Anglican Church of Canada, and the University of Winnipeg to the consultation in Cleveland.
Multiple religious belonging—sometimes referred to as double belonging, dual religious belonging or religious hybridity—is a growing, but not a new, movement in which a person or families live across different religious traditions. Thompson said there isn't a reliable way to track the number of people who consider themselves pluralistic, because most censuses only provide one option for religious identity.
One of the ways in which multiple belonging has increased is when two people from different faiths marry—one Christian and one Jewish, for example—and they maintain their identities and raise their children in both faiths and celebrate the holidays of both religions.
Given that this is one of the first discussions on the subject, many believe there are likely to be more questions asked than answers.
"There are challenges for the church to consider," Thompson said. "When you have people or families living in dual faiths, what is the pastoral response and how do you minister effectively to those people? Pastors are not necessarily trained on multiple denominations, let alone multiple religions."
The World Council of Churches, of which the UCC is a member denomination, had been trying to find churches willing to take on the conversation before the UCC stepped to the plate and inquired about hosting such a gathering.
"Multiple religious belonging is one way in which some choose to be religious, drawing generously and genuinely from the religious resources we have around us," said the Rev. Peniel Rajkumar of the World Council of Churches. "Multiple religious belonging brings forth some hard questions to ecumenical tables, concerning the identity, theology and mission of the church."
The consultation is following up a previous session that took place in October 2014 at the Gurukul Lutheran Theological College and Research Institute in Chennai, India. That consultation explored multiple religious belonging in the Asian context and had a more academic environment. Thompson attended that meeting and asked WCC leaders how that conversation could take place with a religious emphasis.
"In some ways, this consultation is timely. In a way, it seeks to engage with the signs of the times, and it is an important issue for the WCC to be engaged in," said Rajkumar, who asked his colleagues to make their time sacred, where all voices could be heard on the topic.
Thompson has hopes that the initial discussion will push the conversation forward and result in future resources for ministers and workshops on the topic. "My vision is this conversation will continue to grow, and that it will help provide clergy with support as they deal with the topic and minister to people in need of community," she said.
Added Coleman, "I hope [at the end of this conversation] we think about ways to lead differently, to ordain differently and welcome differently, and that we encourage others to do the same."
---
Related News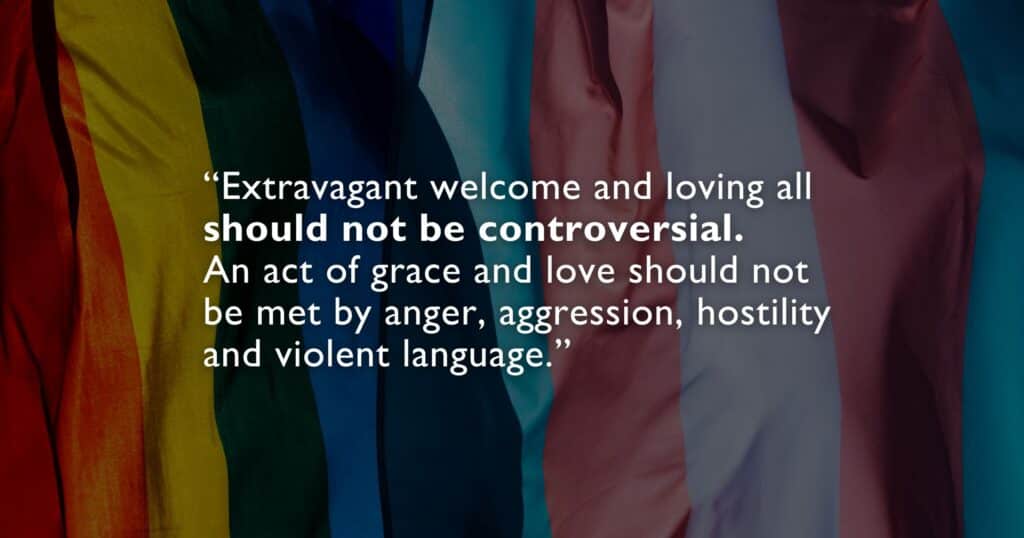 The United Church of Christ National Officers and the Conference Minister of the South Central...
Read More