Montana clergy produce TV programs to proclaim progressive Christian voice
A group of pastors in Billings, Montana have come together to produce a progressive Christian program for public access television. "Driving across the vast spaces of Montana," said Rev. Stacey Siebrasse, "sometimes all you can pick up on the radio are Christian stations." But the members of 'Another Voice,' the name of their clergy group and also the title of the television series, know that kind of exclusionary rhetoric doesn't speak for everyone in their state. So they are adding their voices.
The four ministers started meeting for mutual support, after finding their views excluded from the common discourse about Christianity and its relation with the culture at large. The group is ecumenical; Rev. Mark Stewart is the Montana-Northern Wyoming conference minister for the United Church of Christ, Rev. Steve Gordon is the pastor of Mayflower Congregational Church, Rev. Rob Kirby is a Methodist minister and campus pastor at Montana State University in Billings and the Rev. Stacey Siebrasse is the pastor of First English Lutheran Church.
They wanted "a positive voice for progressive Christianity," said Rev. Stewart, to counter "the narrative in the media about what Christianity is."
The clergy began speaking out by publishing articles in the local newspaper, but soon wanted to move into broadcast media. They were helped in this effort by Kris and Scott Prinzing, members of the Unitarian community in Billings, who had experience in community public-access television. After the group came up with the necessary funds ($300 per year, in order to broadcast two programs per month), their television show was born.  
The first episode, an introduction to progressive Christianity, aired on January 22nd.
But leading up that first broadcast, said Rev. Siebrasse, "There was a full year of monthly meetings, talking about current events and church responses while the election was gearing up."
"I don't think there was any one catalyst," said Rev. Stewart about the decision to launch the TV show, "besides a media presentation of Christianity that didn't speak for us." After their first episode, which followed closely on the heels of the election, Rev. Stewart says he heard from progressive clergy groups from all over the state of Montana, who "didn't feel welcomed" by the prevailing media narrative.
They hope their programs will not only present a different point of view, but draw people in who would otherwise be alienated by that kind of exclusionary rhetoric. "People become disillusioned with the church when it doesn't match their lived experience," Rev. Siebrasse said.
The program airs every other Sunday evening at 6:30 pm on Billings' Community 7 Television. For the rest of the country, the episodes can be streamed from their Facebook page, https://www.facebook.com/AnotherVoiceBillings/. The first two shows, "Progressive Christianity" and "Welcoming the Neighbor," are available online now.
---
Related News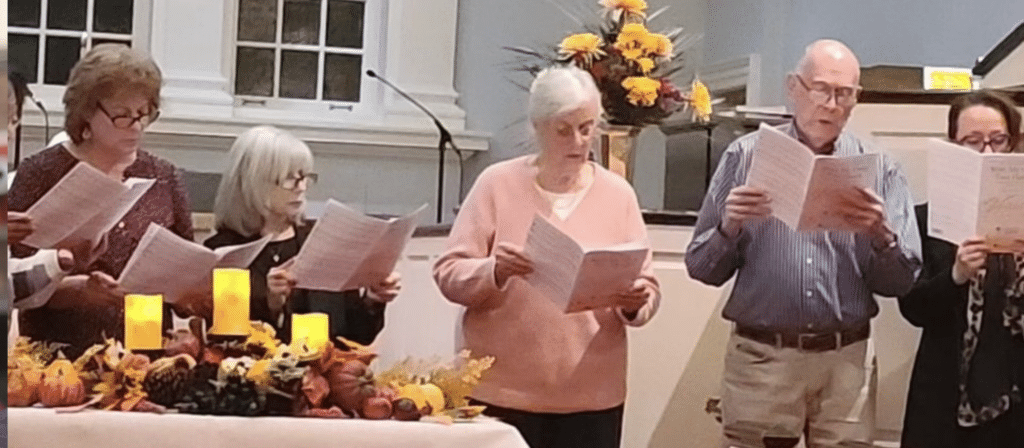 Many United Church of Christ congregations across the country participated in interfaith...
Read More