Minnesota churches call Synod to stand for equity in public schools
The 2023 General Synod of the United Church of Christ will consider 17 resolutions and several bylaw changes when it meets June 30-July 4 in Indianapolis. This is one in a series of articles about them. Full texts of each of the proposed resolutions are available at the General Synod website.
Book bans. Restrictions on teaching racism. 'Don't say gay' laws. Hotlines to report teachers.
Bills and challenges like these directed toward public education have become all too common in recent years.
The United Church of Christ in New Brighton, together with several other Minnesota congregations, is calling for General Synod to take a stand on these issues with A Resolution Supporting Public School Educators, Academic Freedom, and Equity Efforts in Schools.
'Facing racism in school'
"Part of what prompted this resolution was very local, very acute concern about members in our own church who were facing racism in school," said Jane Gilles, a member of the Open and Affirming team at UCC New Brighton that drafted the resolution. She is also a career educator with experience in education policy.
In April 2021, when students in a Minneapolis-area school district protested and demanded improvements for students of color after racist incidents at the local Centennial High School, the school board proposed ways to address these concerns. But community members objected to its planned partnership with an outside organization that aims to improve equity in education. The school board meeting drew a large crowd of people booing, shouting and interrupting presentations. Several parents threatened to remove their children from the district if this happened, and a former state representative criticized a connection to what she called critical race theory "creeping into our culture."
"This was happening in 'blue' Minnesota in the metro areas," said the Rev. David McMahill who heads UCC New Brighton's ONA team. "It just seemed like no matter where you looked, there was more and more loud, strident pressure coming on local school boards."
The following year, efforts to increase parent influence in education went to the Minnesota Senate, which passed several bills referred to as the "Parents Bill of Rights." These would require educators to give parents extensive access to classroom materials and instructional plans.
"It was chilling to see it creeping onto the Senate floor," Gilles said, adding that harassment toward school board members and superintendents caused several to resign.
In support of educators
The resolution for Synod delegates to consider is proposed as a resource for use when any community is facing similar kinds of challenges to public education. The resolution affirms:
The rights of educators to make "the best decisions for ALL students consistent with research and best practice."
Support of public education systems and public-school educators.
Academic freedom.
Thoughtful evaluation of teaching methodology.
It offers historical framing, tracing academic freedom in education to the 17th and 18th century Enlightenment. It cites the biblical direction to love our neighbors as incompatible with the kinds of censorship taking place that "most often deal with the experiences of neighbors who have racial, ethnic, religious, sexual or gender identities that differ from those seeking the bans.
"We are able to love our wildly diverse, culturally differing neighbors only when we know something about them, and that requires reading and studying from a broad range of sources," it reads.
The resolution also traces the centrality of education in the UCC's history, with resolutions passed by previous Synods to empower children, support equal and quality education for every child, and advocate for public schools.
'Students get hurt'
The resolution's writers emphasized that most teachers want to support their students and will welcome conversation with parents.
"We are all for continuous improvement in our schools in curriculum, assessment, teaching strategies and so on," Gilles said. "That doesn't mean the public can shame educators and go after them as political pawns — because it's the students who get hurt."
The resolution calls Synod to stand against:
Harassment of teachers, administrators, school board members.
Efforts to inflame the public with hateful rhetoric against educators.
Censorship of what is taught and read in public schools.
Denial of histories of oppression, prejudice, bias and hate.
Burdensome disclosure mandates for educators.
'Encouraged to have a voice'
While the resolution took root in Minnesota, it speaks to the "copycat legislation" that continues to spring up across the country. In March, U.S. House Republicans also passed a "Parents Bill of Rights."
"The whole effort of this is to empower UCC membership to have a voice in school board meetings, PTAs and other places where these issues are being dealt with," said McMahill. "And for public acknowledgement that harassment of teachers and calls for monitoring everything that is taught in every classroom is out of bounds.
"Our people need to be empowered and encouraged to have a voice."
---
Content on ucc.org is copyrighted by the National Setting of the United Church of Christ and may be only shared according to the guidelines outlined here.
---
Related News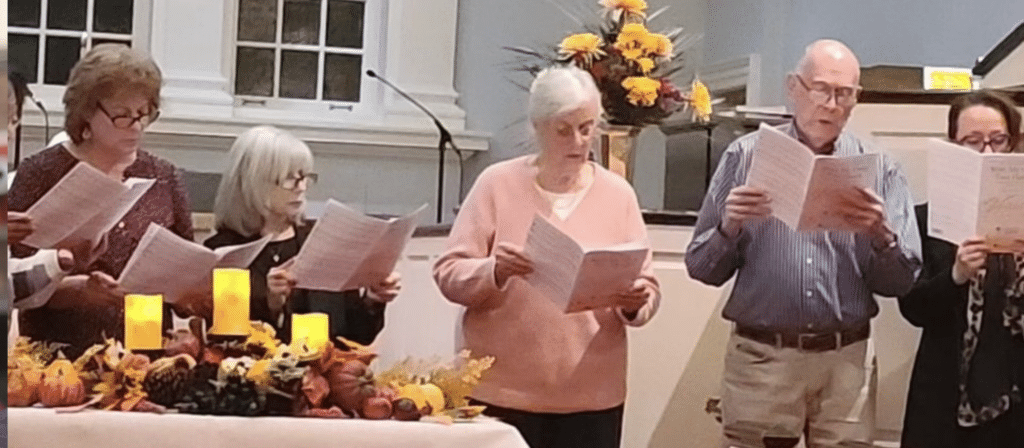 Many United Church of Christ congregations across the country participated in interfaith...
Read More