Maryland church to host Advent concert honoring slain South Carolina pastor
Westmoreland Church Festival Chorus and Orchestra performing "The Imaginary City" in December 2014. Photo by Rick Alfonso.
To honor the pastor of a historic black church in Charleston, S.C., killed in a June shooting, the Festival Chorus at Westmoreland United Church of Christ is hosting an Advent fundraiser in his name. The anti-gun violence concert will benefit the newly-launched Rev. Clementa Pinckney Scholarship at Wesley United Methodist Theological Seminary, and is part of a larger effort by the congregation to work with various faith and advocacy groups to curb gun deaths, explained the Rev. Timothy Tutt, pastor of the Bethesda, Md., congregation.
Pinckney and eight fellow church members were shot and killed during Bible study at Emanuel African Methodist Episcopal Church. Pinckney was Emanuel's pastor, a state senator, and a doctoral student at Wesley Seminary, located close to Westmoreland UCC.
As the congregation was planning its Advent concert this summer, the Charleston shooting was "fresh on our minds," Tutt said. "About that same time, I heard through the grapevine that Wesley was looking for ways to honor Clementa Pinckney, so I contacted them and said we will do this concert for you." 
The Dec. 12 concert will feature a choral work, entitled "Light in Deepest Night," based on the writing of Julian of Norwich. 
"Originally a Lenten work, the piece has been modified for Advent to remember Rev. Pinckney and other victims of gun violence and to express hope for a more peaceful world," Tutt said. "The scourge of gun violence is a national tragedy. This concert of hope-amid-gloom is one way we hope to lift our voices for peace and non-violence." 
Westmoreland has an Anti-Gun Violence Task Force that has tried to find ways to respond to the scourge of gun violence. The congregation works with Action in Montgomery (AIM), which is part of the Industrial Areas Foundation, a nationwide community-organizing network, alongside other congregations to support the Do Not Stand Idly By campaign. Westmoreland has previously hosted a state senator to talk about anti-gun violence initiatives, and in January will co-host an interfaith forum with two Jewish congregations for all D.C-area anti-gun violence groups. 
Westmoreland also has a history of grand music. For the last 30 to 40 years, the congregation has hosted a series of concerts — sometimes with outside performers, and sometimes presenting its own choir — to raise money for social justice causes. A year ago, Tutt and the Westmoreland music director wrote a piece of music called the Imaginary City about Jerusalem, which featured a Palestinian violist as the featured performer, to raise $15,000 for Al Kamandjati Music Schools in the West Bank. 
Wesley Seminary and the congregation are located about a half-mile apart, and Tutt said the ties between them go "way back" and that they are "good neighbors." A Wesley professor actively participates at Westmoreland, and a retired minister from the congregation is leading a practicum colloquy. "We have a UMC student on staff this year as a student pastor, and have had numerous interns and student pastors over the past several years," Tutt said. "Church members have taken classes there — some in degree programs, some just for learning's sake. Wesley faculty members have been guest preachers and guest leaders here at church." 
"Our church has had a long interest in social justice work — fair housing, anti-racism, Middle East affairs, and so on," Tutt said. "Gun control is the continuation of that social justice focus."
---
Related News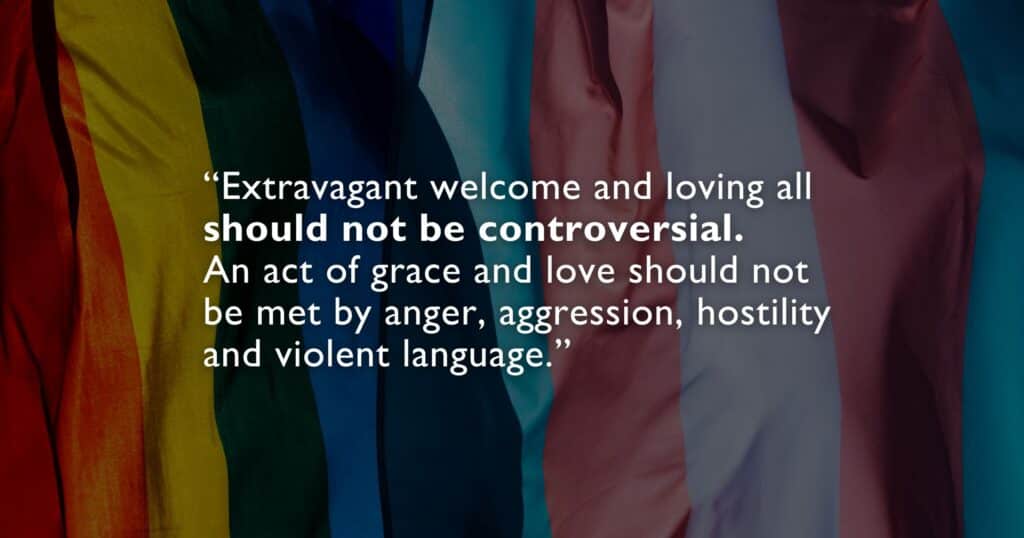 The United Church of Christ National Officers and the Conference Minister of the South Central...
Read More