Florida becomes 36th state supporting marriage equality
The Rev. Laurie Hafner and the Rev. Shawn Garvey are celebrating a milestone they presumed was years down the road. Today, Jan. 6, Florida becomes the 36th state where all people are free to marry the person they love.
Garvey and Hafner, just two of the United Church of Christ ministers across the Sunshine State ready to welcome marriage equality, already have plans to support same-sex couples who want wed immediately.
"The congregation is standing ready to help," said Hafner, pastor of Coral Gables UCC in Coral Gables, Fla. "We want to make sure people who want to get married right away can do so as quickly as possible."
Hafner said Miami-Dade County officials began issuing same-sex marriage licenses as of 10 a.m. Monday, with other county offices issuing them just after midnight. 
"It's amazing. This has been near-and-dear to my heart for years," Hafner said. "I thought we would settle in for a long fight, but it's happening. To see this is beyond my imagination and an answer to many prayers over the years."
The Coral Gables pastor expects to marry about 10 to 12 couples in the next 48 hours, with the congregation opening its doors to all couples that wish to marry in a church setting. Members of Coral Gables UCC are joining in by attending receptions and acting as witnesses.
Garvey, pastor of First Congregational Church in Winter Park, is inviting couples from across Central Florida to use their space for wedding ceremonies.
"We've got a very healthy and substantial LGBT population that is part of our community, and they're like every couple," Garvey said. "They want to do their ceremonies privately and with their families."
"There are at least three couples who've said to me they would like to be married in the church," Garvey added. "I should get a few phone calls to set dates in the coming months."
In August, a U.S. district court judge struck down the same-sex marriage ban that Florida voters passed in 2008. The judge then issued a stay on his order, giving the state time to respond and appeal to the Supreme Court.
The Supreme Court decided on Dec. 19 not to extend the stay, which expired on Monday, Jan. 5, and paved the way for same-sex marriages to begin in Florida.
"To be here while this is happening, and to be in a large, healthy-sized church with a strong LGBT community, that's exciting to be able to do that for our church," said Garvey. "It's really an exciting time to be here."
Garvey was raised in New England, the region where marriage equality began ten years ago, and where it is now allowed by every state. "Up there, this has been going on for a long time," he said. "I'm thrilled that after having been here for a year, I can perform marriages for LGBT people."
At Riverside United Church of Christ in Jacksonville, Fla., in the northern part of the state, the Rev. Linda Girouex, will be one of potentially 50 pastors to officiate weddings on Saturday, Jan. 10, in a community park. 
Girouex, married in California, didn't have her marriage recognized in Florida before Tuesday.
"It's really hard to measure the depth of joy and thankfulness we have as a couple who have been together … for many years," she said.
Hundreds have said through social media they plan to be at Hemming Park, though it's not clear how many will bring marriage licenses.
With Florida recognizing same-sex marriages, it marks a momentous 12 months for marriage equality, with judges striking down marriage bans in 20 states. At this time last year, there were just 16 states, including the District of Columbia, where same-sex marriage was recognized. More than 216 million Americans – approximately 70 percent of the country – now live in a state with marriage equality.
Garvey speaks for many in the UCC when he says that the denial of rights to the LGBT community is "intrinsically not fair, and doesn't speak to the heart of the Gospel as Jesus taught us… Allowing marriage equality broadens the umbrella."
---
Related News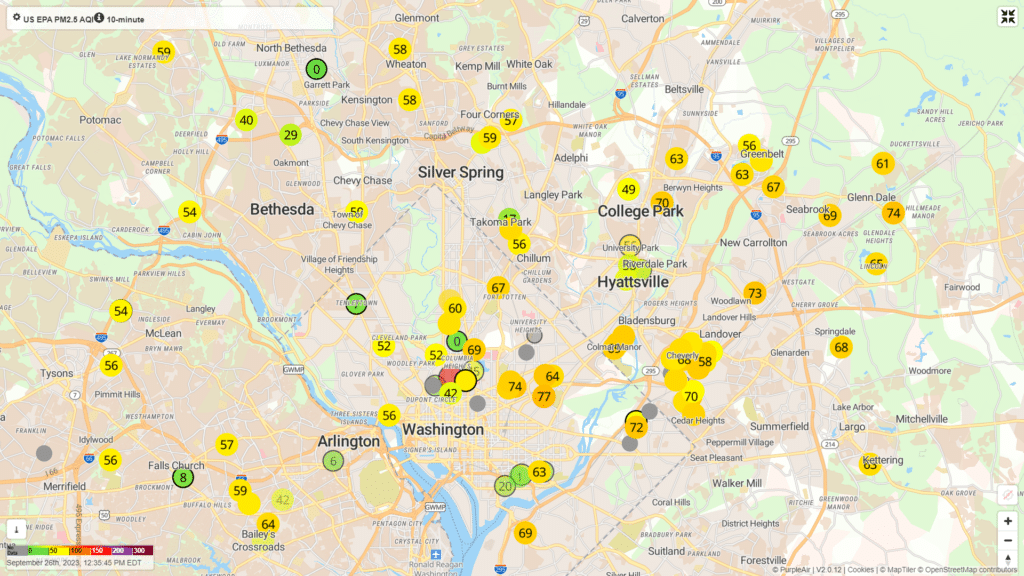 This summer, the United States experienced some of the worst days for wildfire pollution in...
Read More