Preparing to March Forth for Literacy
How will you March Forth for Literacy?
Tomorrow, Wednesday, March 4, is the day that United Church of Christ congregations will take action for literacy by collecting books, advocating and donating their time to March Forth for Literacy, the one-day, churchwide effort.
Part of the denomination's Reading Changes Lives initiative, March Forth for Literacy will be a day to focus on literacy awareness throughout the UCC, giving congregations a chance to join the wider church with involvement in literacy issues locally and nationally. March Forth for Literacy will also give individuals the chance to share their experiences, either as volunteers with literacy organizations or as persons who have struggled with literacy themselves.
Bethlehem UCC in the Evansville, Ind., has worked for literacy awareness since Reading Changes Lives launched in the fall of 2014. Church member Susan Worthington has seen the momentum building toward March Forth and is excited about being part of the all-church effort.
"I think the best thing is to throw out some options and let people do what works for them," Worthington said. "A lot of our churches are doing good things. We really thought this was something neat."
Bethlehem UCC recently welcomed Rob Shindler, author of "Hot Dogs & Hamburgers: Unlocking Life's Potential by Inspiring Literacy at Any Age," to Evansville to speak to the community about the importance of literacy. Some winter weather affected the overall attendance, with Worthington estimating that about 60 people attended the Feb. 21 evening worship service to hear Shindler.
"It was very well received. His visit was both educational and motivational for our community and, in particular, our UCC churches, to get us ready for March Forth for Literacy," Worthington said. "I know several members at Bethlehem are ready to move forward with hands-on literacy projects and initiatives."
Bringing Shindler to Evansville was a community endeavor that involved Bethlehem UCC, Willard Library and the Literacy Center of Evansville. Bethlehem and Willard funded the visit, with Shindler's speaking fee donated back to Literacy Chicago, and the Literacy Center helped make the arrangements for his visit and for media coverage. Bethlehem UCC has also reached out to the 27 other churches in the Evansville Tri-State Association to collaborate on literacy efforts.
"By having the association work on this, we establish a more covenantal relationship among all the churches, so they feel can be part of something bigger than the local congregation," Worthington said. "At the same time, we also let our communities know what the United Church of Christ is."
Last fall, the UCC used Shindler's book for its all-church "One Read" to raise awareness on the importance of closing the literacy gap and encouraging the denomination's members to get involved.
"When the literacy initiative was first unveiled, several of us at Bethlehem got excited, and we ordered 20 copies of 'Hot Dogs and Hamburgers,'" Worthington added. "Currently, 50 members have read the book."
Later this week, Shindler will present Reading Changes Lives at UCC-affiliated Elmhurst College. Shindler will be available to sign books after the March 8 lecture, and his book will be available for purchase.
Shindler's lecture is one way in which Elmhurst College is taking part in Reading Changes Lives. Another is the Elmhurst College Summer Literacy Program, which provides free reading tutoring to K-8 pupils in two predominantly Latino communities in the Chicago area. The program grew from an innovative partnership involving three UCC churches and Elmhurst College's Department of Education, Service-Learning program and Niebuhr Center for Faith and Action.
The UCC's Justice and Witness Ministries immersion center in Whitakers, N.C., the Franklinton Center at Bricks, also has plans to March for Literacy tomorrow and through the rest of the week. From March 8 to 13, Franklinton Center is hosting 12 students from Hood College, who are volunteering their time during spring break to help improve literacy rates in Eastern North Carolina.
"This will mark the fourth year Hood College students are volunteering for an alternative spring break, helping to improve the literacy skills for students in Halifax County," said Eunice Carrasco-Hill, project coordinator at Franklinton Center. "They conducted a book and school supplies drive, and the students are going to be distributing books and supplies to over 250 students attending Halifax and Nash County schools. Both schools' administrators are going to provide the students an overview of the schools [so they] understand how the history of race relations has also impacted both schools."
Carrasco-Hill is also reading the book "Mud Taco," by Mario Lopez, to students at Inborden Elementary School on March 4.
Reading Changes Lives culminates at General Synod 2015, June 26-30 in Cleveland, with a special service project, "Stuff the Pack." Synod guests and delegates will be asked to help the church meet its goal of donating 1,500 bags—500 of which the UCC will provide—that will be filled with school supplies by Synod attendees.
Once collected, the items will be donated to local literacy programs and school systems throughout the Greater Cleveland area. There are three different days that people can participate in the service project, and they can also donate money during General Synod for literacy awareness.
"When children have backpacks, it helps them understand school," said Angela Barnes, Reading Changes Lives project manager.
So, how will you March Forth for Literacy? Tell us on Twitter by using the hashtag #March4Literacy.
---
Related News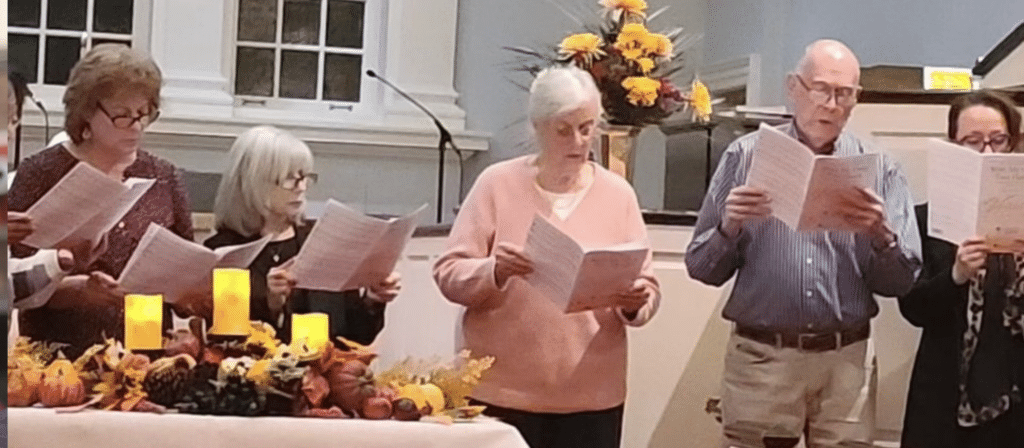 Many United Church of Christ congregations across the country participated in interfaith...
Read More