Maine church members, clergy challenge Franklin Graham's form of Christianity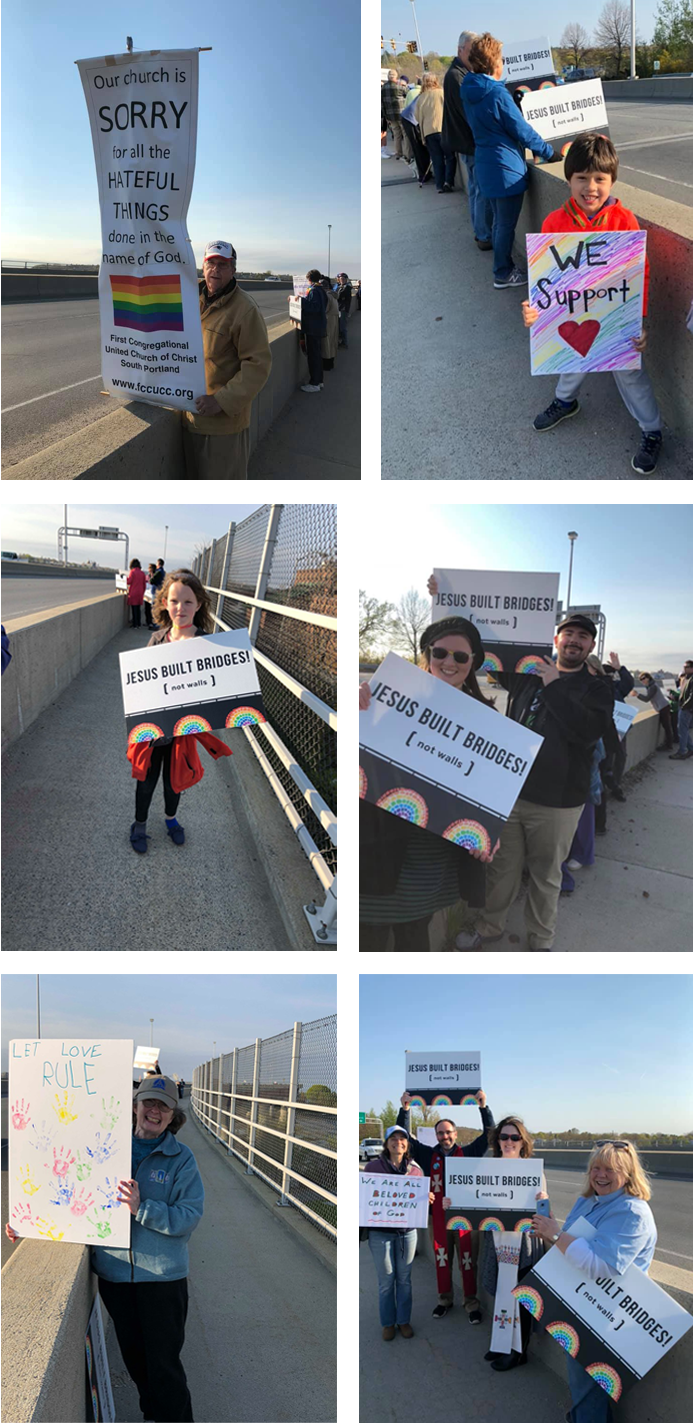 More than 175 people of faith from several Christian traditions challenged the message the Rev. Franklin Graham was bringing to their Maine community on Sunday, May 19, with their own expression of inclusivity and love.
The group spent a few hours on both sides of the Casco Bay Bridge between Portland and South Portland, holding signs that profess their way of being Christian—proclaiming love for their neighbors, promoting peace and working for justice.
The Rev. Cindy Maddox, senior pastor of First Congregational Church, United Church of Christ, South Portland, organized the event. She said Graham uses the Bible to promote bigotry, so she and her friends and neighbors decided to speak out.
"We felt it was our responsibility as Christians to stand up to others within our own faith," she said. "When I started receiving advertisements for the Decision America rally, I knew we couldn't be silent and let Franklin Graham's message go unchallenged." Maddox gathered a group of local clergy—UCC, United Methodist, Episcopal and Lutheran—to discuss a response. The faith leaders decided to counter the rally's rhetoric by proclaiming, in public and from the pulpit, that "Jesus Built Bridges (Not Walls)."
In a thoughtfully written opinion to her local newspaper, Maddox outlined biblical references to proclaim a more inclusive kind of Christianity than Graham preaches. The Press Herald printed her article on Saturday, the eve of Graham's evangelism tour at the fairgrounds in Cumberland. In it, she cited chapters of Leviticus, Matthew and other books to challenge Graham's positions on Islam, Muslim immigration, and LGBTQ people, including his support of "conversion therapy" for gay teens.
"We declare that followers of Jesus are from all backgrounds, and that Jesus welcomed and blessed all," Maddox wrote. "Though obvious to some, this is a necessary statement to make in a world where the Christian message is often misconstrued. The main thing Jesus asked of his followers is to love our neighbors. In a world where many think we need to exclude and build walls of division and bigotry, we stand for and believe in building bridges, loving our neighbors, and creating a world where justice means that every human being is cared for. This includes all people who often find themselves at the margins of our power structures, including LGBTQ people and immigrants."
In her sermon Sunday, Maddox said: "Jesus may not have 'built bridges' to the religious leaders of his day, but he most certainly built bridges for those on the margins. He built bridges for them to move from isolation into relationship, from segregation into community. He built pathways for the disenfranchised to return to God. He made a way for those in need. Our motivation must be concern for others. Our goal must be to share God's love."
That proclamation was shared in the streets later that evening by members of more than a dozen churches, ranging from 7 years old to over 80. Around 40 people from First Congregational joined Maddox on the bridge.
"The response on the bridge was fabulous," she said. "Of course, some people drove by without responding, and a few were rude. But many people honked and waved and gave us thumbs up. We were there for 45 to 60 minutes, and there were over 300 cars in 10 minutes, so we think at least 1,500 cars probably passed by."
"We wanted to make a bold statement of solidarity and love with asylum seekers, Dreamers, and families separated at the border, with LGBTQ teens, children and elders, with our Muslim and Jewish family, and with the indigenous community and people of color who have been in Maine for generations. We wanted to say loud and clear as Christians that we stand for love without exception and that we have your back!"  said the Rev. Allison Smith, serving as transitional minister, Congregational Church in Cumberland. "It was incredibly inspiring to gather with so many churches of diverse traditions to speak out in the face of an administration that has lost its moral bearing. We went out on the bridge to be the bridge for change!"
"The Maine Council of Churches, whose work and mission are rooted in Hebrew and Christian scriptures, applauds the efforts of these faith leaders to promote a gospel message of justice, compassion and peace," said Rev. Jane Field, executive director. "Those who, like Franklin Graham, condemn our Muslim neighbors and our LGBTQ siblings in the name of God are betraying the core values of our faith: loving our neighbors, working for justice, and walking with humility."
"We intentionally made this a Christian event rather than interfaith, which is an unusual move for this group of clergy," Maddox said. "But in this case we felt it wasn't fair to ask our interfaith colleagues to take on an issue that was "within the family.'
"Faithful Christians can agree to disagree on many issues and beliefs. On the question of God's love for all, we stand firm."
---
Related News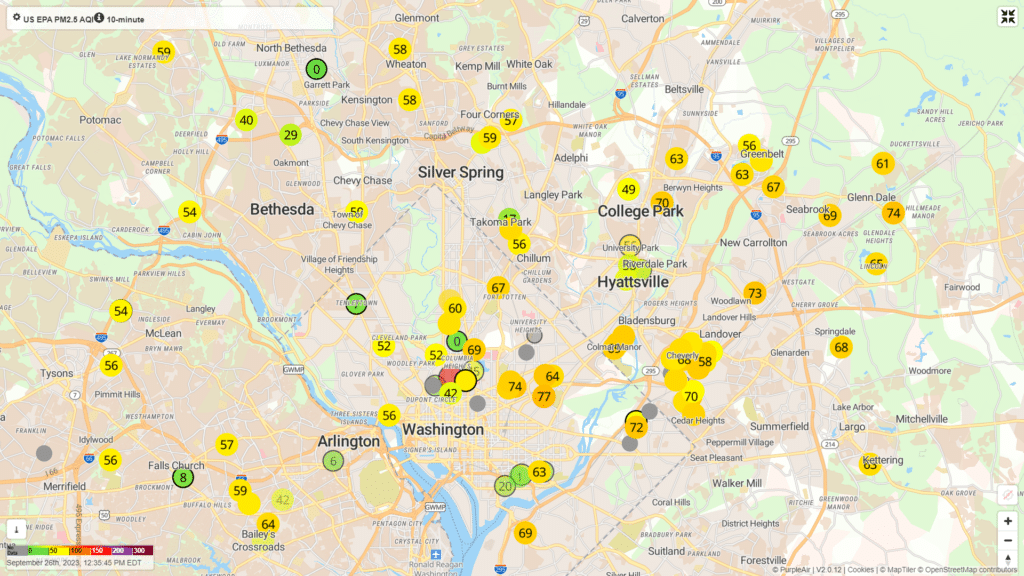 This summer, the United States experienced some of the worst days for wildfire pollution in...
Read More