Living out 3 Great Loves, Ohio church youth group rocks!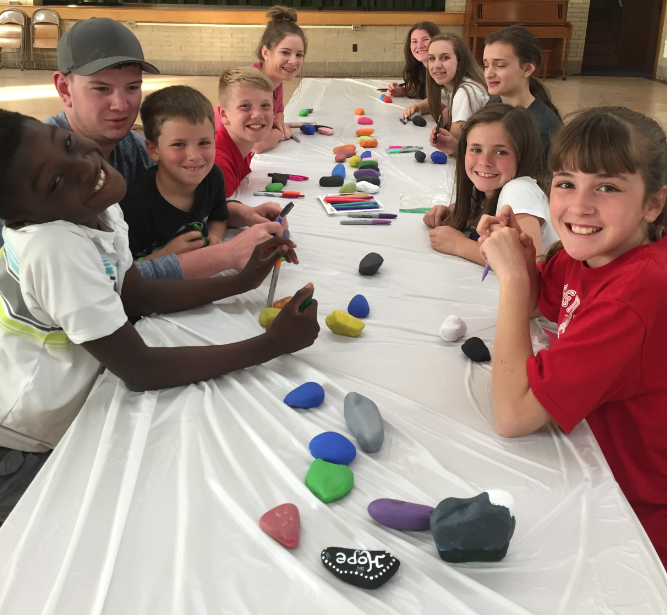 Kindness Rocks! And so do the young people at First United Church of Christ, Sugarcreek, Ohio. The church youth, in a creative and visible effort to share God's love with their neighbors, recently painted dozens of rocks with inspirational messages, and hid them around town for people in their community to find.
"We had so much fun doing this project," said Robin Werker, the church's Kids 4 Christ Youth Ministry Director. "Once a month we try to do a 'Kids Care' Project, in an effort to teach our youth that no matter how young or small you are, you can still make a difference in the lives of others by sharing God's love."
So in May – Kindness Rocks!
Pastor Earl Rogers said the monthly venture brings all the kids in the church together for an evening, and they pick what they do. Sunday May 6, eleven young people painted rocks—55 of them to be exact.
"Kindness Rocks is an amazing project for all ages of a church's youth program because everyone is able to participate," he said. "Even if a child doesn't have the penmanship skills to write the words, anyone from an infant to a graduate can paint colors and designs on a rock. This made the project so much richer to share, because our high school students and or kindergartners could sit together and have a whole lot of fun."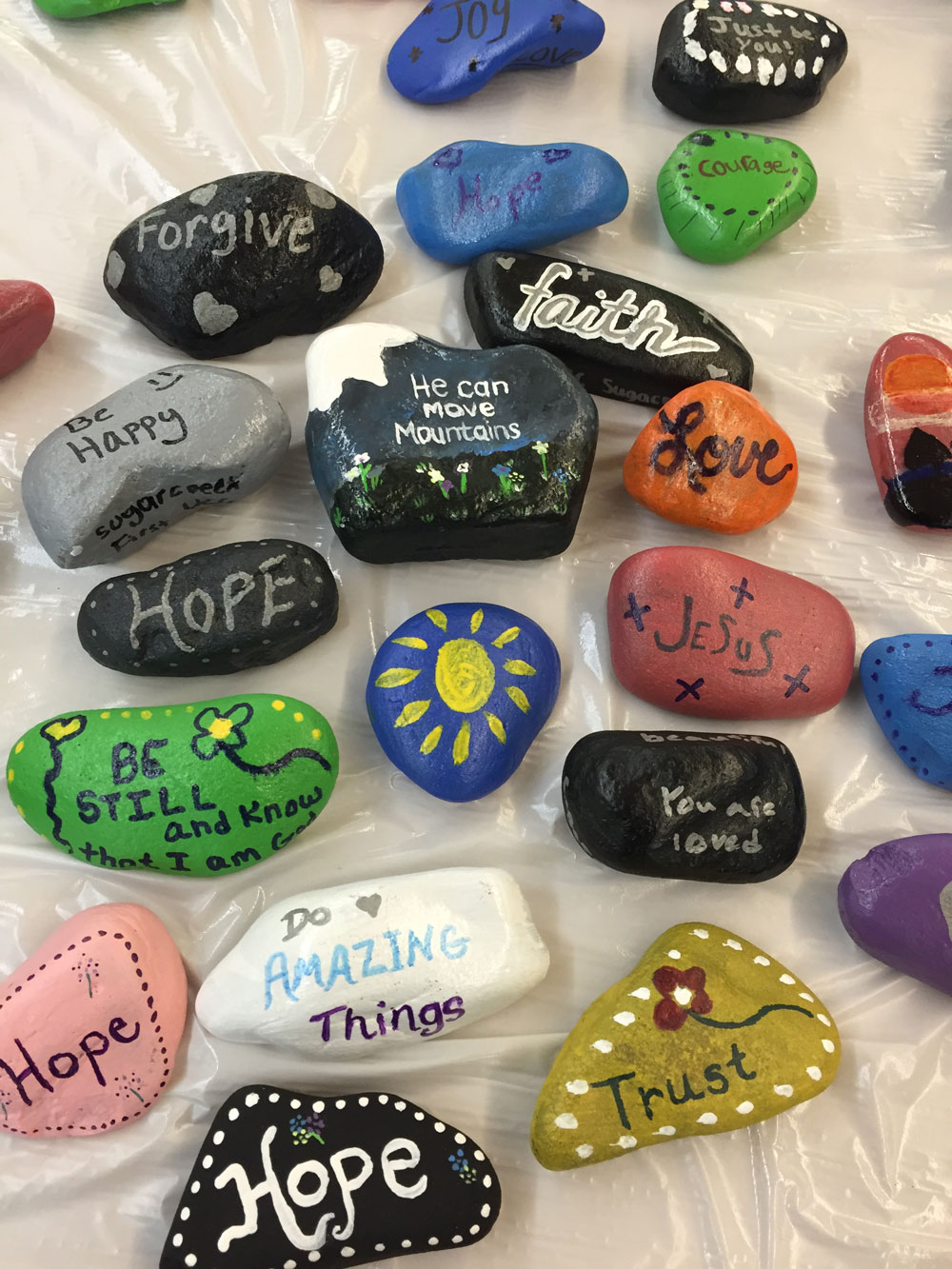 The messages on the rocks were crafted by the children around love, faith, and kindness. No two of them are exactly the same.
"We gave the kids the general theme of the project and let them write what inspired them," Rogers said. "There are rocks that encourage you to smile, rocks that remind you that someone cares, and even one special rock that is painted like a football to show that sports teams are full of friends too."
"It let the kids use their imagination to write nice things and it was fun painting on rocks," said Trace Gibson, a fifth-grader. "I hope (for the person who finds it) it will make their day better because it will make them feel good to read something nice."
First Church, Sugarcreek is located in a small village in the heart of Ohio's Amish country, 90 miles south of Cleveland, in an area that sees lots of travelers. The congregation got buy-in from community leaders at the Village Hall at the start of the project, and the youth were given free rein to 'hide' the rocks all around town, as long as the public works crews couldn't run them over with the mowers. Church members are hoping the people who find the rocks post them on Facebook.
"I take a walk down through the middle of town about once a day, and I don't know that I have found all of the rocks yet," Rogers said. "At least one person has posted a picture of a found rock to the church's Facebook page, but with the high tourist traffic in our town, there is a good chance that some of those rocks are hundreds of miles away by now."
The pastor also loves that the Kindness Rocks project really speaks to all three of the UCC's Great Loves. "We have our children working to spread the love that they have in their hearts. We have the love of creation that brought forth not only the rocks but many of the places that they now rest. We have the love of each and every 'neighbor' who stops through our town and sees a painted rock. We know that the number of visitors we see through the spring and summer seasons mean our neighborhood is stretched to include a great number of people."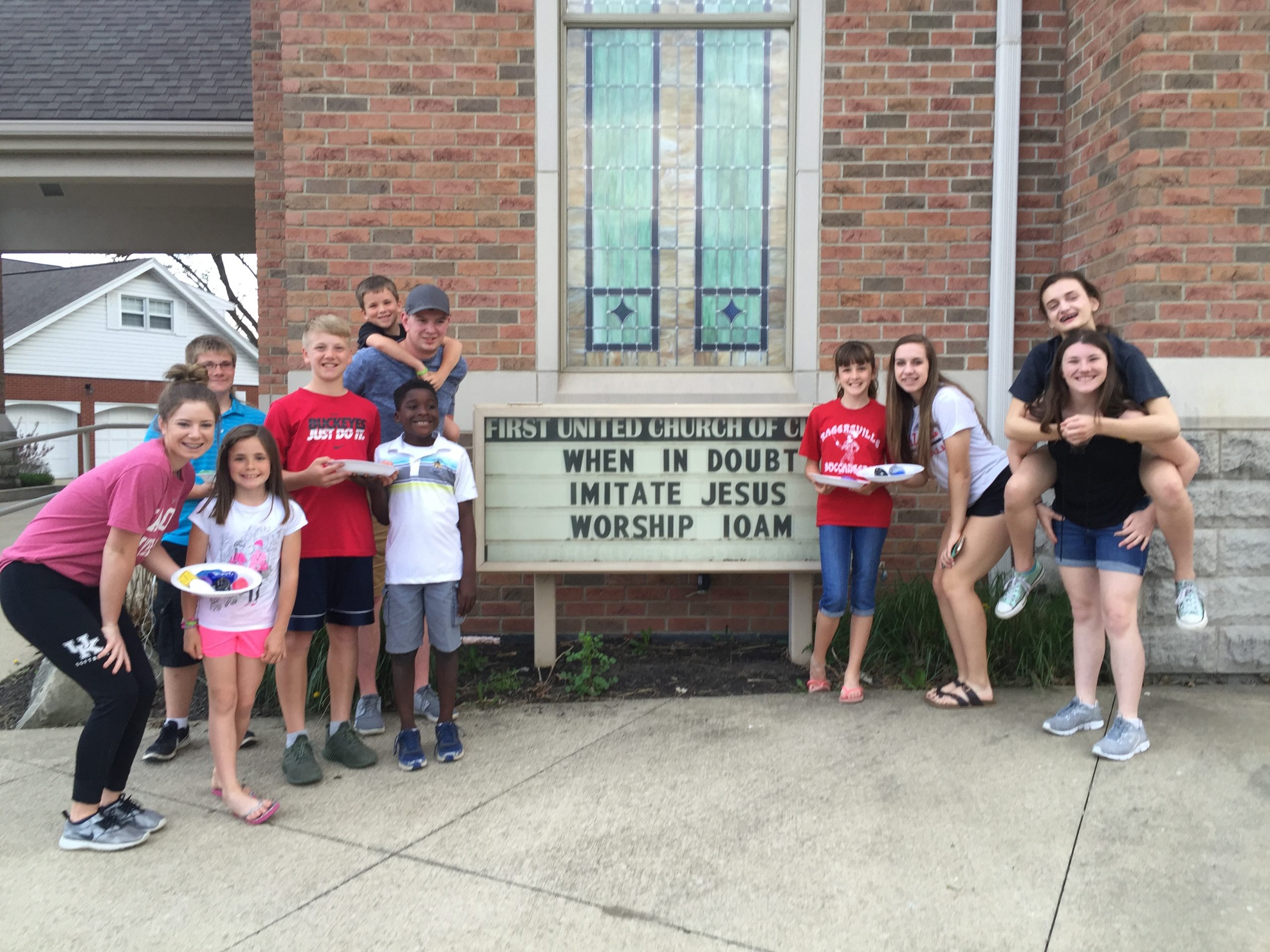 Brooke Werker, a high school freshman, said it was fun coming up with the phrases with her friends. She hopes to pay that good feeling forward. "I am hoping to brighten someone's day when they find the rock. Just knowing in some small way I could add joy to someone's day helps share God's love. I can't wait until we do this project again. It was a fun and easy way to show kindness."
The fact that Sugarcreek is a small town with a lot of visitors also played a role in how the young people created their missives. The pastor said that while many of the rocks list the church's name on one side, the messages are ones that can be taken anywhere.
"The kids were so creative and when we ran out of rocks to paint, they wanted to do more," Robin Werker said. "This is an awesome way to share kindness and God's love. We definitely want to do this again soon and have more rocks!"
"Two of my favorites are rocks that say, 'Just Be You,' and 'Do Amazing Things,'" Rogers said. "It doesn't matter who picks up that rock, we can all use those reminders in our lives. The fact that we can spread it out and share God's message of love and inclusion beyond our friends and family just shows the power of a kind word in today's world."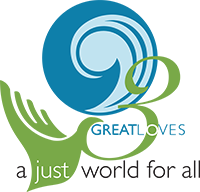 This story, highlighting the ministry of a local church, is part of the UCC's 3 Great Loves campaign, seeking to build a just world for all as one united church. Visit
3GreatLoves.org
to learn how we're showing Love of Children, Love of Neighbor, and Love of Creation.
---
Related News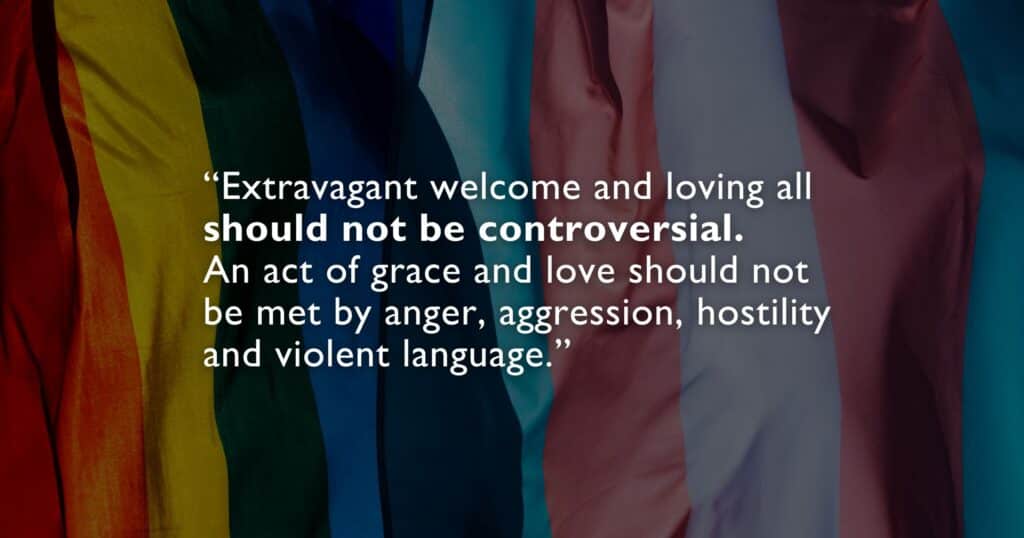 The United Church of Christ National Officers and the Conference Minister of the South Central...
Read More