Lingering Hurricane Lane brings winds, rains, floods to Hawaii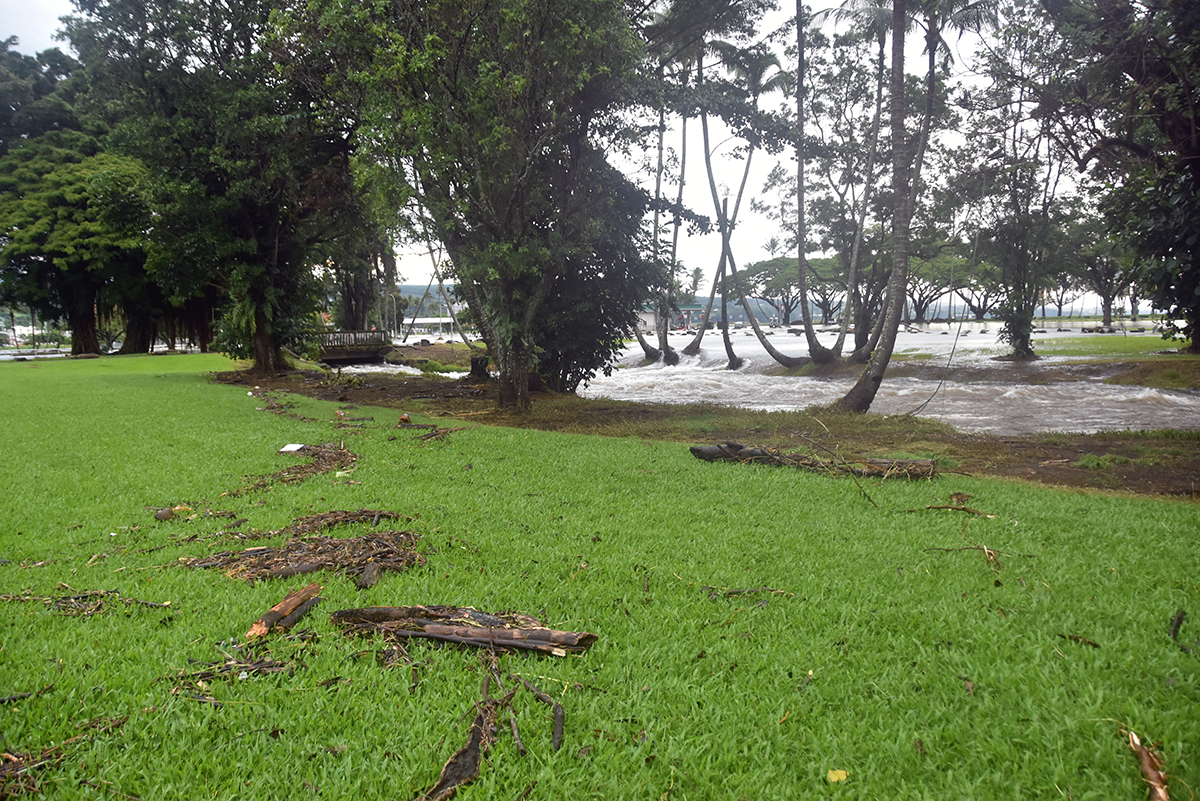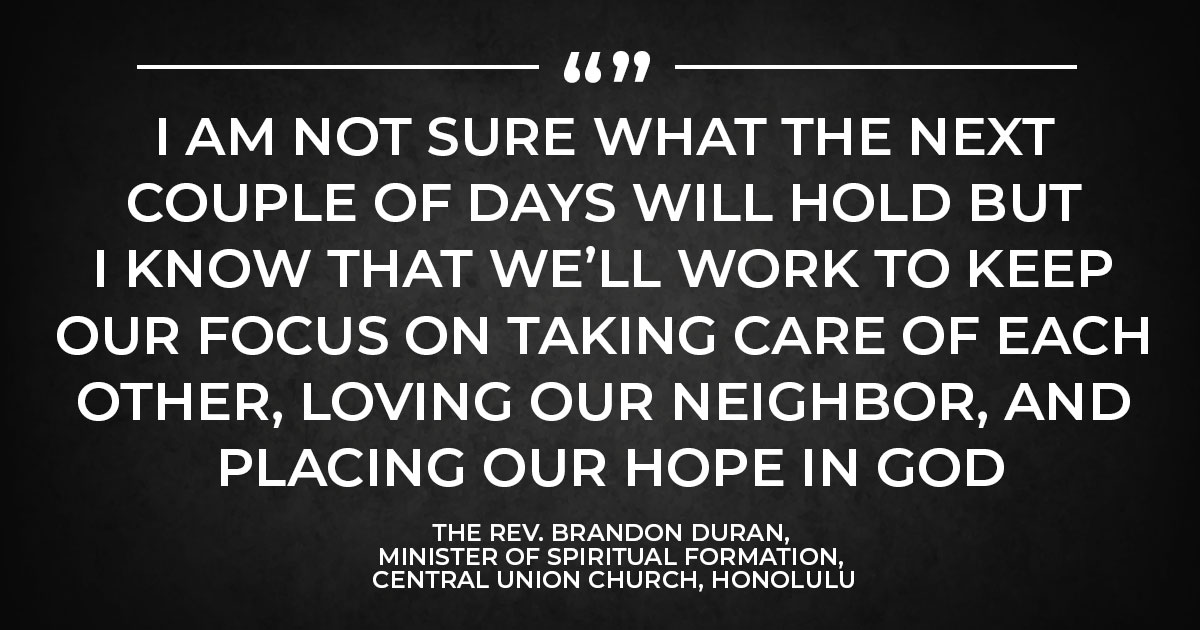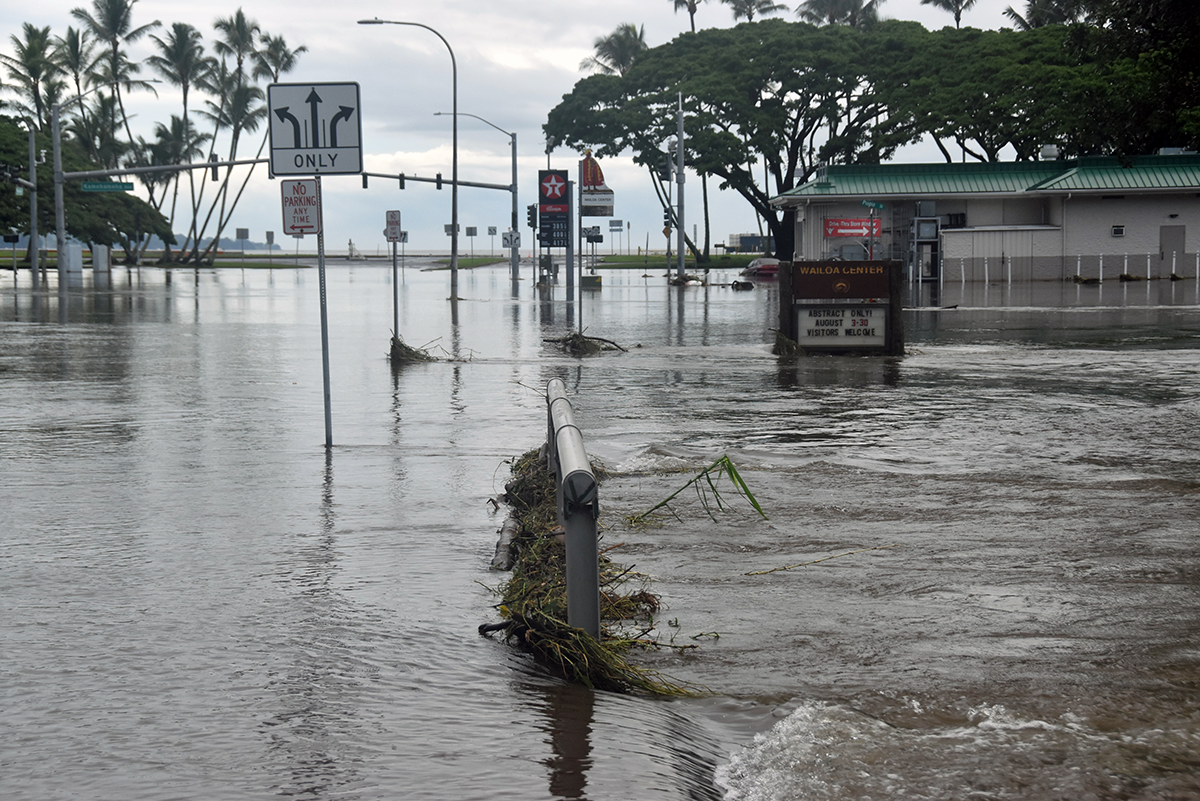 As Hurricane Lane brings torrential rains to the islands of Hawai'i, UCC Disaster Ministries is keeping watch on the storm, as local churches and congregants take shelter. Friday morning, August 24, as the storm churned to the west of the big island of Hawai'i, it triggered a torrential amount of rainfall, paired with high winds. Forecasters say more than 30 inches of rain has been recorded on the big island in some areas, with as much as 20 more predicted for the next few days. Immense amounts of water and wind are causing flash floods, landslides, and bringing down trees.
"We're starting to hear damage reports across the island this morning. So far, what I hear about is flooding damage," said the Rev. Eric Anderson, pastor of Church of the Holy Cross in Hilo, on the northeast side of the rural Big Island. "At least one neighborhood was evacuated last night because of local flooding.
"We've also seen road damage due to washouts and road closures due to downed trees," Anderson continued. "There are only three routes that connect the east and west sides of Hawai'i Island. Early this morning, only one was passable end-to-end. A second one has partially re-opened, with one-lane traffic for some distance."
The lingering storm, which weakened to a Category 3, has been moving very slowly, which intensifies concerns about life-threatening floods and landslides. Just after noon on Friday local time, Lane was about 150 miles from the most populated island of Oahu and Honolulu, the capital and largest city of Hawaiʻi.
The offices of the Hawaii Conference UCC in Honolulu closed in anticipation of the storm. So did Central Union Church UCC in Honolulu. While Lane is not projected to come ashore, the Church staff has gone to great lengths to prepare the congregation and the campus for the coming heavy rains and wind.
"We've sent out notification to church members and the many community groups who use the campus," said the Rev. Brandon Duran, minister of Spiritual Formation at Central Union Church. "We've advised church members to stay safe, and as best as they are able, to stay connected with others in the community.  As a staff we've compiled a list of the congregation, organized by zip code, in order to quickly check in with areas that may be more dramatically affected on the island. We've also created a list of those members who live alone and/or may have mobility challenges in order that we can check in on them. We plan on having worship on Sunday – with or without electricity we'll still have the power of faith, hope, and love. We're holding the community in prayer and inviting the church to trust in the God whose love never fails."
"Church of the Holy Cross will worship this Sunday. Our campus is damp, but sound," Anderson said. "We will also be holding a benefit concert on Saturday night – it will support recovery efforts for those displaced by the volcanic eruption — thank goodness the lava isn't flowing any longer."
It's been a difficult year for the people of Hawai'i. As Duran noted, Lane follows months of volcanic eruptions on the Big Island, wildfires on Oahu that have consumed over 9,000 acres, and a Ballistic Missile Alert which notified residents that impact was imminent.
As Duran so eloquently said, "I am not sure what the next couple of days will hold but I know that we'll work to keep our focus on taking care of each other, loving our neighbor, and placing our hope in God."
---
Related News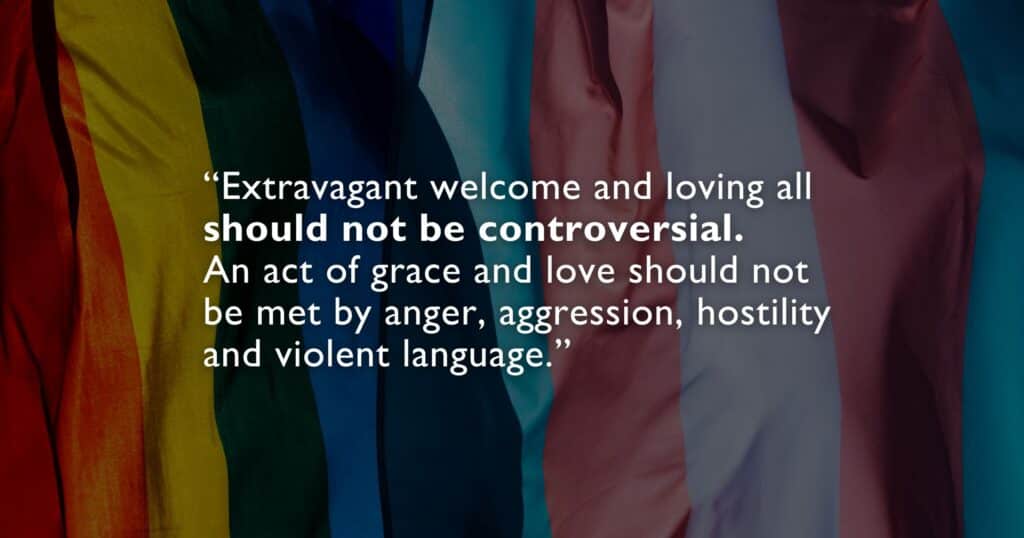 The United Church of Christ National Officers and the Conference Minister of the South Central...
Read More