JPANet March 2018 Newsletter

Join us in Washington, DC to Advocate for Immigrants and Refugees
In the last year we have witnessed repeated attacks on immigrant and refugee communities. Want to learn how to be a better ally and advocate? Join us for these two events:
Immigrants Welcome: A UCC response to attacks on immigrants and refugees.
Join us on April 20th at First Congregational Church as we hear from pastors, lay leaders and immigrants who are responding to the needs in their communities and can offer support and guidance as we strive to live out our call to be an immigrant welcoming denomination. This one-day event precedes the 2018 Ecumenical Advocacy Days conference. Registration is free and lunch will be provided. Learn more and RSVP.
Ecumenical Advocacy Days – April 20-23
Now is the time to register for the 2018 Ecumenical Advocacy Days. This weekend long conference, which is sponsored by our Justice and Witness Ministries and Global Ministries, offers faithful advocates an opportunity to worship and learn together, all while honing their advocacy and organizing skills. The weekend's theme, "A World Uprooted: Responding to Migrants, Refugees and Displaced People" is especially timely as our nation's leaders continue to debate the fate of our nation's immigrant and refugee policies.
---
Getting to the Root of It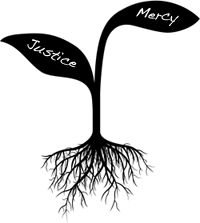 We've asked UCC advocates to help us unpack the complex justice issues that we're working on. Using our General Synod pronouncements as the basis for these reflections, we hope to provide insights into the issues you care about that are rooted in our shared faith, and can inform your advocacy efforts. This month Sandy Sorensen, Director of our UCC Washington Office, discusses the underlying policies and institutional structures that create environments that allow for abusive behavior toward women.

#MeToo and #TimesUP: More than Harassment
By Sandy Sorensen


In recent months, we have seen, felt and heard the power of women claiming their voices and speaking their truth as part of the #MeToo movement and resistance against sexual harassment and violence. The incredibly courageous acts of women from all backgrounds telling their stories and breaking the silence that protects abusive behavior led Time magazine to name as its person of the year the voices that launched the #MeToo movement. I was particularly struck by the words of Juana Melara, a housekeeper at a luxury hotel and one the voices of the #MeToo movement. (Read more.)
---
Justice Events


My Lai Massacre: 50th Anniversary
This year marks the 50th anniversary of the My Lai Massacre, one of the most tragic and pivotal events of the Vietnam War.  On March 16th, from 12-1pm in Lafayette Park at the White House, faith leaders and peace advocates will gather for a time of penitential confession, lamenting the 504 innocent lives lost and calling for an end to all military strategies that target civilians, including our current use of drone strikes. Learn more.
World Water Day
World Water Day is March 22. Over one billion people in the world lack sustainable access to fresh water. Water is a vital ingredient for life. It is a gift from God for all creation and should be viewed as such a gift, not a commodity for profitable gain. Learn more from Global Ministries.
March for our Lives
On March 24, the students and families of March For Our Lives will take to the streets of Washington, DC to demand that their lives and safety become a priority and that we end gun violence and mass shootings in our schools today. Planning to attend and want to connect with other members of the United Church of Christ? Please RSVP. We are working closely with the UCC Central Atlantic Conference to coordinate our denominational presence and we will email you with updates.
Act Now: Unite to End Racism
On April 3-5, 2018 the National Council of the Churches of Christ in the USA and its partners will gather in Washington, D.C. for a historic event to launch its Truth and Racial Justice Initiative. As we mark 50 years since the assassination of Rev. Dr. Martin Luther King Jr. on April 4, 1968, we will commit to do our part to eradicate the entrenched racism that grips the United States and paralyzes our ability to see every human being as equal. Learn more and plan to join us in DC.
Earth Day Sunday
This year Earth Day falls on Sunday! On April 22, you can bring the sacred to Earth Day. We have four different resources for making the most of this special Sunday. Learn more.
---
Justice in Action

Become a Creation Care Voter and Encourage Others to Do So As Well
Those who care about the environment have remarkably low voter turnout rates. Fortunately, there is a tested strategy for turning out these voters. It begins with making a pledge to vote. Make the pledge to be a Creation Care Voter and then encourage others to do so by joining our Thunderclap—a social media strategy whereby people promote a cause together.
Save Money While Saving the Planet—A Webinar for Churches
Congregations can cut energy costs by up to 30% by investing strategically in efficiency. A certification program by the EPA called Energy Star for Congregations can help make this happen. As part of pursuing best practices for Creation Justice Churches, the UCC will be hosting a webinar on this program led by the EPA's Jerry Lawson on March 28th. Learn more and register for this event.
Hunger, Nutrition and Farm Policy – Stay Tuned
The Farm Bill, set to expire in September, is sweeping legislation that helps determine many agricultural policies and also authorizes federal nutrition assistance programs. Disconcertingly as the Administration and some members of Congress work toward reauthorizing these programs they are looking to include harsher work requirements that would make it more difficult for vulnerable populations to access needed nutrition assistance.  The Center on Budget and Policy Priorities provides a helpful analysis of the state of affairs. Stay tuned for updates in the coming weeks.
Justice Resources

UCC Antedote to #MeToo and Sexual Harassment
Looking for a way to respond to #MeToo and Sexual Harassment? Offer Our Whole Lives/Sexuality and Our Faith! Programs available for grades K-1, 4-6, 7-9, 10-12, Young Adult, and Adult! Find out more at ucc.org/owl. Go here to find a training—check back for updates! Questions? Contact Amy Johnson, UCC OWL Coordinator, JohnsonA@ucc.org, 216-736-3705.
Resources for International Women's Day
Today, March 8 is recognized around the world as International Women's Day. It is a day for us to acknowledge and lift up the work of women and the role they play in our lives and our communities. Check out these resources and commit to engaging your congregation in advocacy to uplift women throughout the year:
Lent and Easter Resources from Global Ministries
Lent and Easter is a time where we can journey with global partners and mission co-workers. Global Ministries offers some liturgical resources, bible studies, and reflections for a global Christian perspective on the season.
Witness for Justice
Looking for up-to-date social justice commentary? Check out Witness for Justice, a weekly editorial opinion column written by the staff of Justice and Witness Ministries. 
Featured topics:
The Power of "Never Again" | Black History Month: Why it still matters. | Reclaiming God's Love & Justice through Sacred Conversations to End Racism | What we learned serving on a UCC disaster recovery team
---
Related News
One hundred and twenty-five years ago, the United States was in the throes of a most vibrant...
Read More