JPANet July 2023 Newsletter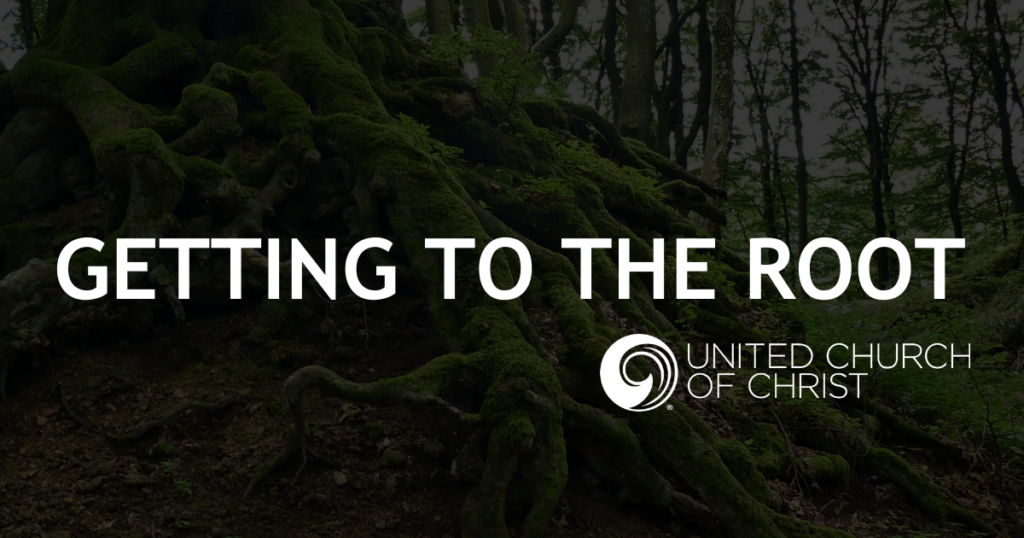 Each month we ask UCC advocates to help us unpack the complex justice issues that we're working on. This month, we were lucky to have UCC Disability Ministries Board Member and recent M.Div. graduate from Pacific School of Religion, Lahoma Howard, explain the 'complicated' relationship between the Church and The Americans with Disabilities Act. We will celebrate the 33rd anniversary of the ADA this month, on July 26.
The ADA and The Church….It's Complicated!
Every Sunday, hundreds of UCC pastors, ministers, liturgists, and lay people proclaim that, 'no matter who you are, or where you are on life's journey, you are welcome here!'
And they say it from an altar that they probably walked up a few stairs to get to. I have no doubt that in their hearts they mean what they are saying, however, our buildings themselves often speak an entirely different message to everyone who enters into them. Read more.
Justice In Action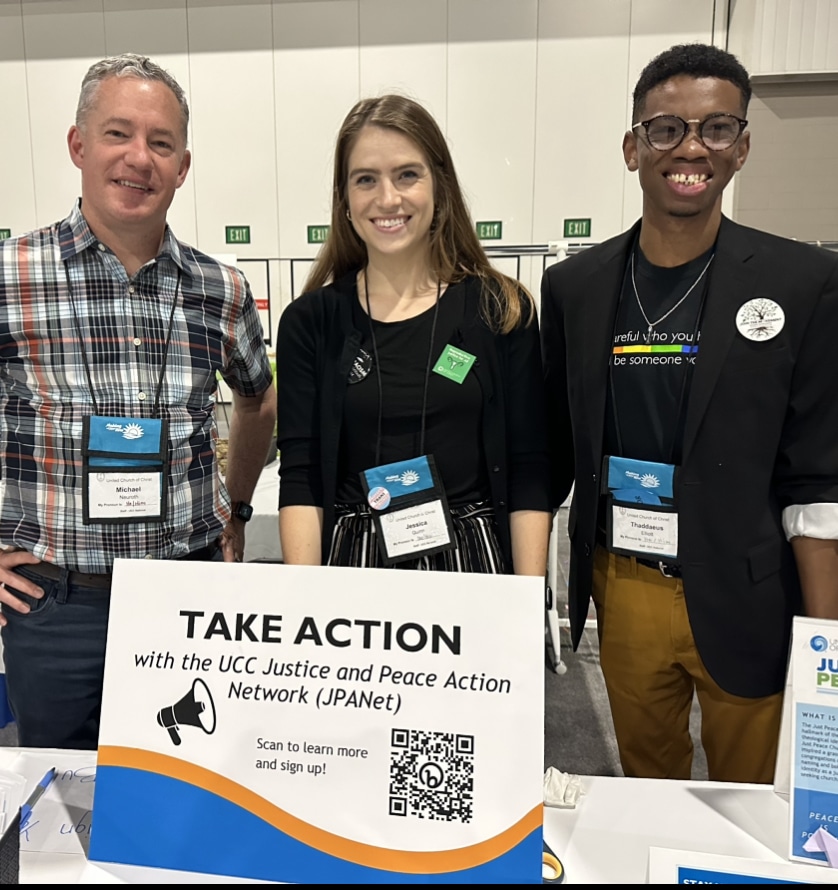 The D.C. Team Busy at General Synod
UCC Washington D.C. Office staff, the Rev. Michael Neuroth, Director; Jessica Quinn, Online Communications Specialist; and Thaddaeus Elliott, Justice and Peace Policy Fellow, spent the last seven days in Indianapolis, Indiana for this year's General Synod. The team hosted a workshop for attendees on public policy and the UCC's work on Capitol Hill, chatted with hundreds of visitors in the exhibit hall, joined with other Justice and Local Church Ministries (JLCM) staff to hold special dinner and lunch events, and led the planning for a vigil and march to the Indianapolis Statehouse in defense of trans rights and abortion access. Visit UCC News for stories and video from many of the events at Synod!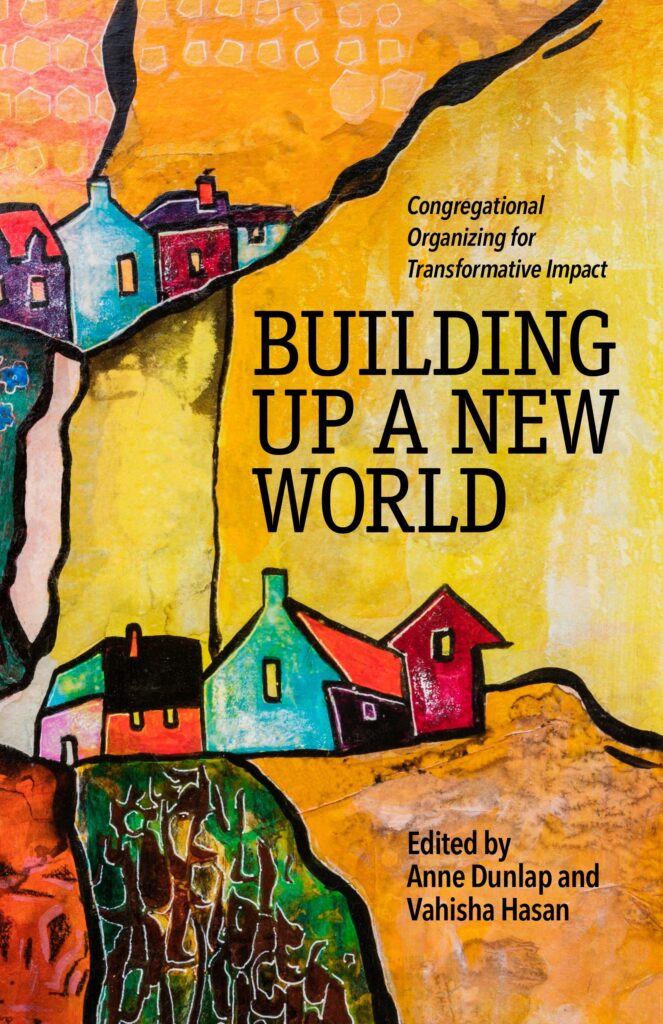 Building up a New World
Are you looking for a way to move your congregation from "talking" to "taking action" for peace and justice? Building Up A New World: Congregational Organizing for Transformative Impact, new from The Pilgrim Press, explores practical ways for churches of all sizes in all settings to have a transformative impact on their communities and beyond. Read the book in small groups, make it the topic of an annual meeting, or study it with the church leadership.
UCC General Synod Elects the Rev. Karen Georgia Thompson as General Minister and President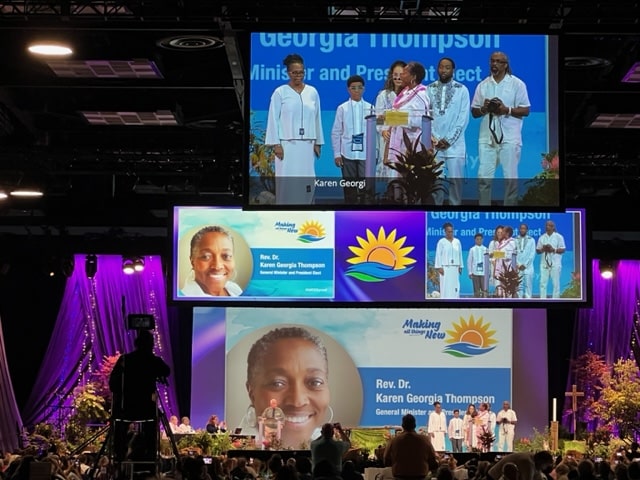 The General Synod of the United Church of Christ made history Monday, July 3, when it elected the Rev. Karen Georgia Thompson as the first woman, and the first Black woman, to lead the denomination as General Minister and President. Read more from UCC News.
How Many Postcards Can Your Congregation Collect?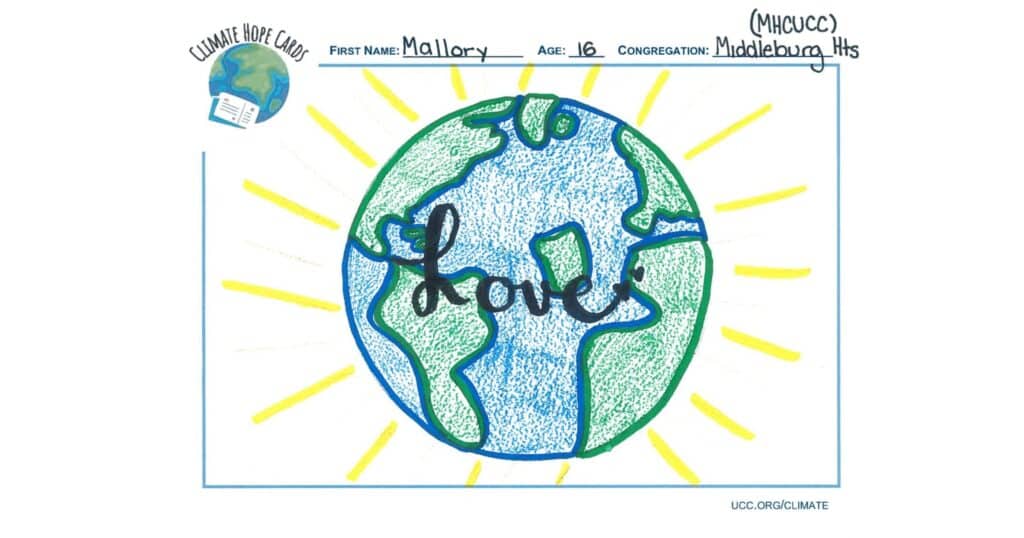 The great postcard collection race is underway! It is not too late to join the Climate Hope Cards drive to collect as many postcards as possible to address life and death matters of pollution and climate change by advocating for strengthen EPA protections. Download and print the cards on Avery 8387 paper, check out our toolkit, and register your congregation to get updates.
Justice Events
UCC Webinar—— Seeing through the Smoke: Wildfires, Climate, and a Path Forward
This webinar on wildfires will feature John Vaillant who authored Fire Weather: A True Story from a Hotter World, Shana Udvardy from the Union of Concerned Scientists, and Rick O'Rourke who practices fire stewardship on the Yurok Reservation. Even if you cannot make the webinar at its scheduled time on July 12th at 1 pm ET, still sign-up, and we will send you a recording. Register now!
Take Action with Our General Synod Action Center!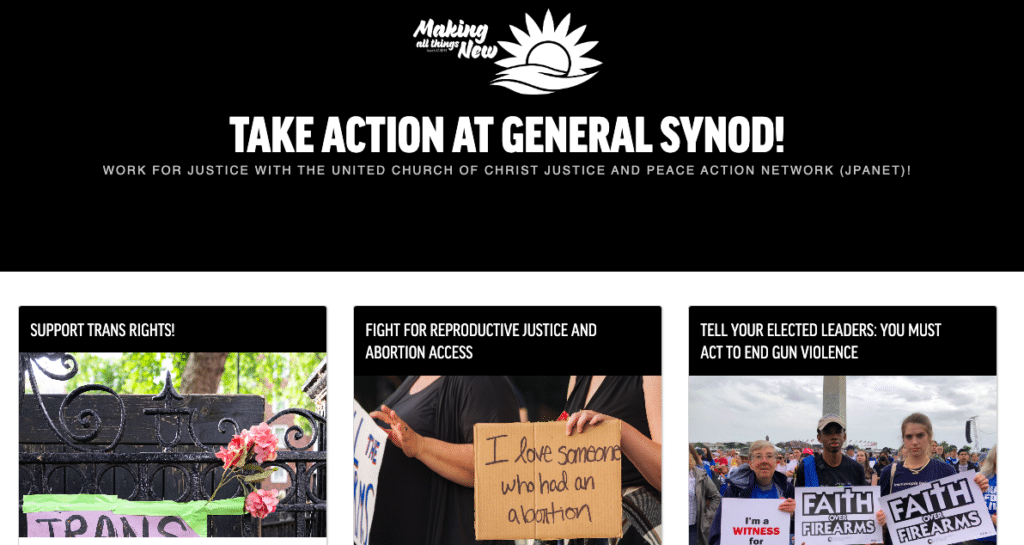 Even if you did not attend General Synod in person, you can still join with hundreds of UCC attendees who took action and contacted their legislators on issues like gun violence, trans rights, abortion access, nuclear weapons, and more!
Many of the alerts in the action center reflect resolutions passed at this General Synod. Show your support by taking action!
Train to Be a UCC Climate Ambassador

Strengthen your knowledge about the climate crisis and how to effectively address it. This free four-hour training is done online and on your own time. It comes with resources and the opportunity (in certain parts of the country) to receive financial incentives for advancing climate solutions through speaking and acting in your community. Start the training now using the code: UCCBTAmbassador.
Resources Available from Reproductive Justice Town Hall at Synod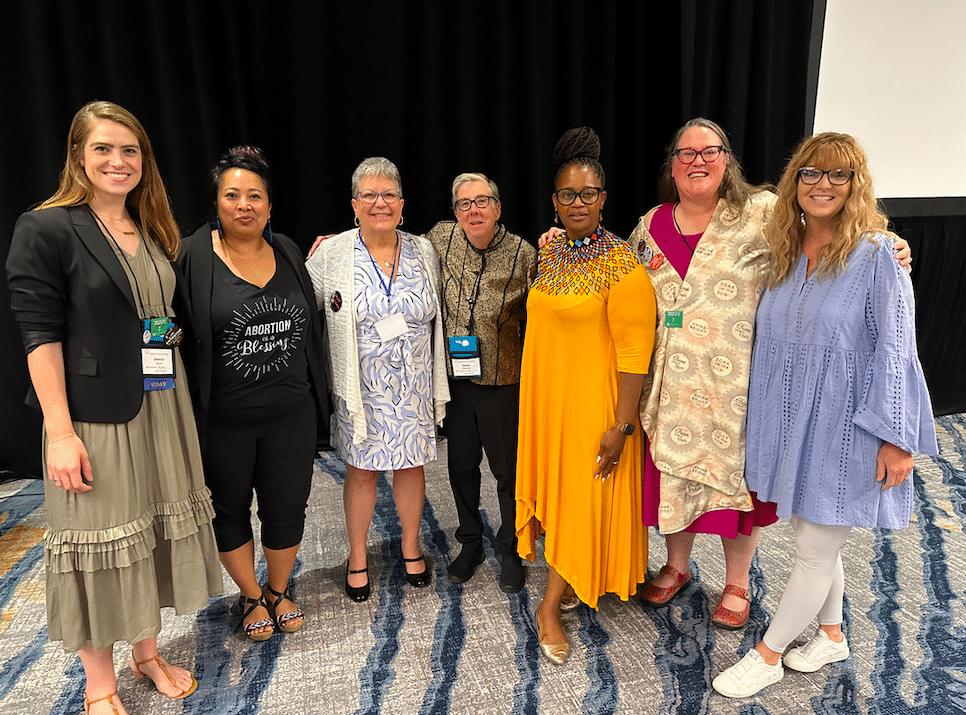 The United Church of Christ Reproductive Justice Working Group hosted a discussion and luncheon last Sunday at General Synod in Indianapolis. The event highlighted the long history of UCC advocacy and engagement in the fight for reproductive justice, with the release of a new video from UCC leaders in the movement and the publication of a timeline to visually represent the continued work. A panel discussion was led by UCC pastor and long time advocate, the Rev. Cindy Bumb. She was joined in discussion by panelists, the Rev. Dr. Andrea Vassell, Bishop Elect for Global Ministries and The Fellowship of Affirming Ministries, and Elaina Ramsey, executive director of Faith Choice Ohio. You can read more about the event here.
Climate and Energy Resources for Faith Communities: A Briefing with the U.S. Department of Energy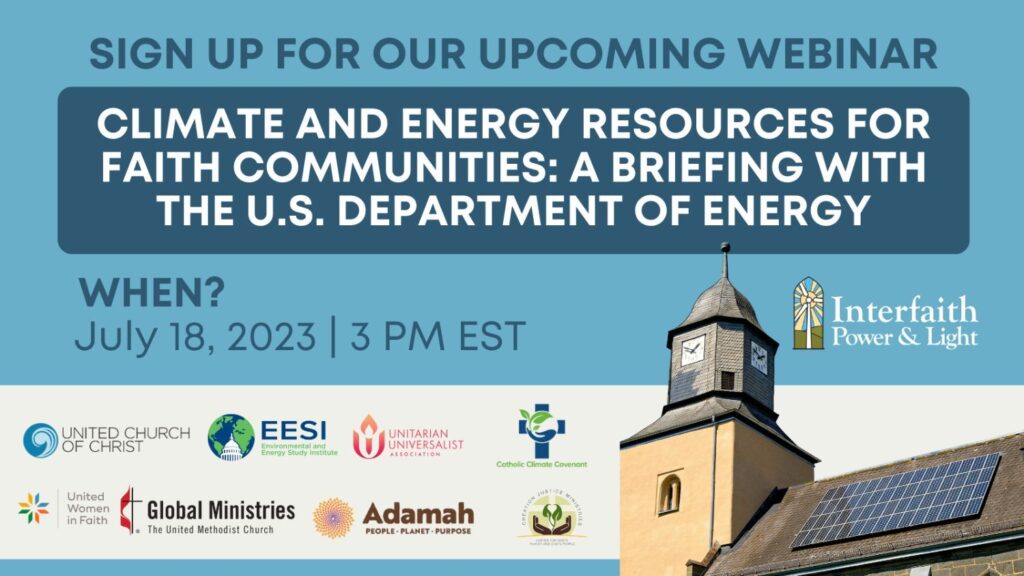 The Inflation Reduction Act (IRA) and the bipartisan Infrastructure Investment and Jobs Act (IIJA) created the largest climate and clean energy investment America has ever made. These bills provide federal funding for energy and climate resiliency improvements that can be used in houses of worship and our individual homes. Join us for a briefing on July 18th with the U.S. Department of Energy to learn more about direct pay, the tax credits, the programs, and the role faith communities can play in helping our country address the climate crisis and ensure that all communities are supported. Register here.
Justice Resources
DC Action Center
Each week, the D.C. Office creates an action alert based on what is happening at that time in Congress, and offers you the opportunity to contact your legislators with just one click! You can find all the alerts here.
The Pollinator
The Pollinator is a digital platform of the UCC for the sharing of ideas and inspiration. Its focus is the building of a faith-filled and faith-rooted movement for the care of creation
Witness for Justice
Looking for up-to-date social justice commentary? Check out Witness for Justice, a weekly editorial opinion column written by the staff of Justice and Witness Ministries.
Featured Topics:
Drag Performance as Worship and Praise | What's Best for the Children | A Common Thread
---
Related News
Each month we ask UCC advocates to help us unpack the complex justice issues that we're...
Read More