JPANet January 2022 Newsletter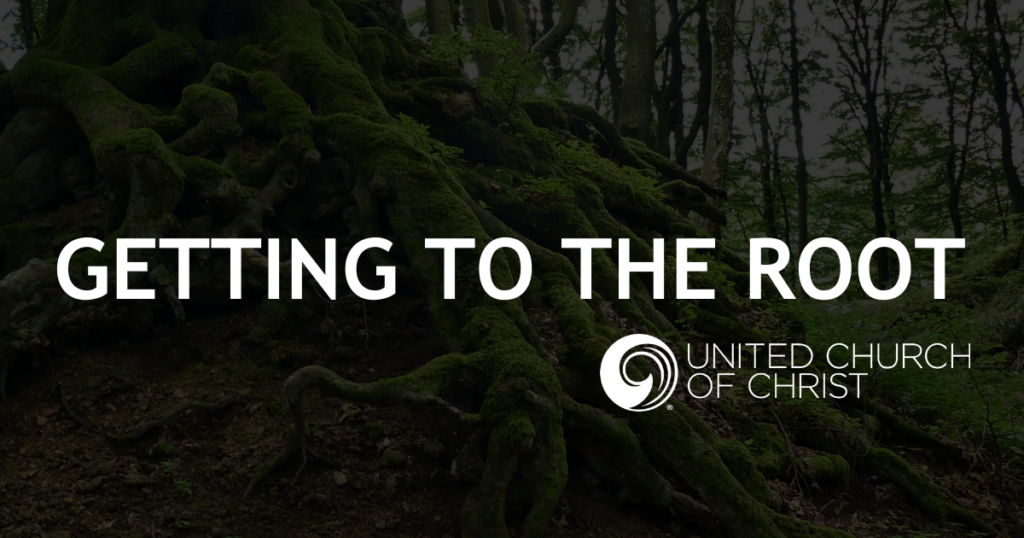 Happy New Year advocates! We're starting off 2022 with a Getting to the Root column from our D.C. Director, Sandy Sorensen, that lays out some of our top priorities for this year, and how we will be looking to you for help.
Showing Up in 2022
The work of building a just world for all, through public policy advocacy and transformative public dialogue, has been so very challenging in the last several years. Here we are entering a new year of advocacy and activism, and our resilience has been stretched. I confess that I find the policy challenges before us in 2022 no less challenging and urgent. But I find great solace in the writing of Joanna Macy, an eco-philosopher, scholar and environmental activist. She reminds us that our work is not always about finding the one right answer or way forward, but to be fully present with the brokenness of the world. Read more.
Justice In Action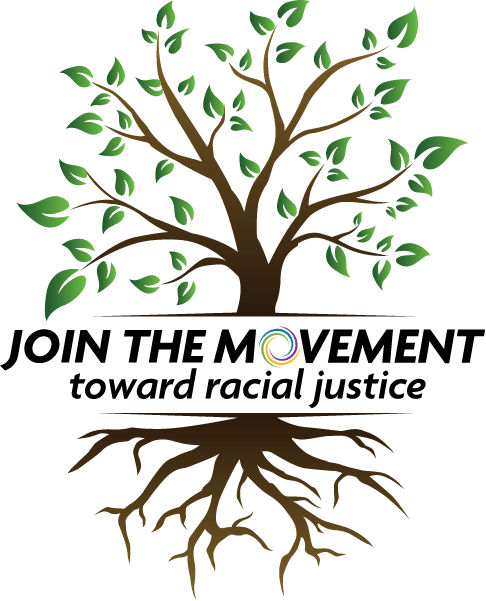 Be a Witness for Racial Justice
When acts of violence motivated by racism result in innocent lives being lost, families are left to grieve. Communities of faith are called to respond with acts of solidarity, love, and prayers for those left to bury a family member. The foundation of the Christian faith is rooted in the God of creation and the Gospels of Jesus. The teachings of Jesus remain relevant in the 21st century, liberation, justice for all, and equity among God's human creation. Recent verdicts in Charlottesville VA and Brunswick GA are signs of hope for families and communities advocating for a just world for all. Be a witness for racial justice and Join the Movement!
For more information contact Velda Love and Sharon Fennema.
Immigration Update
As we approach one year of the Biden administration, we're disappointed to see the expansion of detention and the continuation of Trump policies that block asylum at the border. Please consider signing this faith leader letter to stop inhumane detention and restore asylum. Please also join the UCC action alert with an email to your Congressperson to tell them we need a pathway to citizenship as part of the Build Back Better legislative package.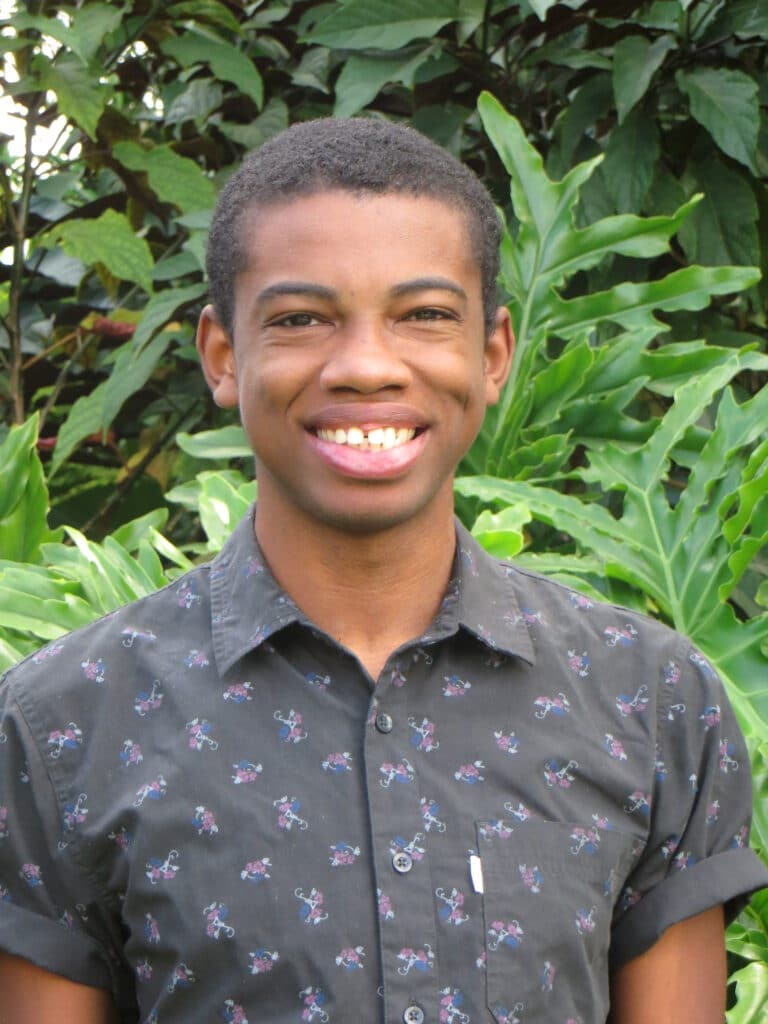 Please Welcome Thaddaeus Elliot!
We are excited to announce that Thaddaeus Elliott is joining the UCC Washington, DC office staff team as the Justice and Peace Policy Fellow! Thaddaeus received a degree in Education and Social Policy from Northwestern University. He worked for the National Low-Income Housing Coalition in Washington, DC, and most recently served on the staff of Plymouth Congregational UCC as the youth and administrative coordinator. He has served the United Church of Christ in a variety of ways, most recently as a member of the United Church Board of Directors and the Florida Conference Board of Directors. Thaddaeus loves music and is a classically trained flautist, although his dog is not excited by the high notes. We are grateful to have Thaddaeus on the team in these challenging times for justice!
Justice Events
Don't Shoot: MLK and Gun Violence Then and Now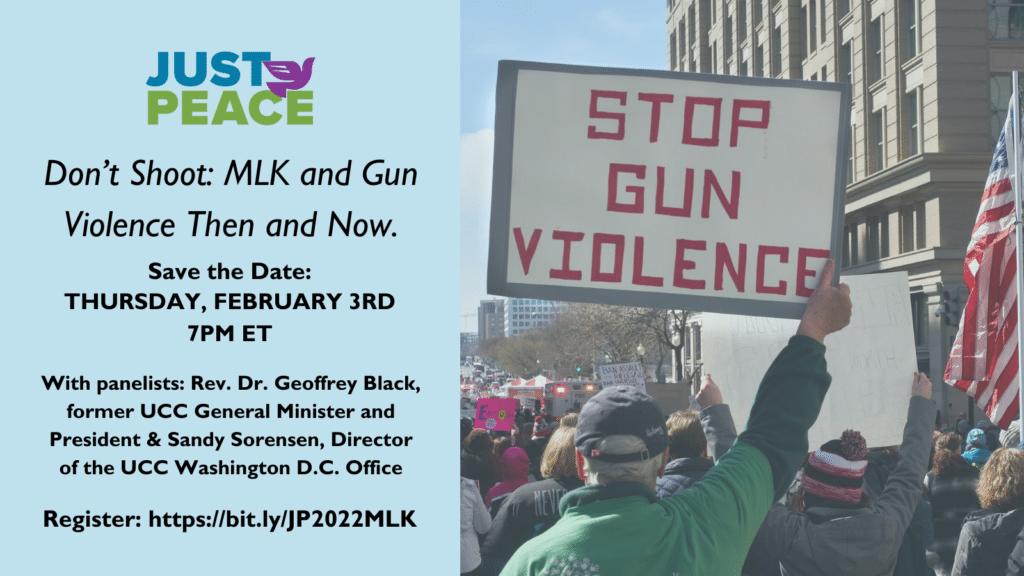 The Just Peace Network hosts a webinar on February 3rd, 2022 in partnership with the UCC's Council for Health and Human Service Ministries (CHHSM) on the urgent need to address gun violence today through the lenses of public health and racial justice. Sandy Sorensen, Director of the UCC's Office in Washington D.C., will brief us on the current state of gun violence and ways you can get involved, and former UCC General Minister and President, Rev. Dr. Geoffrey Black, will reflect on Rev. Dr. Martin Luther King Jr's legacy and ways this history calls us to action today. Join us!
Resources for Parents Based on Our Whole Lives
Coming soon! Resources for parents to help you have age-appropriate conversations with your children about bodies, gender, families, pregnancy and more! The "Under Your Wing" video series will debut during the OWL Taking Flight webinar on Feb. 2. Register here.
"Parents and Caregivers As Sexuality Educators, UCC edition," a free small group ministry resource for parents with any age children, will also debut in February.
Questions? Contact Amy Johnson.
Human Trafficking Awareness Month
Human trafficking, or trafficking in persons, is one of the world's largest organized criminal enterprises. Millions are held against their will for slave labor and/or sex work, including tens of thousands in the US. Human trafficking is growing because slave labor is profitable and because poverty and marginalization makes so many vulnerable to exploitation. The COVID-19 pandemic halted cross-boarder trafficking, but with borders re-opening, human trafficking is expected to increase. Learn more from Global Ministries.
Save the Date for Ecumenical Advocacy Days 2022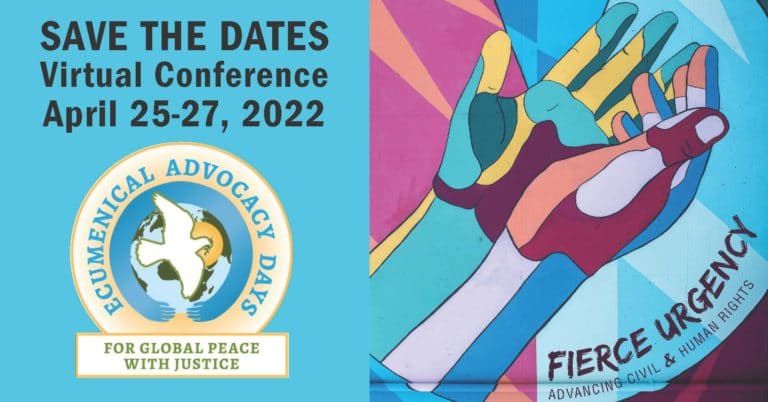 Save the date! Ecumenical Advocacy Days 2022 will be held virtually April 25-27! Registration will open soon for the conference "Fierce Urgency: Advancing Civil and Human Rights." Together we will call on Congress to protect and expand voting rights in the U.S. and human rights around the world. Learn more.
Justice Resources
DC Action Center
Each week, the D.C. Office creates an action alert based on what is happening at that time in Congress, and offers you the opportunity to contact your legislators with just one click! You can find all the alerts here.
The Pollinator
The Pollinator is a digital platform of the UCC for the sharing of ideas and inspiration. Its focus is the building of a faith-filled and faith-rooted movement for the care of creation
Witness for Justice
Looking for up-to-date social justice commentary? Check out Witness for Justice, a weekly editorial opinion column written by the staff of Justice and Witness Ministries.
Featured Topics:
Teaching Truth to Young People | Peace is the Work of All Our Hands and All Our Hearts | Yet Another Racist Travel Ban | Jesus was a Refugee | For All to Live in Abundance
---
Related News
Each month we ask UCC advocates to help us unpack the complex justice issues that we're...
Read More