It's a toxic moment, and 'beloved community' is the cure, Sojourners leader says
Christians should enter a David-and-Goliath battle with two viruses right now — besides COVID-19.
Their names are "systemic racism" and "toxic polarization." Their antidote is "beloved community."
And, like David, the church can "pick up five smooth stones" to deliver that cure.
That was a key message in the Rev. Adam Russell Taylor's July 16 General Synod keynote speech.
Delegates and visitors nationwide tuned in for the second keynote of the biennial United Church of Christ meeting. Running through July 18, the Synod is the UCC's first ever to be held entirely online.
'Pivotal and perilous moment'
Earlier in the week, an opening keynote by Sikh activist Valarie Kaur had offered a "revolutionary love compass."
Now Taylor picked up the theme of nonviolent resistance. An American Baptist and Progressive National Baptist minister, he leads Sojourners, based in Washington, D.C. Its mission, with an action arm and a magazine, is "to inspire hope and build a movement to transform individuals, communities, the church and the world."
Standing in front of a virtual picture of Washington's Black Lives Matter Plaza, Taylor stressed the urgency of now. He said the January insurrection at the U.S. Capitol showed how the dual viruses have infected the body politic.
"Since Jan. 6, our nation — and, I would argue, the church – is faced with a pivotal and perilous inflection moment," Taylor said. "In religious terms, it may even be a 'kairos moment,' a moment for propitious action or change."
Seeds of an awakening
Such moments in history often come when "reality becomes so fraudulent, so pernicious, that it forces an awakening in our midst," he said. "And that awakening can open itself up to possibilities for radical transformation."
"This past summer's racial uprising and the COVID-19 pandemic provide the seeds for that very awakening," he said. "But it won't reach the point of 'kairos,' a true reckoning, until it can lead to transformational policy and cultural change."
Taylor touched on policies that could help protect democracy, such as the For the People Act now in Congress. But mostly he emphasized the cultural side, where the church should push beloved community as "a counter-narrative to the resurgence of white supremacy and Christian nationalism."
'Five smooth stones'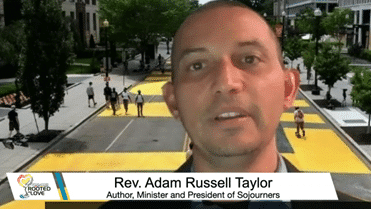 Much about the beloved community can be found in the writings of the Rev. Martin Luther King Jr. It was part of his philosophy of nonviolent social change, fighting what King called the "triple evils" of poverty, racism and militarism.
Inspired by the simple weapons David uses against Goliath in 1 Samuel 17, Taylor listed "five smooth stones" that could build the beloved community:
"Imago Dei equality": The conviction that all are made in God's image and "every person is of infinite and equal worth."
"Ubuntu interdependence": From the African value of the common good, "I am because we are."
"Radical welcome": A value that, if applied, for example, to the U.S. immigration system, "could transform it."
"Environmental protection": Requiring a shift away from the biblical notion of "dominion" over the earth to one of humans as "caretakers of the world's resources and beauty."
"Dignity for all": Expressed concretely in approaches like the United Nations' sustainability goals, such as "ending poverty in all its forms everywhere."
"If the American church were to place and prioritize the building of the beloved community at the core of our ecclesiastical mission," he said, "we could transform the very state of Christian witness and rehabilitate the reputation of the church, which has sadly become so tarnished."
UCC shout-outs
Taylor dedicated the speech to "two UCC ministers who have gone on to glory but have had such a profound impact on my life and faith." They were: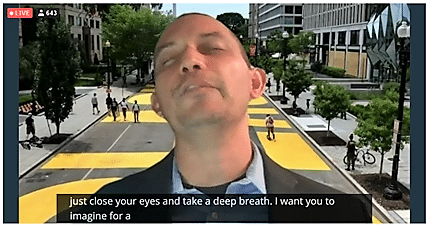 The Rev. Donel McClellan, who led First Congregational Church, Bellingham, Wash., "with such deep grace, love and wisdom" when Taylor attended there as a child and teen.
The Rev. Reuben Sheares II, with whom Taylor spent just one day in 1992. Sheares gave Taylor and other UCC National Youth Event participants a tour of Chicago "through the lens of faith and justice." As it happened, Sheares — pastor at the time of the Congregational Church of Park Manor and a past national UCC executive — died of a heart attack later that day.
"I'm also grateful for the ways in which Sojourners has been able to partner with the United Church of Christ in so many causes over the years," Taylor said. "You have been one of our most consistent and core denominational partners in our shared commitment to peace and justice."
"I don't know about you," he said in closing, "but I've had enough of the viruses of systemic racism and toxic polarization that are pulling our country apart. And I believe in a God that can make all things new. … And I believe that now is to time to remake and transform the church to truly be the salt and light, to be the builder of the beloved community …
"So will you join me in picking up these smooth stones? … In the process, the church can help transform the nation, helping us to realize a more perfect union, and God's brilliant, beloved community."
---
Related News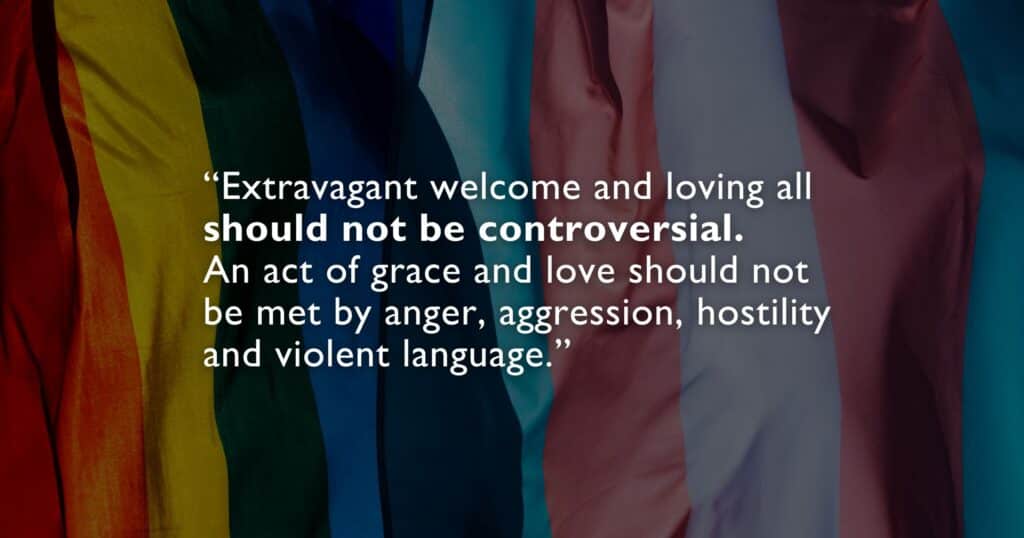 The United Church of Christ National Officers and the Conference Minister of the South Central...
Read More